🔮 The coronavirus trilemma; flattening the recession curve; startup highs & lows, gang lockdown++ #263
Liberal democracies are facing the "coronavirus trilemma".
I'm Azeem Azhar. I explore how our societies and political economy will change under the force of rapidly accelerating technologies and other trends. I convene Exponential View to help us understand these topics. Please recommend EV to your friends.
A collection of my thinking on the Covid-19 pandemic this week:
Non-Covid-related work:
The near future
🧩 Liberal democracies are facing the "coronavirus trilemma": they need to limit deaths, lift lockdowns, and uphold civil liberties like privacy, but they can't do all three. Many democracies instinctively recoil from the kind of surveillance and coercion demonstrated by China in its fight against the virus—and yet, it may be necessary. 

🧐 Privacy activist Maciej Cegłowski says that worrying about privacy and ubiquitous data collection right now "is like being concerned about black mold growing in the basement when the house is on fire".  A well-designed surveillance system equipped with privacy protections is what we need right now, according to Cegłowski. States around the world are rapidly rushing new surveillance systems into service, and re-purposing existing ones, but that second bit—the protections for longer-term civil liberties—are more in doubt. (This visualisation shows what you can do with anonymized mobile device data—and just how far a single Spring Break party can travel.)

💯 Very good slide deck from Paolo Surico and Andres Galeotti on the macroeconomic impacts of Covid-19. EV readers will find slides 67-onwards of interest. Recommendations from page 86 on, including how to "flatten the recession curve." 

📏 Moderate social distancing could save 1.7 million lives in the US between March and October, according to research from the Becker Friedman Insitute. The "mortality benefits of social distancing" add up to over $8 trillion.

💌 Average active usage of the remote-working tool, Slack, is soaring past a billion minutes each weekday, but EV reader and Slack CEO Stewart Butterfield (and no doubt the CEOs of the many other platforms currently keeping much of the remote-working economy afloat) is not resting easy. Keeping up with surging demand even as Slack's own operations and staff are impacted is no mean feat; in his Twitter thread, Butterfield is also candid about the uncertainties facing all businesses in the months and years ahead. (The graph shows how many new teams, or CWTs, were created by Slack's customers over the previous weeks.)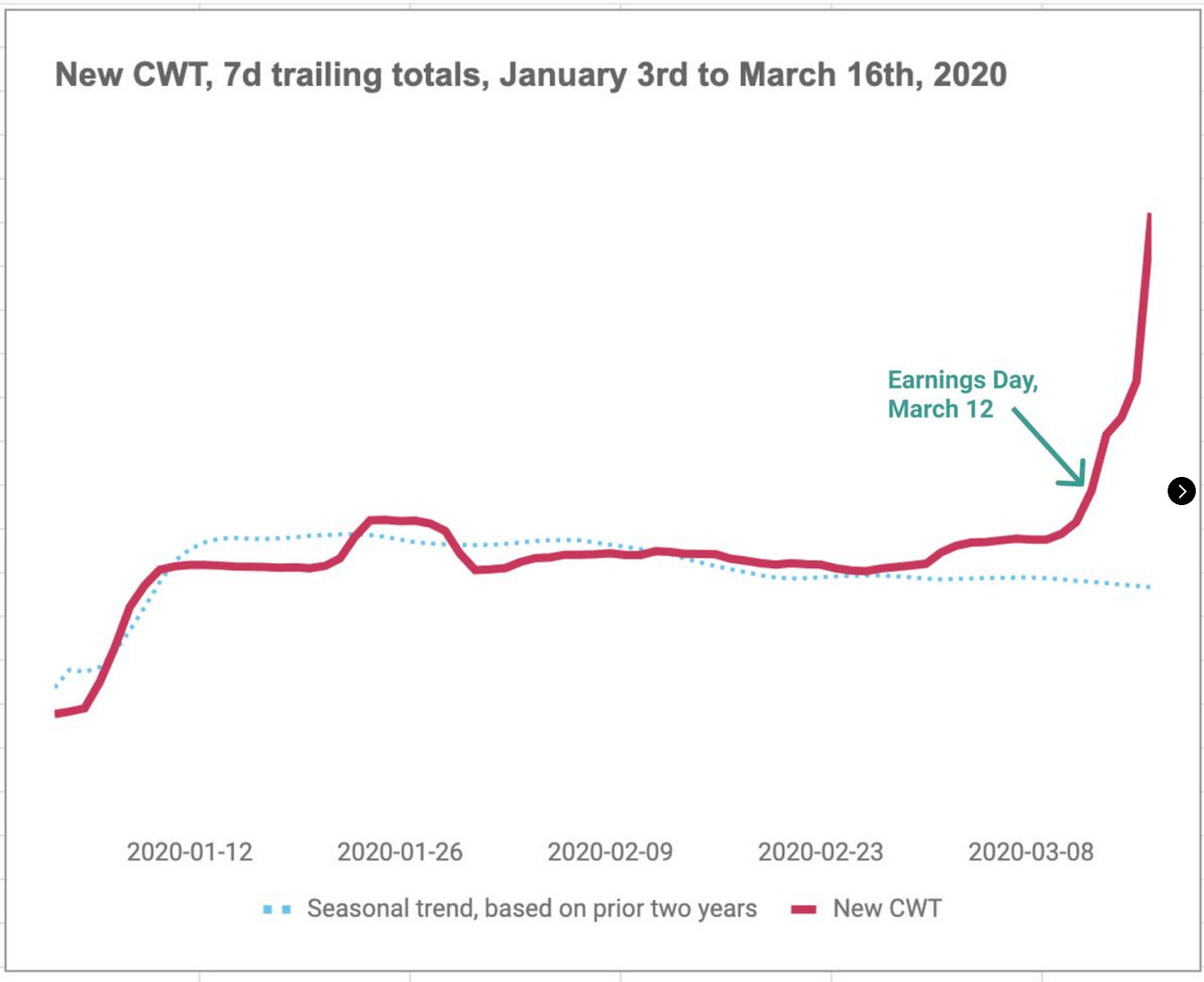 Many startups are, however, suffering. Here is one ugly datapoint, ClassPass, the exercise studio rental programme, has seen bookings collapse. Read what Fritz Lansman, the CEO, has to say.
Mask manufacturer 3M is surging its production capacity to double its output of N95 face-masks. In January, the head of the 3M respirator mask factory in South Dakota got a call telling him that "basically, we were at that point where we needed to start every machine up. It happened pretty much instantaneously. That's what this plant does". Localised supply chains and maintaining spare surge capacities played a key role in 3M's ability to scale up so dramatically (and doing the opposite is partially why grocers in the US have been struggling to keep shelves stocked). 
🌡️ Climate breakdown:
415.51ppm | 3,714 days
Each week, we're going to remind you of the CO2 levels in the atmosphere and the number of days until reaching the 450ppm threshold. 

The latest measurement (as of March 26): 415.51ppm; March, 2019: 410.91ppm; 25 years ago: 360ppm; 250 years ago, est: 250ppm. Share this reminder with your community by forwarding this email or tweeting this.

🙏🏻 Some positive news: according to new research published in Nature, the 1987 Montreal Protocol, which banned ozone-depleting substances, has halted a shift in the jet-stream in the Southern Hemisphere, which was driving widespread climatic changes. The finding that international collaboration really can help solve global problems is especially welcome in the current moment.

More good news from carbon capture and storage: mineralizing CO2 in basaltic rocks proves a promising avenue.

Michael Leibreich is nuanced in his analysis of Covid-19 on climate change:
Covid-19 is causing a massive drop in emissions this quarter, perhaps as much as 20%; after that, emissions will rebound, but remain significantly down until a vaccine enables a full recovery; even after that, they may well remain depressed for some years by an economy again hobbled by a colossal mountain of debt; and in the longer term, the stickiness of some of the new behaviour, business models and technologies will certainly accelerate the transition to a low-carbon economy. Out of this terrible period, some good will come.
Video of the week
This week's chart of the week has been replaced by a video from an excellent science communicator, 3Blue1Brown. A wonderful visualisation of physical distancing and its impact on a spreading virus.
Short morsels to appear smart in quarantine
💣 Here's a question which many of us have no doubt pondered long before the pandemic: are conferences actually useful?

Peer-review doesn't necessarily make pre-prints much better, according to a new, not yet peer-reviewed, study.

How does the Russian military hack? An analysis of more than 200 cyberoperations provides interesting insight. 

🔒 Drug gangs in Brazil's favelas enforce a strict lockdown.

Even during the lockdown, one industry kept whirring diligently away in Wuhan: chip manufacturing. The Chinese government was so determined to keep up its fight for an independent technology supply chain that it granted special dispensations to chip-maker Yangtze Memory to move supplies, workers and goods in and out of the lockdown zone.

The Covid-19 High-Performance Computing Consortium is devoting 330 petaflops of performance over 16 systems to research on finding treatments, vaccines or a cure. See here a preview of innovations speeding up during the pandemic collected by EV member Vishal Gulati.

🐕 As wolves were domesticated into dogs, their behaviour changed before their appearance.
End note
I am still struggling to keep abreast of interpreting everything that is going on during this pandemic. My apologies for not keeping up with it all—and equally for slamming your inboxes. 

We're still refining everything here.

Stay safe, maintain your distance and keep clean!

Azeem
---
What you are up to—notes from EV readers
Danny Lange in a debate with Gary Marcus on how AI will overcome some of its greatest challenges.
Sarah Gold's IF presents a manifesto for a society-centered design — an important initiative! Do support it.
Emma Phillips and a couple of other readers are behind the Meals for the NHS initiative—support the NHS workers by sharing or donating!
Shaina Horowitz shares how NewLab and their member companies are supporting the communities of New York City at this time.
Edward Saperia shares the Coronavirus Tech Handbook: a library of tools to collaborate on an agile and sophisticated response to the coronavirus outbreak.
Jack Reed's band El Gigante has a new album of lighthearted Irish music out. Listen to it here.
Bas Grasmayer's newsletter MUSIC x CORONA follows the music industry amidst the outbreak.
Aran Shaunak on what's next for with the outbreak in the UK.
Email marija@exponentialview.co with your projects and updates.