🔮 China after covid; refashioning supply chains; progress against the virus; nature, graffiti & fake reviews++ #262
I'm Azeem Azhar. I'm exploring how our societies and political economy will change under the force of rapidly accelerating technologies and other trends. I convene Exponential View to help us explore these topics.
The team and I are trying to figure out how best to make EV relevant for you during the coronavirus pandemic. We'll be adjusting output knowing that many of you are tuned in to the news cycle. This adjustment is a work in progress—that will remain true to the mission of EV.
Please bear with us—we do hope some of my additional analysis has been useful so far. There is much I haven't turned my eye to in this letter. If there are specific aspects you think are worth exploring, leave a comment.
Cheers, A.
The near future
🌐 The web is flawed beyond repair, and we have to rethink what a decentralised internet looks like. I spoke about this with Muneeb Ali, founder and CEO of Blockstack, whose goal is to create a new Internet. 

🧼 How might COVID-19 change the world order? China is moving swiftly to position itself as a leader amidst the chaos, especially with the US likely to be mired in the crisis at home for weeks or months to come. It is even possible that China becomes the global economic & financial safe haven, argues Andy Rothman. The government has plenty of dry powder, consumer demand is healthy (buffered by deep household savings, see chart on Chinese consumer optimism) and odds-are they have domestic COVID-19 infections under control.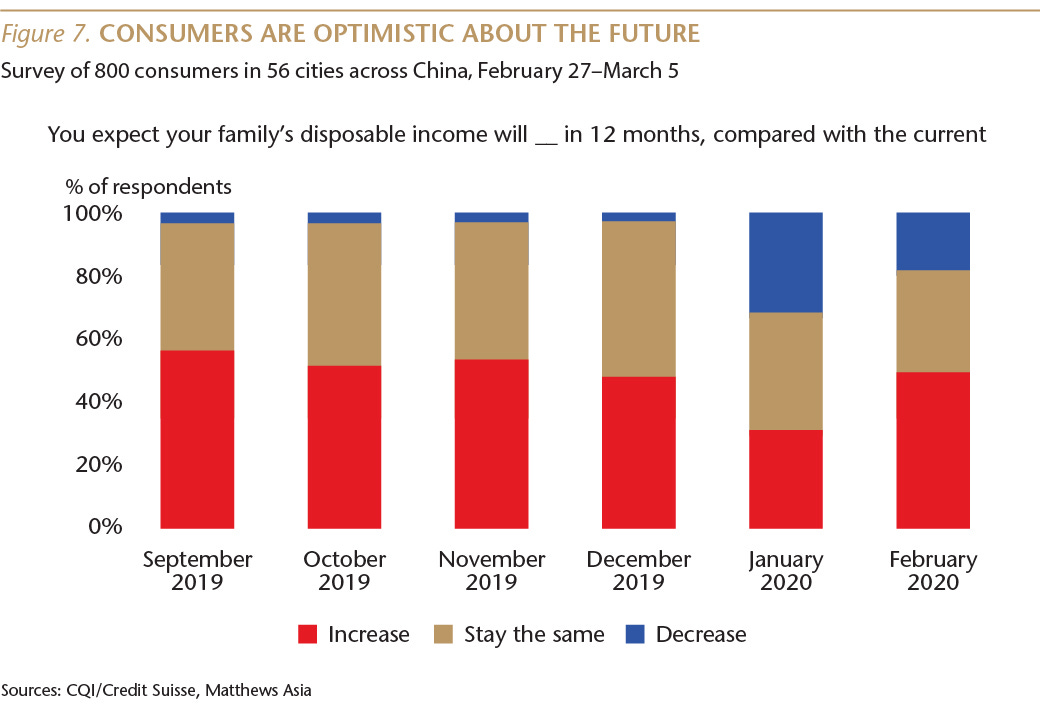 China has dispatched supplies and medical teams to Italy, Serbia and Iran with great effect. Jack Ma, formerly of Alibaba, has promised to send testing kits and masks to each of Africa's 54 countries, as well as to the United States itself. "China's chief asset in its pursuit of global leadership—in the face of the coronavirus and more broadly—is the perceived inadequacy and inward focus of U.S. policy. The ultimate success of China's pursuit, therefore, will depend as much on what happens in Washington as on what happens in Beijing." See Ursula von der Leyen, the President of the European Commission, thank China for the provision of a small number of N95 masks and testing kits.

💡 COVID-19 is proving to be a major stress test for business models around the world, and parts of the global supply chain are close to cracking under the pressure. The crisis is highlighting the risks of 'just in time' supply chains run on outsourcing and thin margins. 75% of US companies surveyed reported coronavirus-related disruptions as of early March, and 44% didn't have a plan already in place to respond. It will be fascinating to watch how global business reshapes itself as the crisis plays out, and in the years and months after.

Consumers are on lockdown, businesses are facing enormous uncertainty and disruption amidst the global COVID-19 crisis, and product supply is increasingly constrained. Supply chain experts Li & Fung propose a new model for global supply chains including 3D product design and pre-market digital product testing to help producers cut down on materials and respond quickly to changes in supply and demand.

As economic activity is slowing to a standstill, Amazon is whirring up to lightspeed. Amazon deliveries are rapidly becoming crucial to entire communities and Jeff Bezos has been quick to recognise the opportunity to burnish Amazon's public image—even as the company scoops up entire markets which just weeks ago would have gone to brick and mortar stores. (The firm is hiring 100,000 new workers and raising their wages.)

Reshaping business models to make them more sustainable is easier said than done, and many signatories to the UN Global Compact have still not put their money where their mouth is. Three elements of the current approach to business sustainability are holding back progress: an overemphasis on compliance and reporting, a bifurcation of intent, and a primary focus on the company level. Sustainable business model innovation will require fundamental reimaginings of corporate structures, business ecosystems and new modes of differentiation.
🦠 Ed Yong: What we know so far about why this coronavirus has been so successful.

💸 Elsewhere, the US tax code incentivises investment in automation over employees by levying heavier taxes on labour than on capital according to new research, argue the leading economists, Acemoglu and Restrepo. Removing this capital bias in the tax code could raise the number of employed people by 6.5%.  
Coronavirus: the good news
A friend of EV, Vishal Gulati, is a former doctor and immunologist who is now an active early-stage investor. I asked him to share some of the most promising innovations emerging in response to the pandemic.
We can use existing innovations better by removing barriers that maybe shouldn't have existed:
Scaling testing:
Current tests are slow, use expensive machines and expose health professionals to risk when collecting a throat swab. There are three specific bottlenecks here which new technologies are addressing:
Machines are developed to do hundreds of tests per day because that fits with the normal use case. There aren't normally hundreds of thousands of virus infections in most western countries to have this kind of capex. So scientists in Oxford have developed tests that can scale without a complex machine. These tests also take 30 minutes instead of 90.
There is a pandemic on and no one is talking about CRISPR, no need to worry. Mammoth Biosciences is trying to make a rapid gene test which does not use PCR and is reported within 30 minutes and works like a pregnancy test. I have pictures. Jonathan Rothberg, serial inventor of all things medical is also developing a similar test which he thinks can be done at home. I have more pictures. Curiously, Jonathan is also the inventor of portable ultrasound machine Butterfly Networks, which some people are using as a diagnostic tool for COVID-19. These and some other new tests can also use saliva instead of swabs making it easier to do lots and lots of laboratory tests.
In a parallel lane, many companies are working on bringing out antibody tests which give different information compared to PCR tests but are invaluable in tracking the state of transmission in any community. 
Treating patients:
The final solution for coronavirus may only be a vaccine and a few are already in development which we may only see next year. The biotechnology industry is doing its damndest to try and outflank the virus by throwing everything we have got. 
As of today, there are 265 registered clinical trials in the world. The real number may be bigger. 
We are starting to get a glimpse of some exciting new technologies being applied to building new products to treat COVID-19. Need for speed is favouring those who can deploy creative thinking. AbCellera (Canada) has a platform which uses machine learning to identify 500 unique antibodies in serum of patients recovered from COVID-19 which have not gone to the drug company Lilly to pick the best one to develop as a drug which can be given to patients early in their disease. A therapeutic antibody may get deployed before a vaccine because of how regulation works differently to each of them. A very similar approach is being taken by Regeneron who have managed to get their antibody combo into animal models in record time and are targeting the first clinical trial in summer. Trials can be as small as 30 patients for phase 2 and 300 patients in phase 3. At the current rate at which people are developing COVID-19, we could do these trials in a few weeks for each! 
Repurposing for a greater purpose:
There has always been some interest in testing drugs that exist for one thing to be applied for another because they are available, found safe and the barrier is lower but we have never really hit big in this space. At least not by accident. A pandemic is the best moment to try something like this. There is a strong need and there is no time. So trying out something from scratch which will take many years to come through is really not an option. This has led many scientists to use technologies old and new to try and throw spaghetti at the wall and see what sticks (in the industry, we call it a binding assay). 
One of the most impressive initiatives involves 22 labs in UCSF that came together to do years of work in a matter of weeks. The virus has 18 genes. They found all the 400 odd proteins with which the virus interacts and then thinking outside the box, they identified any drug that is already known which could stop that interaction. They have so far found 50. Most are drugs currently used for cancer. It seems that pandemics are great moments to think outside the box.
So far, drugs that have found use in managing coronavirus were used in arthritis, HIV and malaria. 
If any EV readers want to help, there is a Kaggle challenge to solve COVD-19 is currently on. 
For another view on how innovators are tackling the virus, read Anton Howe here.
Climate breakdown: 413.75ppm | 3,721 days
Each week, we're going to remind you of the CO2 levels in the atmosphere and the number of days until reaching the 450ppm threshold. 

The latest measurement (as of March 19): 413.75ppm; March, 2019: 410.91ppm; 25 years ago: 360ppm; 250 years ago, est: 250ppm. Share this reminder with your community by forwarding this email or tweeting this.

⚡🔋 The resilience we build tackling the pandemic could help us deal with the ultimate challenge for our world: climate change. This is why we're continuing to discuss ways to combat the climate breakdown. Our upcoming discussion for members next week focuses on lithium-ion batteries and the challenges of their recycling for the environment and safety. We'll get together with Ajay Kochhar, the CEO of North America's largest li-ion recycling plant, to discuss how they extract 80-100% of valuable metals for re-use in electronics. More information and RSVP here.
Chart of the week
A brilliant summary of where we stand, and where we are likely to end up depending on what measures our governments take. It's a must-read. The chart below showcases the importance of understanding the transmission rate in order to get the contagiousness under control.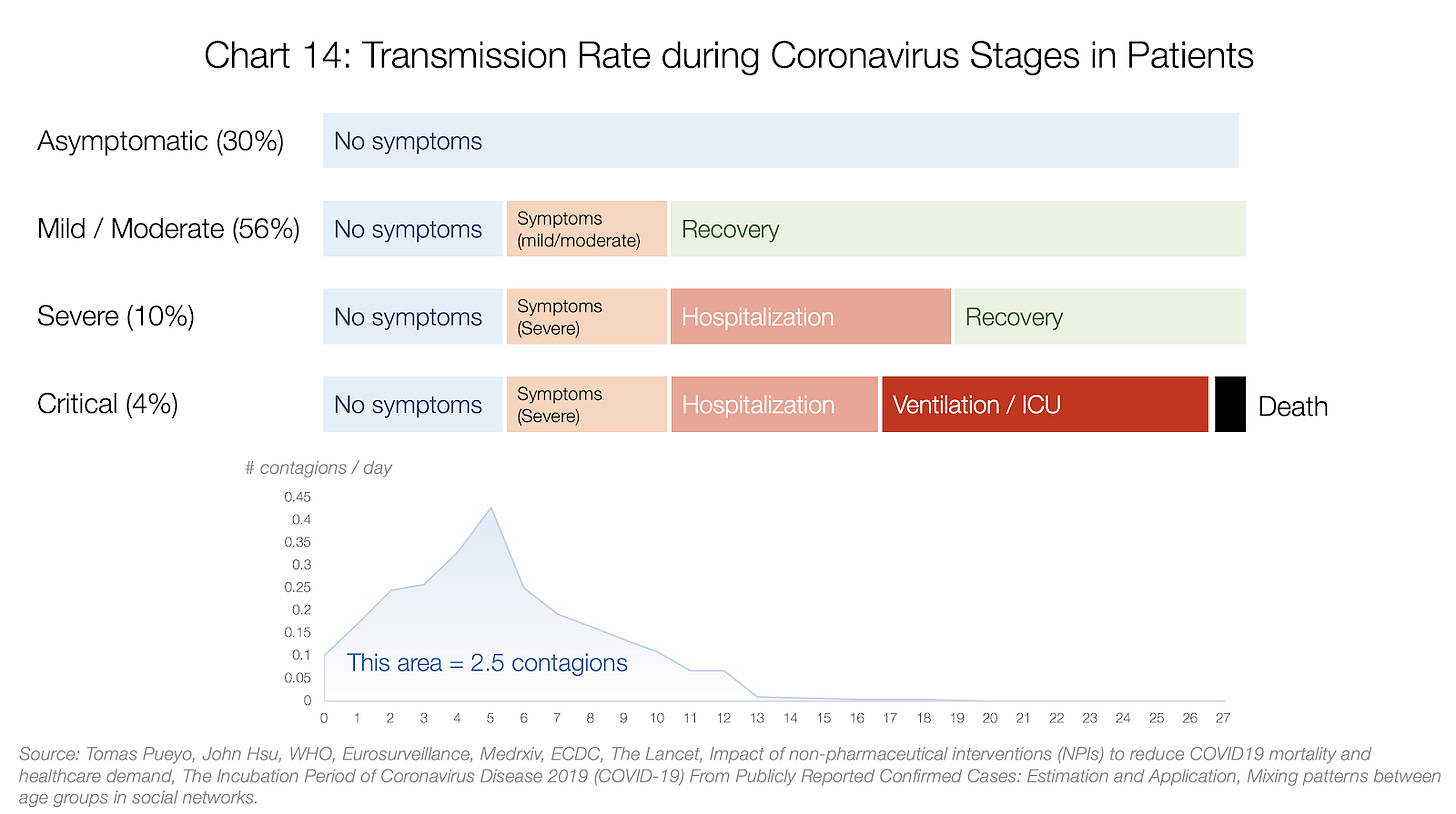 Short morsels to appear smart on Zoom
🙄 Zoonotic diseases like COVID-19 are a predictable consequence of the disruption of natural habitats by humans. See also: is COVID-19 giving nature a holiday from, well, us?

Counter-intuitively, music streaming is actually down in some coronavirus-affected countries.

And now for something completely different (from coronavirus): spotting fake customer reviews using mouse movements. 🐭
Rydberg atoms can detect signals over the entire radio spectrum.
Apple Carplay is more distracting than alcohol.

🔫 Can graffiti be vandalised? The EV team thinks it can.

🦇 A bloody French kiss and other ways socialization helps vampire bats survive.

For a short moment, Earth had two moons.

End note
Nothing else really matters right now. We have to get the spread of coronavirus under control and doing so demands extraordinary measures. The impacts of those measures, in turn, require extraordinary second-order measures, as we are seeing in China and parts of Europe. The contagion percolates in many ways: public health, medicine, politics, economics, innovation and technology. 
As it plays out, I'm going to spend some time continuing to help clarify the environment—and giving you useful prompts. 
But let's not pretend this isn't serious. Watch Chancellor Merkel in her televised address here (it is dubbed in English).
I've studied systems and fast growth curves, exponential ones, for many years. Systems are adaptable until they aren't, then they become brittle, they may undergo a phase-change. Exponential curves can be gradual until they aren't. They come at you fast. They drown you. And they keep going and going. Until they don't. But when is that? (I'll be tackling the dynamics of such processes in the podcast this week, so tune in.)
Every day of dithering and delay pushes up that horrible curve, and only severe action can prevent it. The later you act, the more severe the action. The governments in the US and UK are not doing enough to "crush" the curve: see John Burn-Murdoch's excellent analysis. Good curves are cyan and, possibly, yellow. The rest, mostly, suck.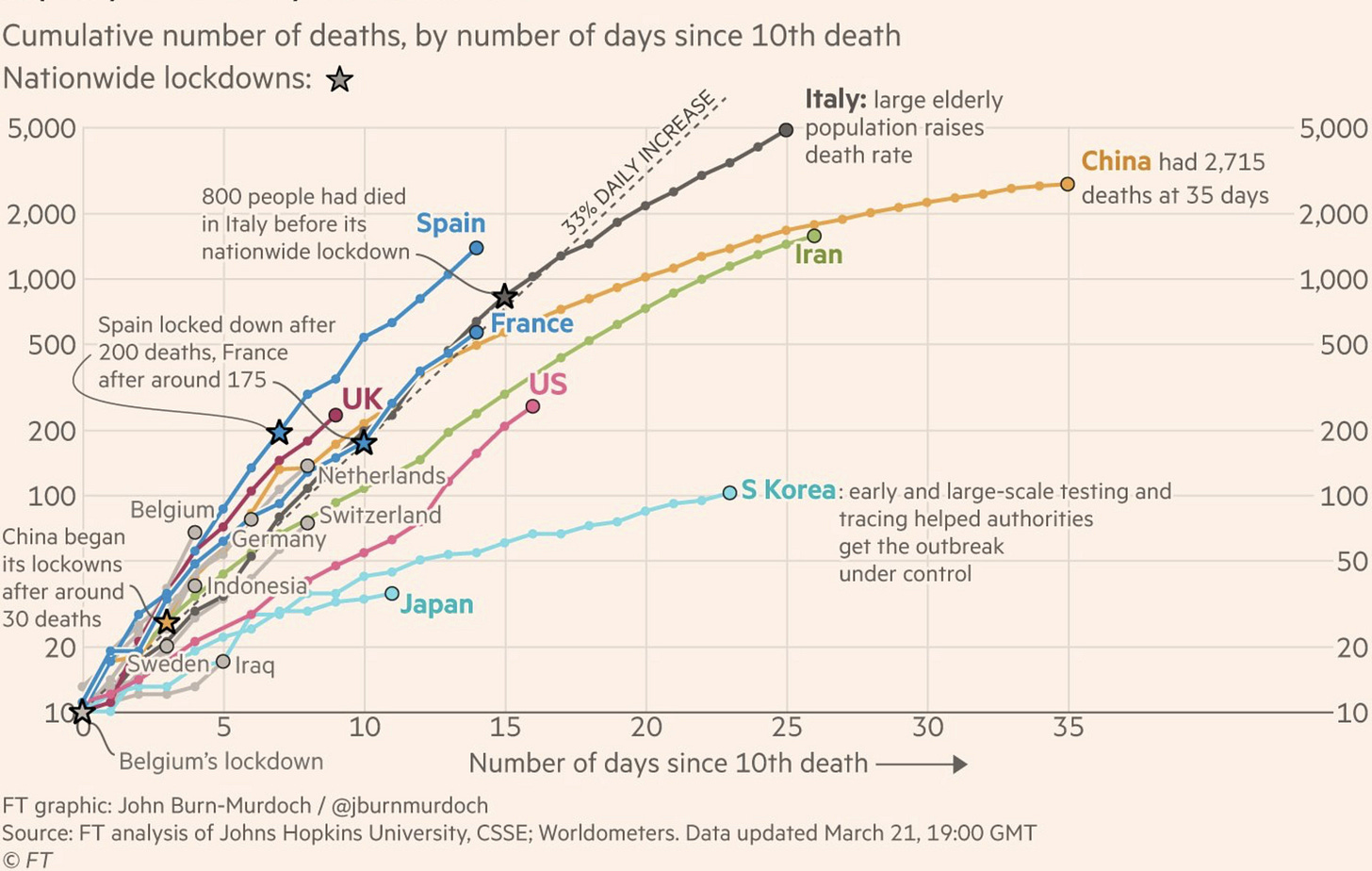 You, however, personally can make a difference.
On a walk with another family this weekend, we continued the same stringent physical distancing we had been practising for the past several days. It was a curious ballet, as we were able to cluster within the family but not between family groups. Move from talking to one's own child to the other parent, triggered a subtle magnetic repulsion. Spending 170-200cm away from your walking partner is a novelty but does not interfere with a walk.
I was surprised to see people on the streets who hadn't got the memo about the safety of distance. If you know someone who hasn't, do them a favour a tell them.
Stay safe, keep your distance, stop travelling and WASH YOUR HANDS.
Azeem 
---
What you are up to—notes from EV readers
Several EV readers are involved in Cov-clear which is gathering community case reports.
Azeem on MIT Tech Review's Radio Corona: "I don't think I could've imagined the scale of lockdown, panic in Europe that we have witnessed." 
Phil Fersht and HFS are hosting a free one-hour unfettered 'radio style' debate featuring highly prominent industry commentators and practitioners on 27 March. Azeem will be there, too!
Simon Roberts' upcoming book The Power of Not Thinking is out for pre-orders.
Tim Leberecht and the House of Beautiful Business are hosting free online Living Room Sessions during the COVID-19 crisis. 
Scott Smith and Madeline Ashby's new book How to Future: Leading and Sensemaking in an Age of Hyperchange, is available for pre-order.
Kent Langley is inviting you to take part in ExoWorld, a three-day event about the 21st century breakthroughs and tools for change.
Andrew Bakst's two-part series on the future of fintech. Part 1 and Part 2.
Gregory Bufithis: Internet service providers are utilities
Please send your projects and updates to marija@exponentialview.co.