🔮 Working less; AI & war; rethinking GDP again; rats, emoji & duck-rabbits++ #241
What's the environmental impact of AI?
Hi, I'm Azeem Azhar. I'm exploring how our societies and political economy will change under the force of rapidly accelerating technologies and other trends. Enjoy Exponential View in a comfy chair, with a cup of coffee (or tea)!

But first, we need your help. This wondermissive is being spam-filtered, which means lots of people who should receive it, are not receiving it. The only way we can reach that unfortunate spam-blocked cohort, and put those muddlesome spam algorithms in their place, is with the help of readers like you. Bad robots. Good humans!
Please add us to your contact list, drag the email into your inbox (and out of the bulk mail folder), and even send a reply to it. By doing this, you will help guarantee other readers receive their weekly dose of EV. 🙏🏽

📅 Premium members, take note of two brilliant State of the Exponential briefings we have coming up: the first, with Huw van Steenis, former Senior Advisor to the Governor of the Bank of England, who will lead us through the future of cash; and the second, with Aldyen Donnelly, Director of Carbon Economics at Nori, who will discuss an economics toolbox for tackling climate change. Read more and register here.

💬 If you enjoy reading EV, please hit the ❤ button above. Or leave a comment.
---
⚡ This issue has been supported by our partner, Toptal
If you're building the next exponential company, you know the importance of a killer digital presence. Toptal's network of expertly-matched designers are pros in curating immersive digital experiences across web and mobile platforms, and have a track record of success at companies including NASA, Microsoft, Nest, and Intel. When you're ready for your exponential redesign, get started with Toptal.
---
Dept of the near future
🎯 What does the future of conflict look like? General Sir Richard Barrons and I discuss the impact of AI, digital platforms and cyber-threats on the domain of war, and why those in the West live 'as strategic snowflakes, where our daily life is enormously fragile.' Richard was a four-star general whose responsibilities included the UK's Special Forces and cyber capabilities. Recommended listen!

🗳️ Researchers analysed over a terabyte of WhatsApp messages, images, links, audio files, and videos connected to what has been described as 'the first WhatsApp election' in India. They found that 'outrage porn' content, such as a woman sitting in front of a Pakistani flag whilst desecrating an Indian flag, was most likely to go viral. Meanwhile, Russia is allegedly continuing its efforts to ensure the US 2020 elections will be a Facebook election—Facebook says it took down multiple Russian-linked accounts targeting the US 2020 vote. 

💯 The technologies we have today could allow us all to work less and live better lives. The reasons we don't and aren't, are social and economic, not technical, argues Toby Phillips. See the graph below which shows the weekly hours of work required, per worker, to match the output of the average British worker in 1930.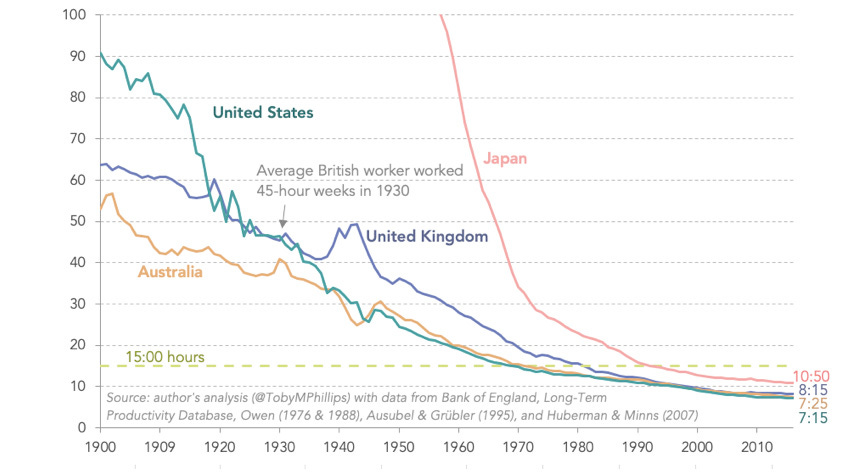 🔎 Regional inequality is increasingly expressing itself at not just the economic level, but at the genetic level. A new study published in Nature found that people with high polygenic scores for educational attainment tend to live near each other. The pattern was replicated for many other traits: '[A]cross polygenic scores for many different traits, including heart disease, body mass index and smoking, we mostly saw the same pattern. Those with the more "desirable" scores on these traits – the scores that, intuitively, you would like to have – were leaving' impoverished areas. And according to Branko Milanovic, often they're not just living near each other, they're also getting married and passing on their combined advantages to their children, feeding income inequality. (For more on the state of the art of polygenic risk scoring, please check out my conversation with Steve Hsu.)

💥 Talking about inequality, as WeWork picks through the wreckage, the controversial CEO boasts a smooth $1.2 billion in addition to a consulting fee of about $185 million, a $500 million credit line and the ability to appoint two board members. Adam Neumann's 'platinum parachute' represents almost a third of WeWork's bailout from SoftBank Group Corp. Meanwhile, his former colleagues are selling their shares for less than the value of their stakes when they were issued, and several thousand employees will lose their jobs.

🧮 EV reader, Mark Cliffe, Chief Economist of ING, is the latest to try his hand at fixing the many flaws of GDP as a measure of economic activity. Cliffe and his colleagues argue that GDP underestimates US GDP growth by 0.75 percent per annum and overstates inflation by 0.4 percent. He proposes a 'digital remix' to more accurately measure the digital economy and investment in intangibles. Accurate measurement requires someone to be collecting the data to begin with, of course. Another EV reader, Professor Diane Coyle, is calling for the UK to start tracking statistics on the rise of 'factoryless manufacturing', as more and more major companies outsource their entire manufacturing process to sub-contractors. I have covered the importance of better conceptualising GDP a number of times, most recently in EV#217.

❤️ I think Nesta's arXlive might well be the best website if you care about breakthrough research.


🌡️ Climate catastrophe: 408.29ppm
| 3,862 days
Each week, we're going to remind you of the CO2 levels in the atmosphere and the number of days until reaching the 450ppm threshold.
The latest measurement (as of October 24): 408.29ppm; October 2017: 403.64ppm; 25 years ago: 360ppm; 250 years ago, est: 250ppm. Share this reminder with your community by forwarding this email or tweeting this.

👉 Whether or not the current presidential administration is taking climate change seriously, some in the US Army certainly are. A study by the US Army War College says that 'the Department of Defense is precariously unprepared for the national security implications of climate change-induced global security challenges.' 
It is doubtless correct that many awful things that have not happened before will yet happen. Foresight regarding such events would be nice. It would be nicer still if we could recognize more quickly what is happening right in front of us. That is the right starting point for thinking strategically about the warming climate.

🍃 Renewable energy could potentially match the output of the world's coal-fired power stations within five years, according to new forecasts from the International Energy Agency renewables 2019 report.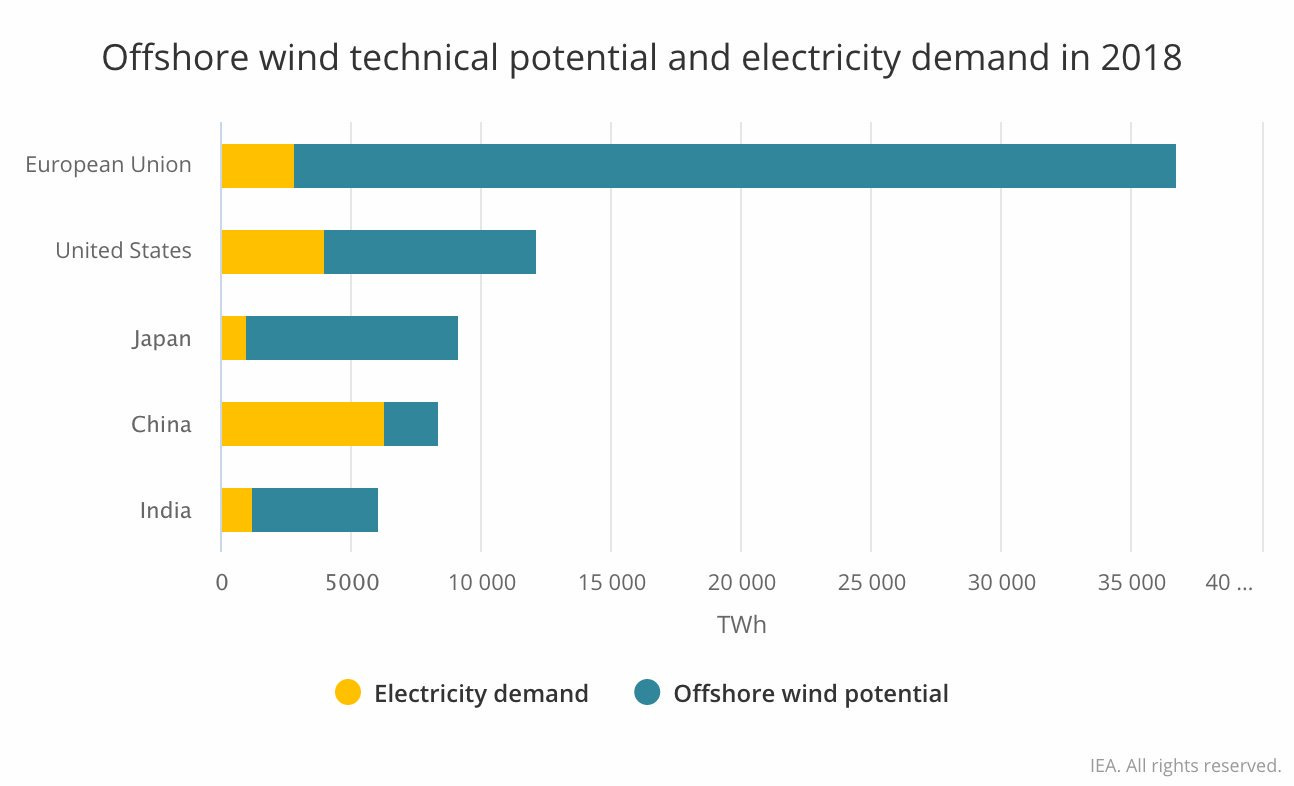 Dept of AI
We don't often think about the environmental impact of AI, but we should. Roel Dobbe and Meredith Whittaker lay out exactly how mass computation, business practices of AI companies, and sneaky lobbying efforts contribute to the challenge. Current estimates suggest that the tech sector will contribute 3.6 percent to global carbon emissions, despite efforts by Google and others to be carbon neutral. The increasing compute load of artificial intelligence, especially when run on Amazon's non-carbon-neutral AWS infrastructure, adds to the problem. Their paper comes with some suggestions. Good read.

🌫️ The very features which make adversarial machine learning powerful may also make it unacceptably vulnerable in a military context. 'Even as people worry about intelligent killer robots, perhaps a bigger near-term risk is an algorithmic fog of war—one that even the smartest machines cannot peer through.'

Algorithmic bias is a very present challenge, affecting already disadvantaged populations. The new study has found that hospitals in the US use an algorithm that assigns a lower risk score to African American patients, making them about two-thirds less likely to get the care they need. (Important study: full write-up here.)

🔤 A person paralysed from the neck down was able to write the alphabet using his mind. Based on his brain activity, a neural network was able to translate the imaginings into legible letters. The breakthrough could have enormous implications for people who are 'locked in' due to paralysis or strokes. 

Facial recognition doesn't necessarily require a face, as it turns out. Researchers at the Mayo Clinic were able to correctly match photos of volunteers to unidentified medical scans of their heads, using off-the-shelf software.

👏 A prison in Finland is teaching inmates about AI, with the goal of helping them to find jobs in the tech sector after their release. The pilot program is expected to roll out in three more wards in prisons across Finland later this year.

Data scientists at Numerai are building a hedge fund based on aggregating crowd-sourced investment models. Their ensembling approach works better that any single model. Nice write-up.

Short morsels to appear smart at dinner parties
👛 Men tip Uber drivers more than women, and they are 12 percent more likely to tip if their driver is a woman.

🇨🇳🇮🇳 China's loss in the trade war could be India's gain, as assembly of the iPhone XR begins on the subcontient. (See also, China's rapid move to more technological self-reliance is giving a fillip to blockchain. And, Shenzhen is the home to the largest number of Amazon sellers in the world.)

Christianity is declining rapidly in the US, down 12 percent over the past decade. (Arabs are also getting less religious.)

🛴💨 Lime has lost over $300 million in 2019.

🐀 Continuing the series of 'rats are massively underrated' (see previous newsletters for reports of rats saving drowning friends), scientists have trained rats to drive tiny cars.

Chad Rigetti on how Google's quantum computer conducting a "complex set of calculations in 200 seconds, versus a predicted benchmark time of 10,000 years for the world's fastest supercomputer" matters—and what needs to happen next.
IBM and Google are bickering over what counts as quantum supremacy.

🤔 Six percent of US adults on Twitter account for 73 percent of political tweets; and the most prolific of them don't like Trump. 

A 'Youtubers Union' is demanding fairness and transparency from Google over how the algorithm ranks videos.' See also, Google employees are accusing the tech giant of creating an internal surveillance tool to monitor employee dissent.

Emoji we use the most, ranked.

End note
I have been tremendously busy this week with my various commitments this week, and we did our best to bring you an EV worth your attention.

I didn't say much about Facebook, but I'll leave you with one segment from Zuckerberg's House hearing on Libra this week: the exchange with Representative Katie Porter (see all five minutes here) brought to the fore something I wrote about previously; Facebook's leadership is so distanced from the actualities of its day-to-day operations that they seem to be blind to the harm they're inducing. Content moderators, hired as contractors, see the worst of Facebook—and Zuckerberg implied in his quasi-response that he wouldn't want to share their experience. Zero leadership.

Have a fab week!
🚀 Azeem

P.S. Please help us with our spam problem. The details are at the top of this newsletter.
---
💯 This issue has been supported by our partner, Toptal
Build the next exponential growth company with Toptal's Designers, Developers, Product Managers, Project Managers, and Finance experts. Join today to tap into our elite freelance talent network.
---
What you are up to—notes from EV readers 
Albert Wenger's proposal on what to do with a problem like Facebook is sensible. An open API where we can extract our data cracks the network effect.
James Field raises $10 million to automate protein drug discovery; the round is led by EV readers at Lux Capital. Congrats!
The Ada Lovelace Institute is looking for the Head of Research.
Stephanie Hare is speaking about policing and surveillance at the Validate AI conference in London on November 5.
Congrats to John Henderson for closing a $275 million fund at AirTree.
Professor Gina Neff on the rise of online advertising for non-monetary rent arrangements.
Huw van Steenis: Central bankers aren't sure what to believe about the economy anymore.
Dev Lewis shares his newsletter ChinaIndiaNetworked highlighting the networked relationship between the two regions at the intersection of technology, society, and politics.
James Pember questions: what should we be building?
Maskoli Okpure shares his newsletter about marketing.
Jim Wilson and Paul Daugherty on creating the symbiotic AI workforce of the future.