🔮 Robots vs workers; naughty Huawei; private social media; Harari & wheels++ #257
Did social media really cause political polarisation? No.
Hi, I'm Azeem Azhar. I explore how our societies and political economy will change under the force of rapidly accelerating technologies and other trends.
The near future
💯 Did social media really cause political polarisation? Ezra Klein reckons the roots of polarisation run much deeper. I agree with him. (At least one recent academic paper says that social media leads to more varied news diets. That doesn't mean that co-ordinated trolling and bots on social media are not a problem for the functioning of democracies, of course.)

💰 The dark side of financial inclusion for the developing world is the ever-increasing levels of personal debt. A wave of new apps is making loans more accessible than ever to people in Kenya, where there are no caps on interest rates. A Californian startup, Tala, claims to have made more than $1 billion in micro-loans, typically at an annualised interest rate of 180 per cent. 10 per cent of Kenyan adults have defaulted on a digital loan, whilst others are caught in a cycle of borrowing from Peter to pay Paul. 

🤖 Economists Acemoglu and Restrepo have done some of the best work on the impact of robots on wages and employment. Together with Claire DeLarge, they have looked at the impact of robotisation across 587 firms in France. I haven't read the full paper yet, but "firms adopting robots shed jobs as they became more profitable and productive. They also created jobs internally, but those gains were more than offset nationally by job losses among competitors who were unable to keep up with the early adopters." Full paper here.

👻 Jonathan Haskel, an economist who sits on the Bank of England's Monetary Policy Committee, recently gave a fascinating speech on how the shift towards an intangible economy will affect monetary policy. The intangible economy is a key component of the exponential age and will confound much of the received wisdom around borrowing, corporate financing and monetary policy. Technical speech. (An example of the continued rise in the importance of intangibles: data management company Snowflake just became one of tech's most valuable startups, with a valuation of $12.4 billion. With its latest funding round, the company has raised over $1.4 billion in funding from a gaggle of VCs. )

💾 Huawei 1: Stunning insight into the government-private fusion around AI that is pursued in China. Huawei was given access to 1.4bn facial images to build an AI solution to compete with Apple's Face ID.

🥊 Huawei 2: The US Department of Justice has added more charges to the case against Huawei, accusing the company and four of its subsidiaries of racketeering and conspiracy to steal trade secrets. This is in addition to the previous charges laid in January 2019, which included money laundering, sanctions violations, and theft of IP connected to T-Mobile's Tappy the robot. The DoJ alleges that Huawei had an internal bonus program to reward employees for IP theft.

💭 China isn't the only country pursuing digital authoritarianism, points out Steve Feldstein. Two dozen other nations are dabbling.
🥵 Climate catastrophe: 415.01ppm
| 3,756 days
Each week, we're going to remind you of the CO2 levels in the atmosphere and the number of days until reaching the 450ppm threshold. 

The latest measurement (as of February 12): 415.01ppm; February, 2018: 411.37ppm; 25 years ago: 360ppm; 250 years ago, est: 250ppm. Share this reminder with your community by forwarding this email or tweeting this.

This is an excellent, terrifying, in-depth look at nine climate tipping points around the globe from the thawing of permafrost to the death of coral reefs and the Amazon rainforest. 
Chart of the week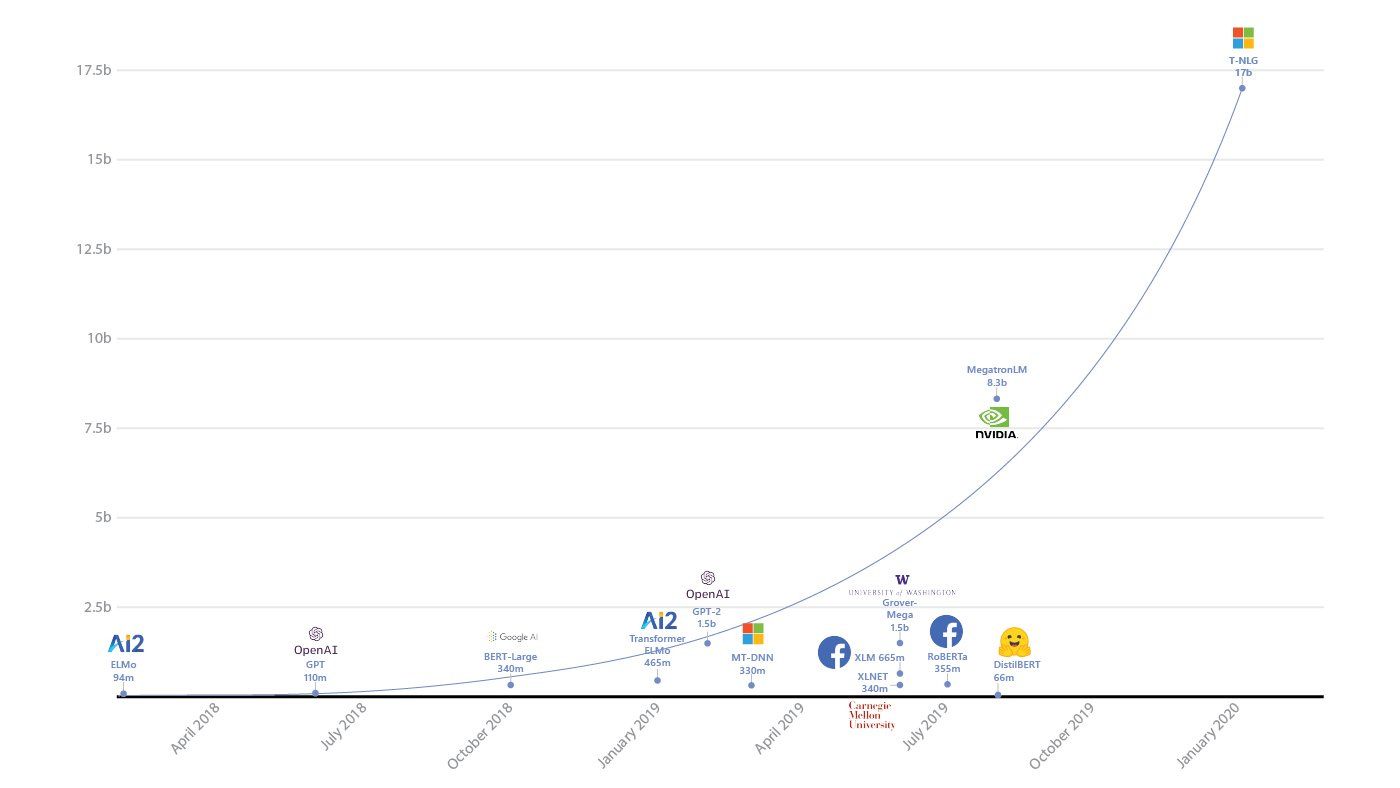 Microsoft Research released a 17-billion-parameter language model, the largest ever. In less than two years, the number of parameters in the largest language models has increased 180-fold. 

As Microsoft shows, a large model can generate decentish responses to open-ended questions, in some cases demonstrating "zero-shot capabilities."
Short morsels to appear smart at dinner parties
The failure of our culture, our social technologies, to adapt as rapidly as our physical and digital technologies is a driving force behind many of the challenges we face today, but we have the power to change that. 

👌 Yuval Noah Harari's unique perspective on life goes a long way to explaining the thinking behind Sapiens and Homo Deus.  

Social media connected us to the world, but maybe where we're headed is where we started: connecting just to our family and friends. 

SoftBank investment funds' $2 billion loss effectively wiped out its operating income in the last three months of 2019.

🎰 Amazon Flex drivers are gaming the system using bots to get gig jobs. 

🍲 The US's $10 billion food delivery industry is about to overtake profits from eating in at restaurants. 

Autonomous systems impact conflict dynamics, with implications for deterrence, decision-making and risk of escalation. 

🎡 The wheel took a really long time to invent. Here is one possible explanation.
End note
I'm on a half-term break next week. We have a special guest delivering EV goodness for you.

Have a good week!
Azeem
---
What you are up to—notes from EV readers
Azeem and other EV readers contributed to the paper Multilateral Solutions for Global Governance of the Information and Communications Technology Industry.
Claudia Chwaliz writes about renewing democracy at the time of great disillusionment and the new OECD project that tackles this. 
Mark Heynen explores how the growing middle class in Asia will impact where the tech titans go. 
Jerry Neuman summarises the most important principles of good business writing on two pages. 
Kyle Samani writes about the explosion in self-organising systems. Kyle recently spoke to EV members about the use cases for utilising blockchain for scarce resource allocation. 
Ben Robinson is in conversation with Andy Yen, the founder of ProtonMail.
Jan Erik Solem's Mapillary published the Mapping in Logistics Report.
Neil Kakkar on the best things he learned in 2019. 
Vineeta Greenwood: "Make a change now, or become obsolete". 
Congrats to Harry Briggs who invested in TouchSurgery: the company just got acquired and he wrote about it here. (Good lessons in this post.)
Rami Alhamad, technologist & hardware startup founder based in Toronto, is looking to meet other EV readers in the area. If you're in Toronto, email him at hmd.rami@gmail.com
Dig deeper
My conversation with Yuval Harari.
My conversation with Mariarosaria Taddeo on AI and global security.
My conversation with General Sir Richard Barrons on the future of warfare.
Haskel's collaborator, Stian Westlake, briefed EV readers on the intangible economy in May 2019. See the recap and notes here.