🔮 Why geography matters; where smart money is heading; bike freeways; feminist sci-fi++ #230
Despite the internet revolution, geography still matters.
Exponential View
Azeem Azhar
's Weekly Wondermissive: Future, Tech & Society
---
This issue has been supported by Open Climate Fix:
🌩️ Open Climate Fix is using AI to predict cloud motion and formation to understand how much solar energy will be generated in the next five minutes to four hours.
---
Hi everyone, 
I have one favour this weekend: if you enjoy reading Exponential View and listening to the Exponential View podcast, please take a moment to hit the heart at the top of this email, share with at least one friend, or say something nice about EV on social media.
Thank you!


Dept of the near future
🗺️ Despite the internet revolution, geography still matters. It remains a key factor influencing economic productivity and socioeconomic mobility. In new research published in Nature, researchers have developed a new way of mapping labor flows across and within geo-industrial clusters. My reading of the work: specialist clusters will remain attractive to talented workers with negative impacts on less dynamic regions. Meanwhile, according to another study (accessible write-up here), lifetime immobility could help explain why the size of a person's birthplace correlates to their wages later in life. People born in big cities earn more. A final paper suggests that tech clusters that bring high-paying jobs do create additional work. But the bulk of those jobs have low-wages and the arrival of highly-skilled, well-paid workers has a 'negative effect from high-tech on wages for workers in the bottom third of educational attainment.'

🔮 How we think about the future helps shape the future we end up with. In an insightful piece, Sam Kinsley argues that the
formulation of a future as the future [...] does political work – it enables certain forms of powerful rhetoric, for example around a fourth industrial revolution. Rhetorically constructed as the "present future", it possesses a discursive power over what is considered 'common sense' and elides the persistent contradictions of capitalism.
(That fight to shape the narrative of the future is playing out in industries, from airlines to car manufacturers to Silicon Valley as workers use the greater bargaining power afforded by a tighter labour market for a bigger slice of the pie. For some workers, it's OK. When Uber announced its $5.2bn loss this week, $3.9bn was payment for employees. And now Google's former HR chief has said the technology giant is too reliant on contractors… Although he realised this after cashing out, having been in senior HR roles at Google for a decade.)

😷 Hiding from Silicon Valley is expensive, complicated, and fun only for a short time. Pushing back against the overreach of surveillance capitalism needs to be a collective, rather than an individual effort; we shouldn't have to spend our days 'hiding in our own lives', as Shoshana Zuboff recently noted in our conversation.

💸 The end of cash. Higher internet use is correlated with moving towards cashless payments. (I wrote about ditching cash in EV#228.)

📚 Fighting populism with libraries. That's the idea at the core of sociologist Eric Klinenberg's new book, Palaces for the People. Interviewed by EV member, Kenn Cukier,  Klinenberg argues that public spaces create opportunities for communities to form, making them critically important social infrastructure.

🔎 Tom Tunguz: Which categories are seed investors backing? Seed investments are a good crystal ball into the future—these sectors may see successful companies scale up in four to five years. Blockchain, biotech and fintech is up. Travel, e-commerce, and social media down. 

🔥 Climate breakdown: 410.37ppm
| 3,937 days
Each week, we're going to remind you of the CO2 levels in the atmosphere and the number of days until reaching the 450ppm threshold.

The latest measurement (as of August 8): 410.37 ppm; 12 months ago: 408ppm; 25 years ago: 360ppm; 250 years ago, est: 250ppm. Share this reminder with your community by forwarding this email or tweeting this.

Siberia is burning. 2.24 million hectares, an area larger than the size of Wales (a part of the UK), is on fire, causing potentially irreparable damage to ecologically delicate permafrost zones.

🇻🇳 Vietnam has overtaken Australia for commissioned utility-scale solar PV capacity. Vietnam reportedly added more than 4.3 GW of new solar in just eleven weeks.

🚴 Germany is building an autobahn for bikes. The car-free highway will connect ten cities and four universities, and is projected to take 50,000 cars off the road.

💯 A new report from the Intergovernmental Panel on Climate Change has called for drastic changes to land use, agriculture and human diets to limit the impacts of climate change.

A final reminder for British readers. If you want to move to a renewable energy supplier, I'm encouraging readers to move to Bulb. I've had a great experience there. Until Monday, Bulb will give EV readers a £75 handshake for making the switch.

Dept of artificial intelligence
I missed out on the news that Microsoft was putting $1bn into research group, OpenAI, to pursue artificial general intelligence (AGI) on the basis that 'the most benefits will go to whoever has the biggest computer', according to Greg Brockman who runs the shop. 

As I wrote last week, 'we need to have a working theory of how to build [AGI]. And we don't have a good one yet', so it isn't clear to me that more computational power would solve the problem. Frankly, if it was just about compute power, governments or rich corporates would buy enough of it. Artificial general intelligence could be so powerful that it would be a strategic game-changer for anyone who secured an early advantage. (So if it were a matter of buying computational power, Google or Apple or Facebook could throw $50bn at the problem and solve it—it return for a lasting strategic advantage.)

Alphabet, Google's parent, is investing quite heavily. Its DeepMind subsidiary posted a £470m loss this year on revenues of £103m. I'm not sure where the revenues come from—whether it is an internal cross-charge or real external customers. One intriguing data point was staff costs, running into £568,000 per employee. It is fair to say, talent at DeepMind is quite well compensated.

But DeepMind is making real breakthroughs in areas like game-playing (think of AlphaGo and AlphaStar) and protein folding (AlphaFold); we see it making real progress in fields like reinforcement learning and symbolic AI as well. Basic research is hard.

The opporunity (and the size of the mountain yet to climb) is huge. Look at ScaleAI. The firm recently raised $100m, valuing it at $1bn, for its platform which provides high-quality training data for AI developers, such as self-driving car firms. It doesn't build AI systems, it supplies one ingredient for those who do. This also reminds us that even the basic tooling for industrial scale applications is still being developed.

Elsewhere:
Department of books
Earlier this week, I asked members to recommend books they were reading over the summer break. Here is a short selection. The full list is here. 
I am reading Hassan Abbas's tale of Pakistan's Nuclear Bomb, Oliver Morton's The Moon, J.C. Sharman's Empires of the Weak, as well as several books written by the people you'll have a chance to hear on our upcoming podcast season. I recently finished John Lanchester's The Wall, a readable novel on dystopia after climate change. 

Short morsels to appear smart at dinner parties
🔋 Europe is positioning to become a global battery manufacturing hub. That could mean good things for cleaning up the supply chain.

You can practice interviewing for a job with Amazon as an Airbnb experience.

💌 Tinder has grown by over 40% this year and is expected to make $1.1 billion in revenue.

♀️The roots of feminist sci-fi stretch back to British colonial India in 1905. The author of 'Sultana's Dream' was also a founder of the women's rights movement in Bengal and started the first school in Bengal for Muslim women.

Are you a realist? Anti-realist? Instrumentalist? Relativist? Whatever you are, if you like flowcharts, this one's for you.

😱 Here's a quick FAQ about the far-right forum 8chan, which has been linked to multiple mass shootings (and here's another piece about the industry which helps to keep sites like 8chan online).

❤️ Watching movies together makes chimpanzees more sociable.

Phone farming won't make you rich, but for some it still beats the alternatives. We're in a weird world when people need to choose between Uber driving or ad fraud to make a living.
🌑 Tardigrades may have survived a crash landing on the moon. If they indeed did, this would once again prove that they are one of the world's most amazing and tragically underrated creatures.


End note
I am away for a couple of weeks. EV will appear in your inbox as usual.
The summer is usual quiet in British politics. But the computational profiling engine marches on. Britain's Conservative Party is running hundreds of variants of ads on Facebook that can only be a data gathering exercise for an upcoming campaign.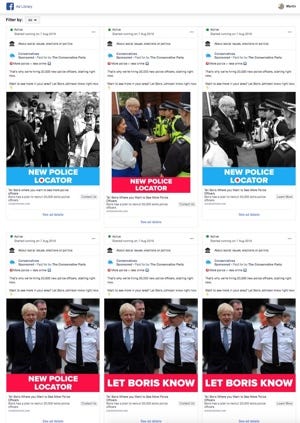 While I take a breather, that profiling will continue :)

Best,
Azeem

P.S. If you haven't yet subscribed to the premium version of Exponential View, do so now.
P.P.S. Scroll down to see what our amazing readers are up to!
---
This edition of Exponential View has been supported by Open Climate Fix:

🙌 Using open-science to reduce carbon emissions at scale. Sign up to our newsletter, volunteer your skills or help fund us (we're a non-profit)!
---
What you are up to—notes from EV readers
Congrats to Heather Redman for being named one of 2019 Puget Sound Business Journal's Directors of the Year!
James Wang on the AI chip landscape. 
Lydia Kostopoulos published a report on the role of data in algorithmic decision-making. 
Stephan Uhrenbacher on the present and the future of innovation in the travel industry. 
Mike Merriill will co-executive produce a series for Amazon and Sony Pictures inspired by him selling shares of himself since 2008. 
Miroslav Gavrilov on how to integrate the awareness about climate breakdown into roleplaying games.
Send your project or news to marija@exponentialview.co!