🔮 The superorganism; limits of liberalism; China clash; ukuleles, nudists and Victorians++ #264
The world turned upside down.
I'm Azeem Azhar. I explore how our societies and political economy will change under the force of rapidly accelerating technologies and other trends. I convene Exponential View to help us understand these topics.

With the Covid-19 pandemic creating sudden shocks across our economies, this is the major force driving change today. Many of the themes Covid-19 is illuminating, from calls for universal basic income to the importance of genomic technologies, rethinking the role of the state, and how to deal well with data, have been explored in my podcast series over the past four years.

🔏 The chances are you are in lockdown. I'd commend you to listen to the show, perhaps all the way back to series one. Each conversation makes for good company as you potter around your home.
The near future
🌍 A global network of over 7.5 billion hyperconnected individuals created the pandemic, and this same network can solve it. A beautiful essay on the superorganism that is humanity. 

🧭 The world turned upside down. Here is how.

💯 "If the limits of growth are eventually accepted, it will be because governments make the protection of their citizens their most important objective," writes John Gray in this essay on the crumbling of liberal capitalism, the final years of the EU, and freedom. (Even, the Financial Times, is calling for radical reforms because of the "frailty of the social contract", including universal basic income and investment in public services.")

🚕 Stunning essay. Cities after coronavirus: "One of the most pressing questions that urban planners will face is the apparent tension between densification—the push towards cities becoming more concentrated, which is seen as essential to improving environmental sustainability—and disaggregation, the separating out of populations, which is one of the key tools currently being used to hold back infection transmission."

🇨🇳 China is seizing the opportunity to establish itself as the "responsible global leader": alongside the medics, occasionally shonky equipment and training the CCP is shipping abroad to help countries tackle the virus, China is also, unsurprisingly, exporting its propaganda. But this is a 'geopolitical earthquake' that is happening independent of the CCP's actions, bringing de-Westernisation in full view. As Branko Milanovic argues economic dynamism is shifting east to Asia and we may see a relative deterioration of the West's economic position.

🤝 While openness and collaboration are often admired in scientific communities, the reality is that they are seldom practised—to a fault. In an experiment, Karim Lakhani and his colleagues at the Harvard Business School show that outside researchers were able to solve one-third of the problems research labs could not solve internally. 

📈 How might technology help deliver more robust supply chains? Predictive analytics, warehouse robotics and UAVs: interesting ideas explored by investors Santosh Sankar and Matt McHugh. (Global trade is taking a smashing—good data here. The cost of air freight from China has doubled or trebled in a few weeks. Container ships idle capacity has leapt.)
⚠️
Climate breakdown: 415.41ppm | 3,707 days
Each week, we're going to remind you of the CO2 levels in the atmosphere and the number of days until reaching the 450ppm threshold. 
The latest measurement (as of April 2): 415.41ppm; April 1, 2019: 411.69ppm; 25 years ago: 360ppm; 250 years ago, est: 250ppm. Share this reminder with your community by forwarding this email or tweeting this.
Carbon output could drop 5% this year, nearly four times further than it did after the global financial crisis. (I reckon it might be higher because I am more bearish on the depth of the plunge. The airline industry might be furloughed for half-a-year or more and it, alone, contributed 2% of annual emissions.)

🔝 The largest impact of renewable hydrogen could be in decarbonising heavy-duty industries, such as steel and aluminium-making, glass, or cement. We recently hosted MIT's Professor Donald Sadoway to discuss the innovation in zero-carbon steelmaking and its scaling. 

If you haven't registered yet, now is the final opportunity to register for our briefing with Auke Hoekstra. Auke will discuss the carbon costs of electric vehicles on Monday, 2pm BST. Read more and RSVP here. 
Startups amidst the crisis: relevance & resilience
This essay will show up in members' inboxes on Monday.
Charts of the week

Interest in the ukulele, DIY haircuts, poker and breadmakers are all spiking in recent weeks. See more amusing consumer Covid-19-related trends here.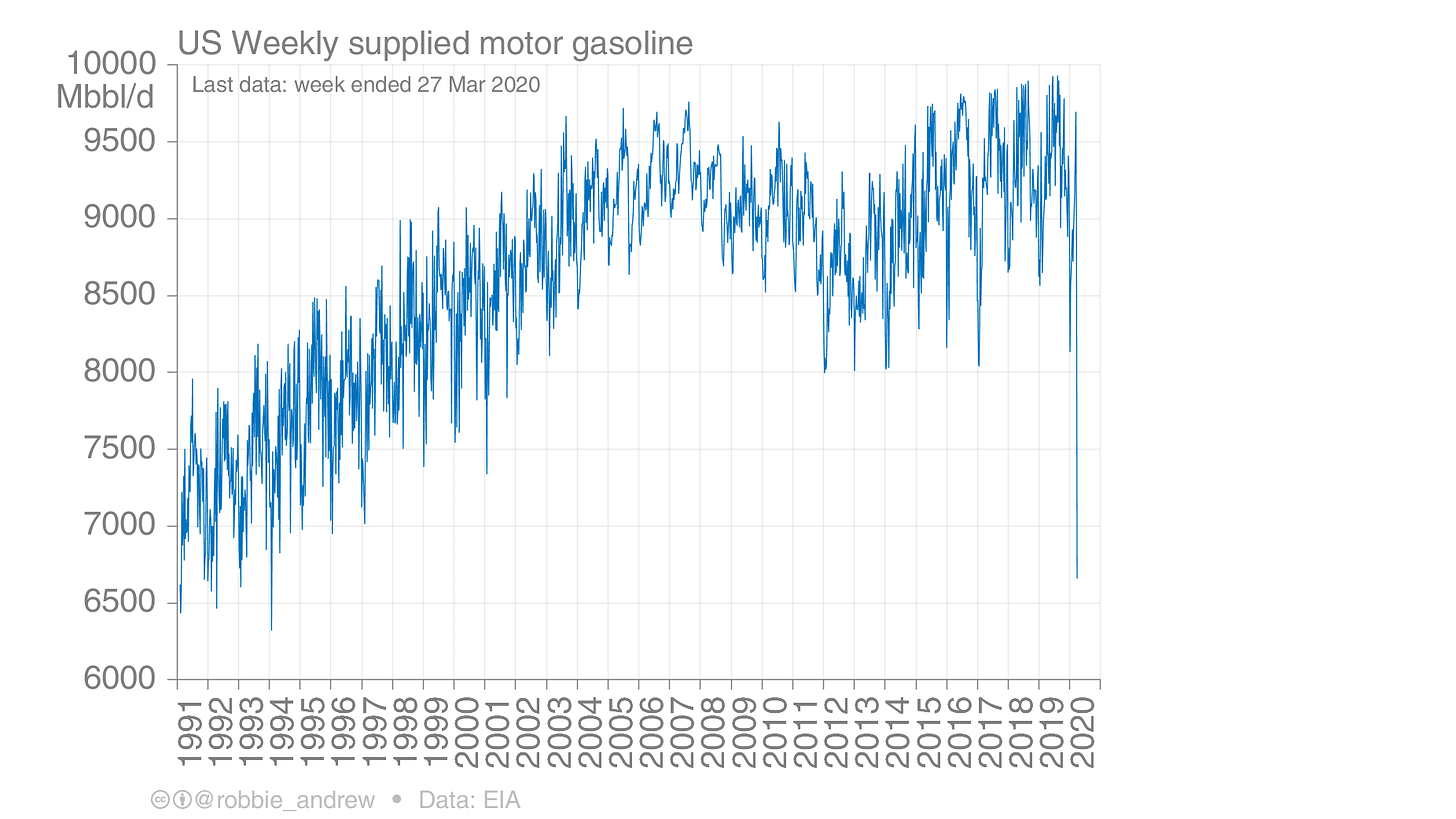 Short morsels to appear smart while staying at home
🛢️ We might be heading for negative oil prices as we run out of space to store oil?

Finding comfort in history: social distancing during the Black Death. 

😷❗ Mask work to prevent the spread of nasty viruses, this peer-reviewed study points out. (The picture below is of the researchers' bioaerosol collecting device, the Gesundheit-II.)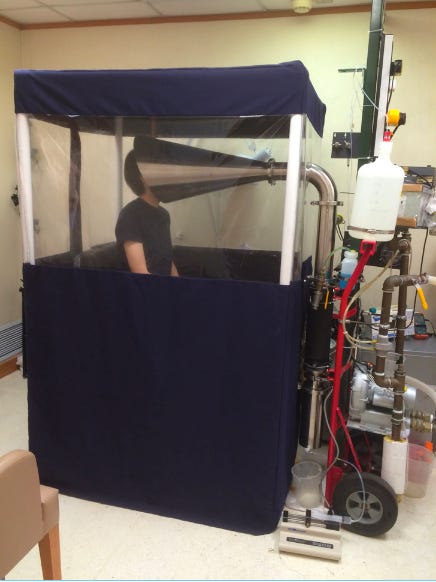 In addition, an interdisciplinary group of researchers from Yale University has attempted to size the economic benefit of universal cloth, rather than medical, masks could be between $3000 and $6000 per person in the US alone.

🍑 Masks are mandatory in Czechia. Even for nudists.
Li Jin "asked family members in China how life has changed in the past 3 months, since they are, in effect, living in our future."

The pandemic is changing Bitcoin usage in "unexpected ways".  Darknet spending is down.

Oxford's Centre for Evidence-Based Medicine has a regularly updated section of coronavirus fatality rates which is worth checking in with.

🤳 US blacklisting of Huawei cost the company a $12 billion shortfall. Still, at $122 billion, the company hits record revenue.

Wireless phones of WWI pilots. Amusing

🧠 Algorithms transfer brainwave into sentences with word error rates at 3%. 

😍 Neural networks bring this 1901 video of labourers in Victorian England to life.

End Note
How are you all feeling?
Earlier this week, one of my first mentors, Jack Schofield, passed away — of a heart attack not from Covid-19. Before I got involved in tech startups and analysis, I had a short stint in journalism where I met Jack. Being one of the first journalists to cover computing, starting the 1980s, he taught me a lot about the industry. If you've read EV, you've read Jack.
It is funny to think that Jack was the age I am now when I first met him. I don't think I would have shown the same open-mindedness and patience to a young Azeem that Jack did. Thank you, Jack.
EV reader, Vic Keegan, has written an obituary of Jack. I wrote a little series of tweets about what I remember about him. My last communication with him was a couple of years ago, when even then I was bugging him for a software recommendation.
I was pretty upset at the news—I think we all have a lot of emotion pent up right now.
So, tell me, how are you all feeling? (Comments below, thanks!)
Stay safe,
Azeem 😐
---
What you are up to—notes from EV readers
Rafael Kaufmann: Existential risk and resilience in the Anthropocene
Carly Kind: What will the first pandemic of the algorithmic age mean for data governance?
John Hagel's wonderful essay on flows and crises as catalysts for change.
Bobby Healy's Manna aerospace has the go-ahead to test drug deliveries by drone in Ireland.
Kezie Todd started Caredemic, a community-sourced repository of ideas and initiatives for how people can help in these times.
Kaila Colbin's new bed-time story for adults: Stay the F&*k at Home.
Andrea Coravos is among the researchers who have been working on a number of evaluation frameworks for connected sensor technologies — and published in Nature npj Digital Medicine, covering validation, security, data rights and more.
Paul Armstrong and his team are offering startups a 30-minute free consultation with marketing strategist to discuss core business objectives.
Chris Yiu shares the approach Tony Blair Institute is taking on the policy to fight Covid-19.