🔮 The limits of VC; cities; big tech; AI aces, revolution in Belarus, CRISPR squid++ #284
I'm Azeem Azhar. I convene Exponential View to help us understand how our societies and political economy will change under the force of rapidly accelerating technologies. 
I'm away this week, so today's newsletter is shorter. Worry not! I have invited political analyst, broadcaster and EV member, Nina Schick, to share her latest analysis of Covid-centered, state-led disinformation campaigns. Nina is the author of Deep Fakes and the Infocalypse. If you're a member of EV, you will receive her essay shortly.
The near future
🔖 Venture capital has "real limitations in its ability to advance substantial technological change." This paper, by Josh Lerner and Ramana Nanda at Harvard University, looks into the limitations of the VC model. (See also, EV reader, Marvin Liao, on the slow unbundling of venture capital.)

✂️ Five tech companies currently account for 20% of the stock market's total worth— a level not seen from a single industry for at least 70 years. Apple just became the first $2trn company ever. To uncover the European perspective on regulating big tech I recommend this profile of Marietje Schaake, former Member of the European Parliament and currently the International Director of Policy at Stanford's Cyber Policy Center. Expand with my conversation with Marietje from a year ago.

🤔 Insightful survey of the growing computer power requirements of deep learning applications, and how this will decide the future of the field. Alongside calls for more transparency around GPT-3, researchers are questioning OpenAI's "the bigger is better" method as the way forward for AI development.

🌆 Cities (in the West) are soul-searching. San Francisco's housing inventory has risen 96% year-on-year, a dramatic increase not seen anywhere else in the US. Investor Fred Wilson balances the growing number of elegies for New York City with optimism for its rebirth. As the World Bank's Sameh Wahba and I discussed, Covid-19 will change our cities—many for the better. Among the positive twists is that micromobility is expected to make a strong comeback as a safe, environmentally-friendly and affordable option for shared transport, as some cities decide they want to cut the dominance of cars.

💯 Over the past few years, the Chinese authorities have put great effort into strengthening customers' belief and participation in the digital financial system after a number of high profile fraud and scamming cases. This essay follows the journey of a system that combined digital and physical surveillance, from its beginnings in 2000 to the present day. Fascinating
🔥 Climate breakdown: 412.59ppm | 3,567 days
Each week, we're going to remind you of the CO2 levels in the atmosphere and the number of days until we reach the 450ppm threshold. 
The latest measurement (as of August 17): 412.59 ppm; August 2019: 411 ppm; 25 years ago: 360 ppm; 250 years ago, est: 250 ppm. Share this reminder with your community by forwarding this email or tweeting this.
🍃 A friend of EV, Ramez Naam, writes about how to make a Green New Deal viable. Ramez previously shared his thesis on the solar energy revolution with EV readers, and joined me on the podcast to discuss the drive to decarbonize.
Coal capacity is falling off a cliff, not just in the US but globally.
Charts of the week
First…. Nat Bullard is looking at how solar PV installations have risen faster than the demand for silver of photovoltaics, suggesting greater efficiency in the cells.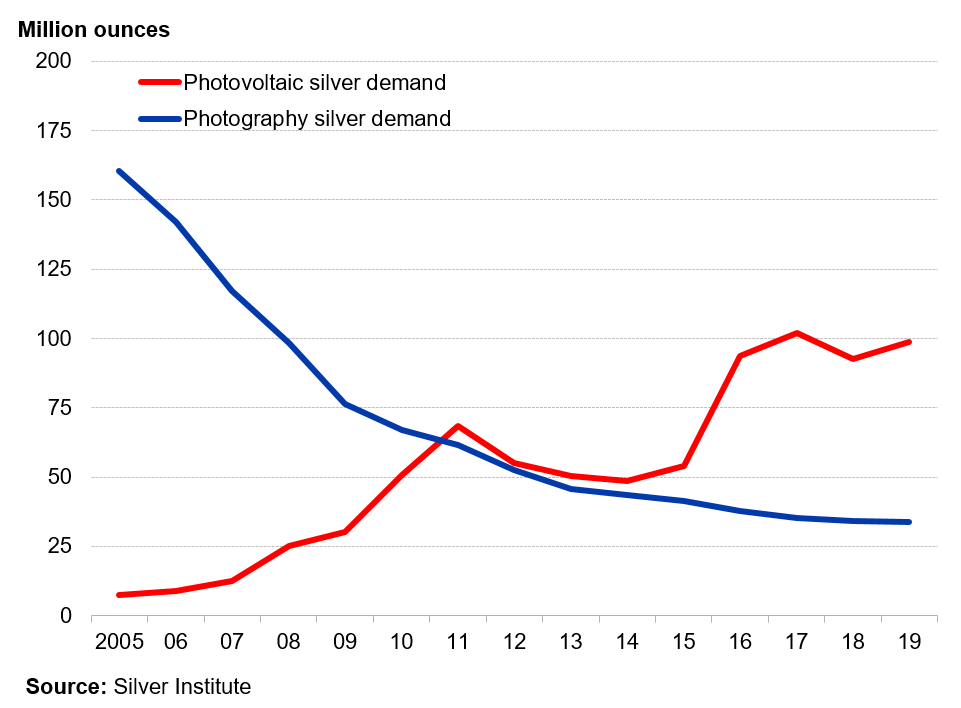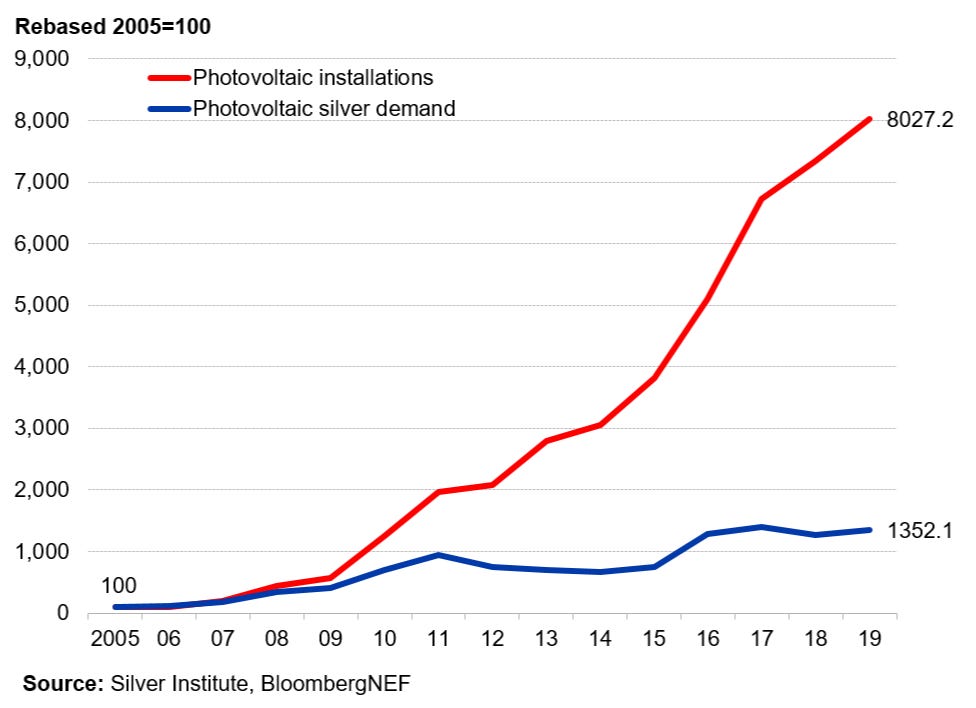 Second… This graph from Huq Industries shows that office attendance in the UK is 18% of pre-lockdown levels.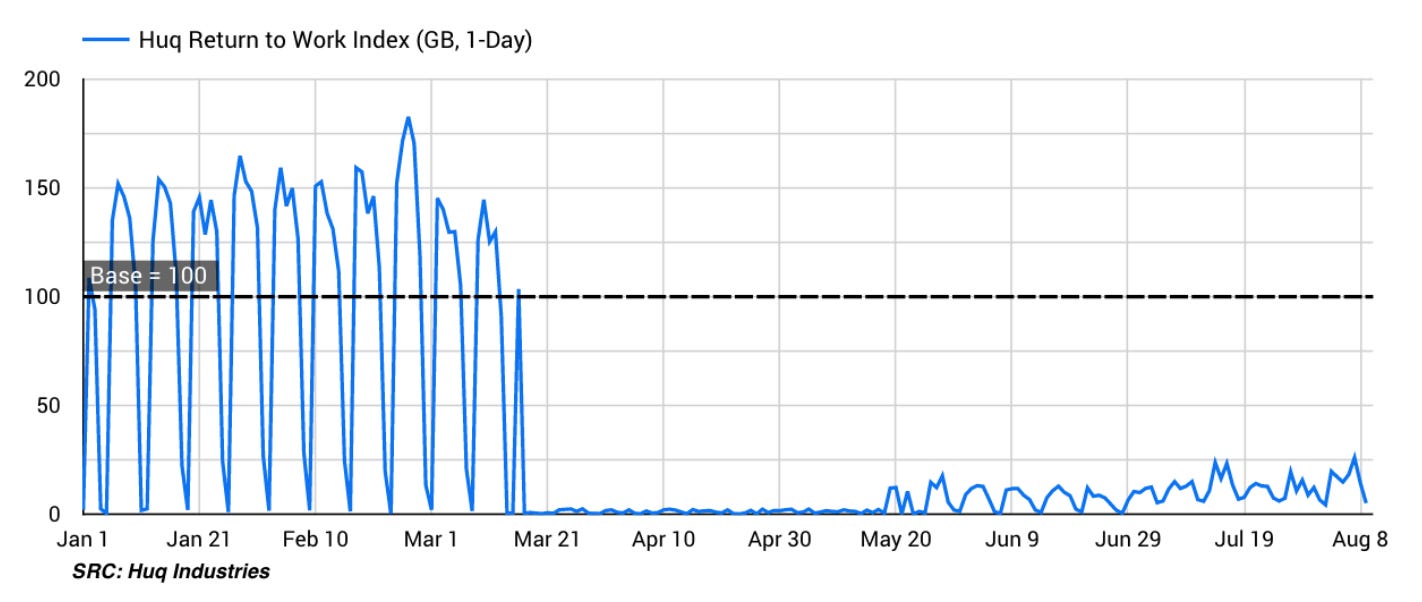 Short morsels to appear smart on a Zoom call
How Telegram helped propel recent protests in Belarus.
🎹 For years, people have said that learning musical instruments benefits children's mental development. A new study finds that this is not the case. 
Perhaps unsurprisingly, an AI pilot just beat a human in a simulated dogfight. No surprise, as Prof Missy Cummings points out, that "dogfighting is extremely rules-based."
🦑 Researchers have used Crispr-CAS9 to make squid transparent. 
This AI-generated tennis game is impressive.
🐛🦍 Enjoy watching father and son gorillas being fascinated by a bug.
For the first time in recorded history, more Americans want to increase immigration than to decrease it.
👻 Could robots keep humans from abusing other robots?
—
What you are up to—notes from EV readers
Graham Hodge is the producer of a new podcast, True Spies.
Carly Kind commented on the A-level algorithm fiasco for The Telegraph. 
Jeni Tennison breaks down how Ofqual's grading algorithm actually worked, and why it went wrong. 
Marko Ahtisaari and his team at Helsinki Fest are open-sourcing their app, which allows anyone to share their art performance with the rest of the world.
Isobel Braithwaite co-published a paper showing what is necessary for Covid-19 tracing apps to successfully contain the spread. FT article on it is here.
Gil Kazimirov wrote Remember Ringtones?, a long-form look at how a forgotten piece of pop culture sparked the mobile revolution.
Heather von Stackelberg is inviting anyone who wants to improve their skills in AI adoption strategy to apply for this 8-week AI Strategy and Management course.
Nigel Verdon's Railsbank is to acquire Wirecard UK.
This October 16-19, I'm speaking at The Great Wave, a hybrid festival to reinvent businesses. Subscribers of Exponential View receive an exclusive discount of 25% on the regular pass with the code: RIDE-WITH-EV, to be redeemed via this link.
Tom Wheeler and colleagues for the Harvard Kennedy Center: "New digital realities, new oversight solutions."
To share your news and projects, email marija@exponentialview.co.