🔮 Offices; algorithms; green stimuli; dodecahedra, precrime & happy kids++ #286
I'm Azeem Azhar. I convene Exponential View to help us understand how our societies and political economy will change under the force of rapidly accelerating technologies. Some of my latest commentary:
This week's discussion with EV members is about the Facebook government. In the absence of proper regulation, platforms are creating rules to regulate who gets heard. How should Facebook and others decide what their policies ought to be? What is their obligation to tackle disinformation? What are the strengths and weaknesses of these modes of change?
The near future
📋 The hidden "office economy" extends to airlines, coffee chains, mediocre clothes stores and photocopier peddlers. In this excellent essay, EV reader Steve Levine points out that while businesses which depend on white-collar workers are going into freefall, cities do bounce back from the worst shocks. British outsourcing firm Capita, which hires over 60,000 people, will close over a third of its offices and isn't renewing leases on twenty-five locations. See also: there could be a severe decline in low-wage jobs as a result of the move to remote work; a survey of employment shows that even payrolls for remote workers have declined 3.9%.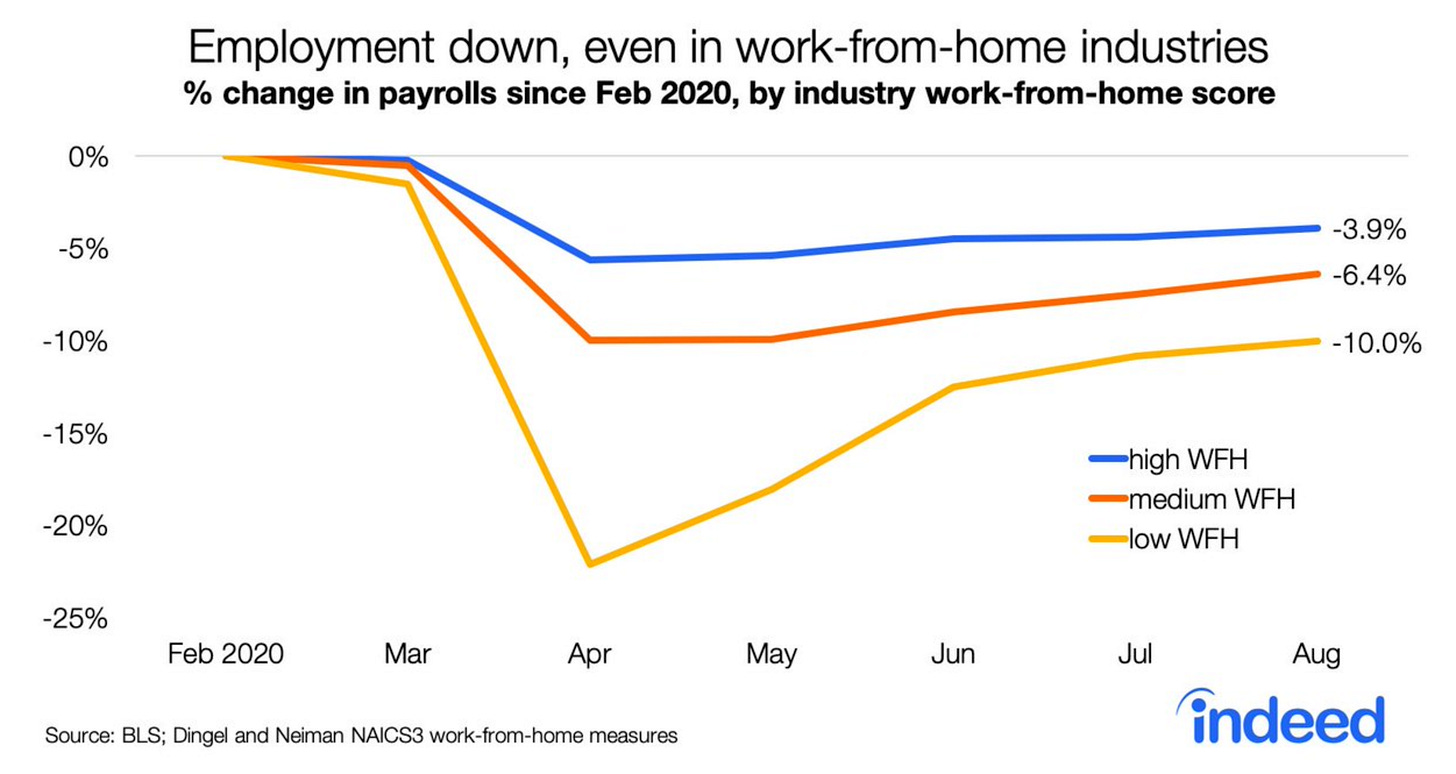 🧩 A good survey of what's to come in the chip industry.

🙊 TikTok's algorithms — its "secret sauce" — are at the core of the disputes between China and the US. In a new twist, restrictions that Beijing has imposed on the export of artificial intelligence technologies mean that TikTok's owner, ByteDance, will have to seek government approval to sell its US operations. 

😶 New economy companies are following in the footsteps of the fossil fuel industry, deploying intimidation campaigns against vocal critics. Before intimidation comes information. Amazon's recruiting efforts suggest the company uses analytics to identify labour organizing, while other documents hint that the company has been spying on its workers in closed Facebook groups for years. Check out the What you're up to section below to see what EV member Christina Colclough is doing to address workplace surveillance.
Dept of AI
As I wrote in AI & the Word, applying breakthrough AI techniques to the human word will be a fertile area of deployment and implementation in the next few years.
OpenAI has announced pricing for its GPT-3 natural language toolkit. Some people are complaining. I thought at $100 per month for 2m tokens (the equivalent of analysing or generating about double of all Shakespeare's output) this was quite reasonable.
One finicky attribute of GPT-3 is that it is fundamentally a statistical model, one that doesn't have a sense of "facts" or "verifiability" but rather statistical associations across and within text fed to it. One way of providing some greater degree of trustworthiness is to encode knowledge into knowledge graphs.
I briefly touched on knowledge graph approaches in this essay. A good profile of Diffbot, a start-up I hadn't really tracked, is looking to automate the creation of knowledge graphs.
Diffbot's system learns by vacuuming up vast amounts of human-written text found online. Diffbot turns what it reads into a series of three-part factoids that relate one thing to another: subject, verb, object.
The value of such an approach is that the automated system can provide its chain of reasoning. This allows for greater respectability, interpretability and, ultimately, end-user confidence.
Diffbot, of course, isn't the only company doing this. Kyndi and Primer.AI are two others I can think of using similar approaches. DeepMind is also doing work in this area. (I invited Marta Garnelo, a DeepMind researcher, to talk on this very topic two years ago.)
See also: Gary Marcus calls GPT-3 a "bloviator" as he outlines some of the limits of the technology.
📈 Chart of the week
How much do tech companies spend on public cloud services? Netflix spends $500 million, which is more than twice the spending of Snapchat at $200 million.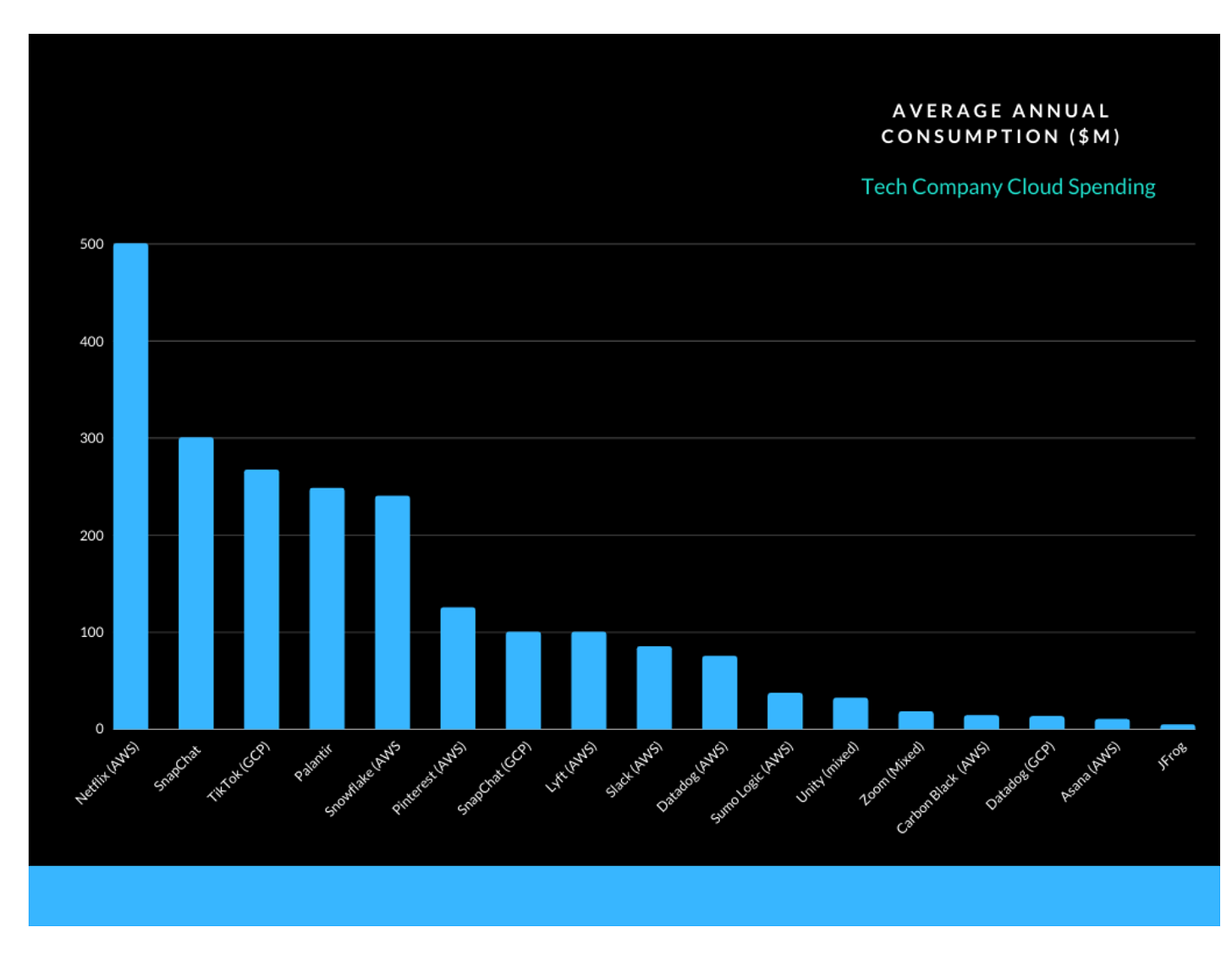 🔥 Climate breakdown: 412.59ppm | 3,553 days
Each week, we're going to remind you of the CO2 levels in the atmosphere and the number of days until we reach the 450ppm threshold. 
The latest measurement (as of August 31): 411.57 ppm; August 2019: 411 ppm; 25 years ago: 360 ppm; 250 years ago, est: 250 ppm. Share this reminder with your community by forwarding this email or tweeting this.
🇪🇺 The EU has committed to making a meaningful share of its stimulus spending for Covid-19 environmentally responsible: 20% will be "green", with an estimated $249 billion in total spending. (For reference, 1.9% of China's stimulus and 1.1% of the US's will be green.)
Wind and solar accounted for more than 66% of the 265 gigawatts of new power capacity installed worldwide in 2019.
Short morsels to appear smart.
🎲 How the internet revolutionized tabletop games.
Google claims to have performed the largest chemical simulation on a quantum computer to date.
Using modern techniques and algorithms, mathematicians have put to bed an ancient question about the dodecahedron. 
🏀 Lonely NBA fans are hacking Zoom to stream their games with friends.
💤 Atheists and agnostics seem to sleep better than Catholics and Baptists.
Countries where kids are most satisfied with their lives.
👮🏻‍♂️ The Sheriff in Pasco County has designed a "pre-crime" automated system to predict who might commit crimes. Needless to say it doesn't work and has become an excuse to harass residents.
How ancient ice keeps the stories of "black swan" events through history.
End note
Do you want to be a serf of Jeff Bezos? I put out a series of whimsical Twitter polls this week. One of them asked, in a woolly roundabout way, whether it was reasonable to explore the idea that there could be a 'limit to how much wealth' a single person could hold.
I kind of assumed there would be high concordance around this open-ended question: that having a debate on limits to wealth was reasonable. It leaves open the possibility of a single person owning everything and us all being, essentially, in perma-thrall to them. Surprisingly, nearly 40% of the 717 respondents thought either that we shouldn't have a debate on this or that there ought to be no limit on the wealth a single individual can hold.
It brought to mind Cixin Liu's marvellous short story, The Last Capitalist. I've extracted a short section here. (Look away now to avoid spoilers! The story appears in his anthology, The Wandering Earth.)
Plenty to mull over.
Have a great week,
Azeem
What you are up to—notes from EV readers
Christina Colclough on workforce surveillance and how to fight back.
Scott Barclay will lead a new investment team focused on healthcare at Point72 Ventures.
Roger Taylor, the chair of OfQual, said that it was a fundamental mistake to believe that the algorithm used for A-Level and GCSE results would "ever be acceptable to the public".
Dan Gillmor (who guest-edited EV back in 2017) is launching a free course on media literacy designed to teach adults to recognize misinformation. Apply or spread the word!
Elisabeth Ling hosted a panel discussion on AI and ethics, which you can watch here.
Neil Kakkar on the Bayes theorem as a framework for critical thinking.
Robbie Stamp has been named a Senior Fellow of the Resilience and Sustainable Development Programme at Cambridge University.
Jonny Miller co-published a report on emotional resilience in leadership.
Gretel, the data privacy startup that Will Jennings advises, has launched its public beta.
Roosh Reddy's newsletter How Did X Become Y? explores the strategic rationale behind decisions that impact companies, geopolitics, economics and technology.
Gil Kazimirov on how Covid-19 could positively impact the future of mental health.
Ryan Rodenbaugh on a not-so-brief history of WeChat.
Jeremias Adams-Prassl has won a €1.5m grant to research AI in the Workplace. Congrats!
To share your news and projects, email marija@exponentialview.co