🔮 Computing the economy; disrupting cows; AirPods; Indian startups and hillbilly VC++ #252
Can we use technology to plan our economies?
Hi, I'm Azeem Azhar. I am exploring how our societies and political economy will change under the force of rapidly accelerating technologies and other trends. I convene Exponential View to help us explore these topics. In my twenty-five years in the tech industry, I've founded several companies and invested in more than two dozen. I've worked as product manager, territory head, board member, journalist, regulator and run corporate innovation groups. I hope this broad experience helps surface some interesting questions. 
We have two special events coming up for EV members in January.

💌 Join me and other EV members next week at the State of the Exponential briefing with Digital Hub Asia researcher, Dev Lewis, as we go beyond the mainstream reporting about the citizen scoring programs in China, and learn more about the nuances of different systems, their implementation and impact. Read more and RSVP here.

🎫 In two weeks, I'll be sitting down for a conversation about technology and reputation with the globally-renowned crisis manager, Judy Smith. Judy represented Monica Lewinsky in the 90's, Sony Pictures after the 2014 hack, and today she is called up to help top technology firms navigate the stormy waters of the tech-lash. Members of this community have a special opportunity to join for this invite-only event: I hope to see you there—RSVP here.

If you aren't yet a member, you can join here.
Dept of the near future
💯 How we can solve the climate crisis by 2030. In this long(ish) read, Eric Holthaus is offering the story of how we save ourselves from the climate crisis, a 'vision of what it could look and feel like if we finally, radically, collectively act to build a world we want to live in.'

👂 Apple's AirPods drive $12bn in annual revenue and are growing 125 per cent year-on-year (that is bigger than Adobe, and of similar size to Uber). AirPods are now the fastest-growing segment of Apple, with an estimated 60 million units sold in 2019 despite a significant price hike. Apple wants to keep the ball rolling on AirPods, with rumours of a planned AirPod OS and an ecosystem of audio-first apps.

🥛 George Monbiot: the shift from farming and agriculture to lab-grown food just might help save the world. A fascinating read, which I think understates three things: the complexity of the food supply chain, the time it would take to get cellular agriculture to the scale to feed billions of mouths and the political clout of farming lobbies in Western economics. See also: RethinkX's report on Food and Agriculture is a thought-provoking read which argues industrial livestock farming could collapse in the next fifteen years, to be replaced, nay disrupted, by precision fermentation.

🌀As I have written about several times, most recently here, globalization is metamorphosising. The McKinsey Global Institute identifies a few key trends in globalisation which illustrate that. These include a relative weakening of trade in goods; increased trade in services; increased knowledge-intensity in value chains (which for me means increasing advantage to firms owning IP and concentration of power); and a growth in regional rather than global supply chains. Worth a read, and consider the implications on multinationals as well as geopolitics. 

⚠️ Siva Vaidhyanathan on how the 2010s were the decade of the greatest expansion of mass surveillance in human history, so far. Many of the world's most profitable, powerful companies now derive a significant part of their revenue from collecting data on their customers (and in many cases, people who are not their customers).
Department of computing machines
Can we use technology to plan our economies, and do so successfully where the Soviet Union failed? After all, we have much better modelling techniques (such as agent-based models and networks), quadrillions times more processing power, and far better digital simulacra of the real economy compared to Stalin. 

Our modern economies are, after all, created from individual actors but also companies which are, within their Coasian boundaries, centrally planned. 

Is it possible that we can create some kind of computing machine that is better at computing than a machine of the market for gathering, generating and processing signals in the economy? Or, even with these new techniques and horsepower, still, lead us down a road to serfdom?

EV reader, Ludwig Siegele, ponders these questions in quite an exceptional essay. 

Henry Farrell provides further reading to Ludwig's essay in this tweetstorm.

Elsewhere:
🔥
Climate catastrophe: 413.63ppm | 3,793 days
Each week, we're going to remind you of the CO2 levels in the atmosphere and the number of days until reaching the 450ppm threshold. 

The latest measurement (as of January 10): 413.63ppm; January, 2017: 406.13ppm; 25 years ago: 360ppm; 250 years ago, est: 250ppm. Share this reminder with your community by forwarding this email or tweeting this.

Ramez Naam on how to convince big investors to divest from coal.
Chart of the week
In the words of climate scientist, Ed Hawkins, 'Australia, you have just experienced the future.'

And a bonus chart which reflects the trend of agnotology I described in my predictions for 2030.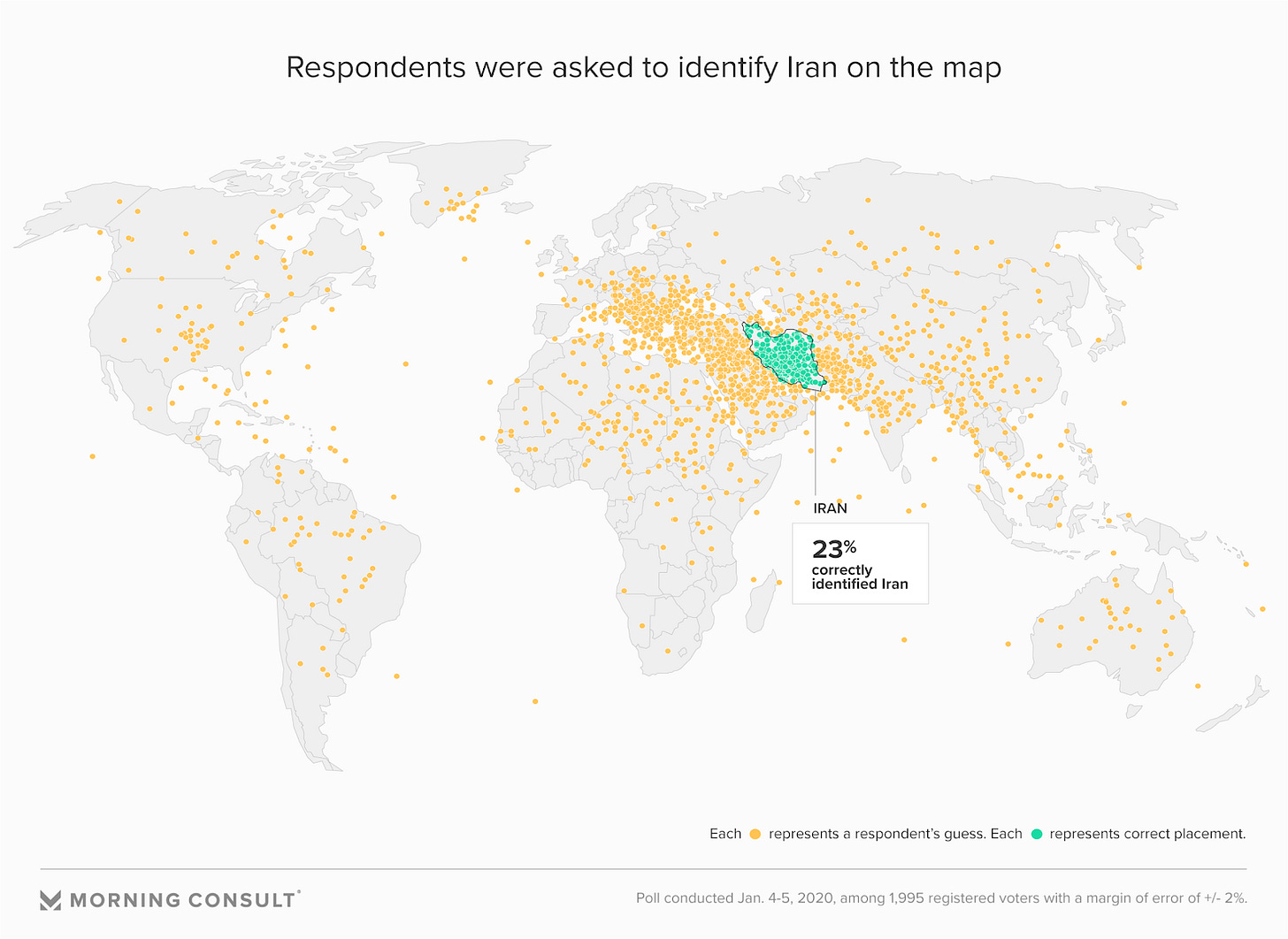 Less than a quarter of registered American voters can locate Iran on an unlabelled map, according to research by Morning Consult. 
Short morsels to appear smart at dinner parties
🧐 Quantum volume is a hardware-agnostic measure of computing performance of a quantum system. IBM has achieved a system demonstrating Quantum Volume of 32, roughly on track for an annual doubling. 

Indian startups raised $14.5 billion across 1,185 rounds in 2019. (Compared to around $34.3 billion raised in Europe, or around $5 billion raised in the UK in the same year.) This burgeoning startup scene could take a big hit as Softbank's Oyo budget hotel runs into deep trouble.

🇷🇺 The Russian government tested a national Internet, RuNet over the holidays. 

🧭 J.D. Vance, who wrote Hillbilly Elegy, launches a VC fund to support startups outside the Valley. 

Bike use is up by 54 per cent in Paris after the introduction of new bicycle lanes. See also, is bike sharing the sleeper success of the decade?

📈🤭 How did the US change after Reagan's election? An interesting collection of graphs. 

🥩 Greggs, a British fast-food outlet renowned for its meat pies, passes the office taste test with its vegan steak bake. 

A new study found that puffins are capable of using sticks to scratch themselves.

There's a correlation between Airbnb prices and the attractiveness of the host. More attractive hosts, higher prices. 

🍭 Advertising makes us unhappy. 

Here's your digital dystopia survivor's manual, and how to prevent it. If it's quick, if it's frictionless, if it's viral—be suspicious.

Social media shapes the relationship with our own histories, and therefore our sense of self. Thoughtful. 
End note
Esko Kilpi's writings were thoughtful, sitting at, as he described the intersection of the 'design of digital work, the science of social complexity.' I was often inspired by his thinking, integrative, critical and human, and many times referred to his work both in this newsletter and elsewhere. He was a long-time early subscriber to Exponential View.

I was sad to learn that Esko passed away suddenly in the past few days. My condolences go to his family and those close to him. I'll leave you with one of his recent essays, Our humanity needs to develop at the same speed as our technology.

With best wishes,
Azeem
---
What you are up to—notes from EV readers
John Hagel's brilliant reflection on the decade ahead.
Stewart Butterfield: Why shared channels are so cool. (If one organisational form partly succeeds the corporation it would be networked collaboration. Stewart shares some nice visuals showing how firms are using Slack to facilitate this kind of inter-organisation working.)
Sean Gourley: 'To fight disinformation, we need to weaponise the truth'.
Congrats to Adrian Blair at Receipt Bank for raising $73 million in Series C. I use Receipt Bank most days. It is rather good. 
Sougwen Chung's work is featured in Art in America.
Rachel Coldicutt comments on why turning government into a digital panopticon is neither simple nor desirable. For those in the UK who are closer to the matters, this is a response to Dominic Cummings' job ad. 
Bas Grasmayer puts my 2020s predictions into the context of the music industry. Thanks!
Charles Yang shares his newsletter covering applications of machine learning and artificial intelligence in scientific fields.
Stephanie Hare for Wired: 'It's time for AI ethics to grow up'. Steph guest-edited EV last year, read her edition focusing on biometric surveillance here. 
Paul Daugherty and H. James Wilson's article on the jobs that AI will create is one of MIT Sloan Management Review's top 10 articles of the 2010s. 
Courtney Glymph invites you to join a closed-door scientific event in London focusing on biology and computation. Register here.
Richard Muirhead's reflections on the Web 3.0.
David Tarbox created a short sci-fi film on the future of retail.  
James Stanier's book Become an Effective Software Engineering Manager comes out this year. 
Share your news, projects and other updates with the community—email marija@exponentialview.co