🔮🎉 The New Year Special++ #250
Hi, I'm Azeem Azhar.

To mark the end of the year (and possibly the decade), this issue is slightly different to usual. We've found ten of the best essays we've shared from the past year. 

Our ever-growing curriculum on AI, business and society has been updated with the latest conversations I had on the Exponential View podcast this year. You can read full transcripts of my discussions with Andrew Ng, Gary Marcus, Tony Blair, Meredith Whittaker, Vaclav Smil, and others. Enjoy!

Cheers, 
Azeem


🎯
Our best of the best
This year, EVs 52 issues featured around 2,000 articles from the millions of words I read in 2019. Here are ten of the best. 
Populism is growing because more people than you think want chaos, argues a friend of EV's, Matthew Taylor.
The world is spiky. My essay on how technology hasn't flattened the world but rather reinforced the importance of place. 
Paypal founder and philosopher Peter Thiel: 'The minds in Silicon Valley have come together'. In this interview translated from German, Thiel discusses the reasons he left the Valley, and why he supports Trump.  
The real reason why Google and Facebook won't change is that they've ushered us into the new era of capitalism, on their own terms.
How ergodicity reimagines economics for the benefit of us all. Mark Buchanan explains how economic thinking changes if we account for time.
What really happened to flight MH370?

Thinking about innovation. My essay on how we should manage innovation.

At work, expertise is falling out of favour.
🔥 Climate crisis: 412.15ppm
| 
3,806 days
Each week, we're going to remind you of the CO2 levels in the atmosphere and the number of days until reaching the 450ppm threshold. 

The latest measurement (as of December 23): 412.15ppm; December, 2018: 408.44ppm; 25 years ago: 360ppm; 250 years ago, est: 250ppm. A year ago, we had approximately 42ppm of our carbon budget remaining. We used just under 4ppm of, or about 10%, in 2019.

Share this reminder with your community by forwarding this email or tweeting this.

Earlier this year, I pledged to achieve a net-zero carbon footprint. My notion was that by taking a range of different steps—moving to renewable energy, flying less, offsetting carbon emissions and so on. I did successfully move to renewable energy to a provider called Bulb, which I can recommend. (Several dozen of you in the UK took up my suggestion. This may have eliminated several hundred tons of CO2E annually, which is many, many times my personal footprint.) 

My flying, which has been cut down 30-40 per cent compared to 2017, still represents that vast bulk of my carbon load. As I work from home three days a week, I've reduced my road travel. Moving to Zoom video conferences (about $3,000 per annum) eliminates much of my travel and lets Exponential View gather readers every couple of weeks for webinars without any attendant travel.

As I wrote a number of times in Exponential View this year, I'm curious about the carbon offsets available to the consumer. We don't know how quickly offsets remove carbon. Current prices seem out of line with our understanding of the social cost of carbon. You can buy offsets for about £10 per tonne, whereas many estimates of the cost of carbon around 5-10 times that number.

So I have generally held off buying offsets this year. If I find something that I am more confident is reliable, I'll get some. If I don't find suitable offsets, I'll use a 'social cost of carbon' calculation to figure out the rough-dollar cost of my unaccounted carbon waste and invest in carbon reduction programmes at home or elsewhere. These latter investments may have a more sustained impact on carbon reduction.
Chart of the week
With lower costs, weight and complexity, we will eventually see 30% of all engine parts be 3D printed. I wrote recently about the dematerialization of our economies and how this could see the value shift to the owners of IP.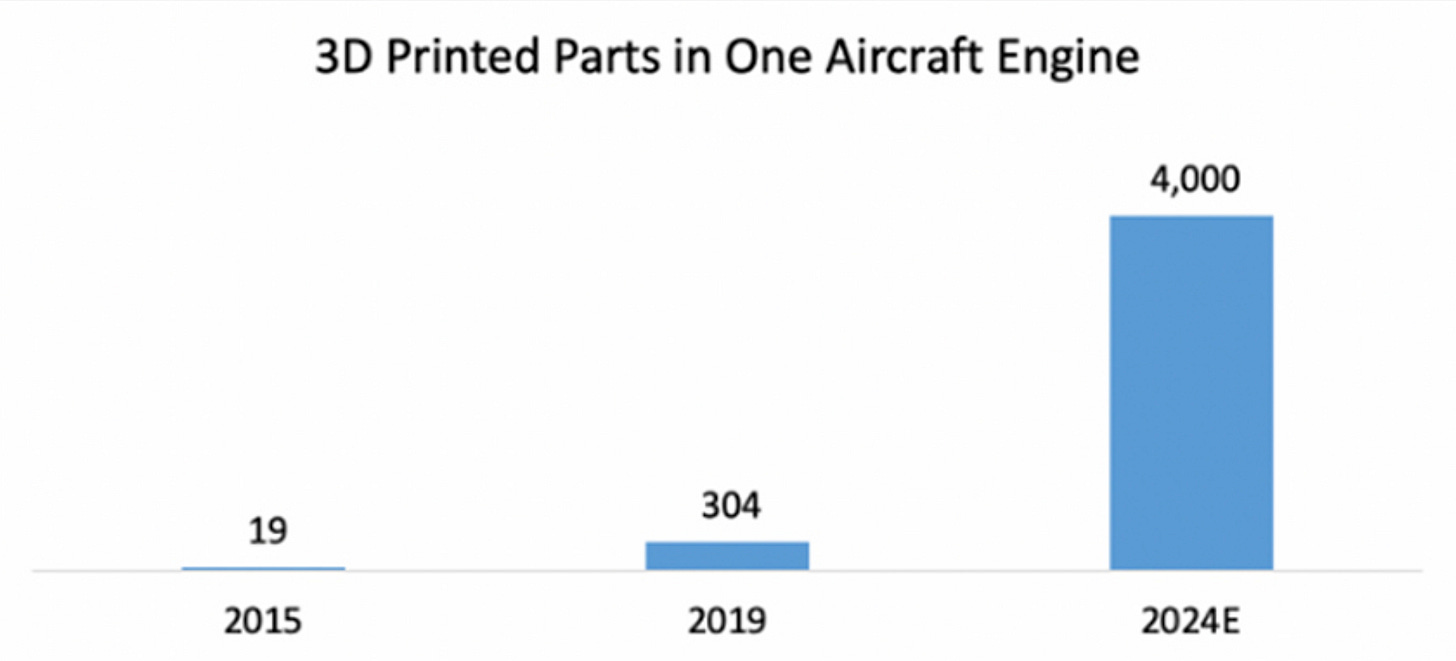 Source: ARK Investment Management
Longer morsels to fill your brain
💡 A 'Global Green New Deal' could eliminate 99.7 per cent of the world's CO2 emissions by 2050 (about 80 per cent by 2030) according to Mark Jacobson and collaborators. A capital investment of $73 trillion would be required but would have a payback of under seven years, creating more than 28 million jobs more than the existing fossil energy sectors. (Simple summary here.)

🍲 The evidence for intermittent fasting is stacking up, according to this paper in the New England Journal of Medicine. 'Eating in a 6-hour period and fasting for 18 hours can trigger a metabolic switch from glucose-based to ketone-based energy, with increased stress resistance, increased longevity, and a decreased incidence of diseases, including cancer and obesity.' (Registration required, summary here.)

💰 What does an investor in venture capital funds look for? Beezer Clarkson explains what it takes for a seed-stage fund to achieve a five-fold return.

💬 What does deep learning mean? Neuroscientist, Gary Marcus, and AI pioneer, Yoshua Bengio had a long-awaited debate on the topic written up briefly here. You can watch the full debate here from the 1 hour 45 min mark (I haven't yet). Francois Chollet, the author of one of the most popular deep learning frameworks, provided his own pithy definition. 

End note
Readers of this newsletter have been up to amazing things this year. It is humbling to watch, make the occasional introduction, advise or invest. Do remember to keep us up to date, the details are below. I'm sure you'll be up to much more in 2020.

I'll be back next week refreshed from the festive break!

Do say 'Happy New Year' by liking or sharing this mail on social media.

Have a great start to 2020!
Azeem 🙏🏽
---
What you are up to — notes from EV readers
Hilary Cottam & Rachel Coldicutt were each awarded an Order of the British Empire. Congrats!
Laura Cochrane is working together with Jane Metcalfe to publish Neo.Life: 25 Visions for the Future of Our Species. Sign up to get an alert when their Kickstarter goes live on Jan. 13.
Robert Cottrell reads 1000 articles per day. Here's how.
Laetitia Vitaud's first newsletter about the future of work launches on January 2—looking forward to it!

To share your news and projects in the new year, email marija@exponentialview.co
Dig deeper — previously published by Exponential View
My conversations on AI: