🔮 Complexity & history; technological sovereignty; fighting the algorithm; generative biology; bee teaching, solar power, fast chips++ #244
The environmental costs of AI are growing at a phenomenal rate
Hi, I'm Azeem Azhar. I'm exploring how our societies and political economy will change under the force of rapidly accelerating technologies and other trends. If you like this email, please hit the heart at the top of this message!
📅 Save the date! We have two State of the Exponential members-only briefings coming up in December:
On Dec 5, Penny Mealy, a Research Associate at the Institute for New Economic Thinking at the University of Oxford Martin School, will join us to discuss the intersection of complexity economics and job transitions.
On Dec 10, Kyle Samani, the Managing Parent at crypto-native investment firm Multicoin Capital will join us to discuss investing in blockchain. Kyle raised a $75 million fund from investors including Andreessen Horowitz, to invest in cryptocurrency projects.
📚 Author's circle: Our friends at the MIT Press want to share copies of Dr. Ramesh Shrinivasan's great new book Beyond the Valley with EV members. The book explores how to bridge the gap between the users and designers, the tech elites and the rest, by thinking outside the Silicon Valley box. If you're an annual member of EV, located in the US or Europe, and would like to receive this book, fill out the form here. The number of copies is limited, offered on first-come-first-serve basis.
If you're not a member, you can get a monthly or annual membership below.
Dept of the near future
🌀 'It is because social systems are so complex that we need mathematical models,' argues biologist, Peter Turchin. A long read in The Guardian delves into Turchin's belief in the predictive power of historical data, and what it would mean for historians to embrace complexity science in the way that biologists did more than fifty years ago. (Also The Santa Fe Institute held a symposium on New Complexity Economics. '[T]he exponentiation of data and computer power, progress in algorithms, statistical physics, adaptive dynamics, and in neural, behavioral and cognitive science, suggests that a new complexity revolution is on the horizon,' David Krakauer, president of the Institute, wrote in announcing the meeting, which included talks from EV reader, Eric Beinhocker, on pseudoscience vs. reality and economics as an evolutionary process.)

🧫 The coming age of generative biology. Reductionism has proved inadequate at understanding biology, but machine learning might help identify some generalizable principles, argue Molly Gibson and Andrew Beam. (See also Zavain Dar's guest edition of EV where he introduced 'new radical empiricism'. Also, if you want to dig deeper, this podcast with Sir Gregory Winter who created the class of drugs known as monoclonal antibodies is rather good.)

📻 Entertainment companies are pouring billions into creating more television than ever before in hopes of luring customers into signing up for their streaming services. The number of TV shows made in the US has grown by 129 percent in the past eight years, but it's not clear whether this enormous investment will be worth it: 'This isn't a gold rush, it's an arms race. We don't know if there is any pot of gold. Once the music stops, there will be carnage. It might take three to five years, but there has to come to a point when we come to our senses.' After all, there are only so many hours in the day for humans to watch TV shows. This week, Disney launched a $7-a-month streaming service, garnering 10 million subscribers in 24 hours. Apple plans a Prime-like subscription bundle wrapping TV, News and Music in one, although its premium News+ service appears to have stalled.

🇪🇺 Angela Merkel is calling for European 'digital sovereignty'. The German Chancellor wants the EU to claw back its citizens' data from US tech companies and develop its own platform to manage data. EU officials have become some of Silicon Valley's most formidable opponents in recent years, in particular, the inimitable competition and digital policy chief Margrethe Vestager, amidst a growing concern in Europe about the power of the tech giants. Last week, President Macron gave a remarkable interview in The Economist where he presented a realist view of technological sovereignty: 'In my opinion some elements must only be European.' This idea of technological sovereignty is gaining meaningful currency. There are only three rule-makers in this game: China, the US, and the EU. Everyone else (including the post-Brexit UK) will need to align with one of those blocs or find an alternative strategy.

💯 Zadie Smith on fighting the algorithm: 'The key with the unfreedom of the algorithm is that it knows everything and it feeds back everything. So, you can no longer have this bit of humanity which is absolutely necessary — privacy: the sacred space in which you do not know what the other thinks of you.'

🎧⭐ Researcher and author on the future of work, Laetitia Vitaud, joins me in this week's podcast conversation. We discuss the reinvention of craftsmanship in the digital era, how it's fueling the new safety bundle, and why the robot paradox is ailing today's conversations on job automation.


Climate catastrophe: 410.43ppm
| 3,841 days
Each week, we're going to remind you of the CO2 levels in the atmosphere and the number of days until reaching the 450ppm threshold. 

The latest measurement (as of November 13): 410.43ppm; November, 2017: 405.14ppm; 25 years ago: 360ppm; 250 years ago, est: 250ppm. Share this reminder with your community by forwarding this email or tweeting this.

There are 'profound shifts' underway in the energy system, says the IEA. Read Simon Evans' excellent analysis.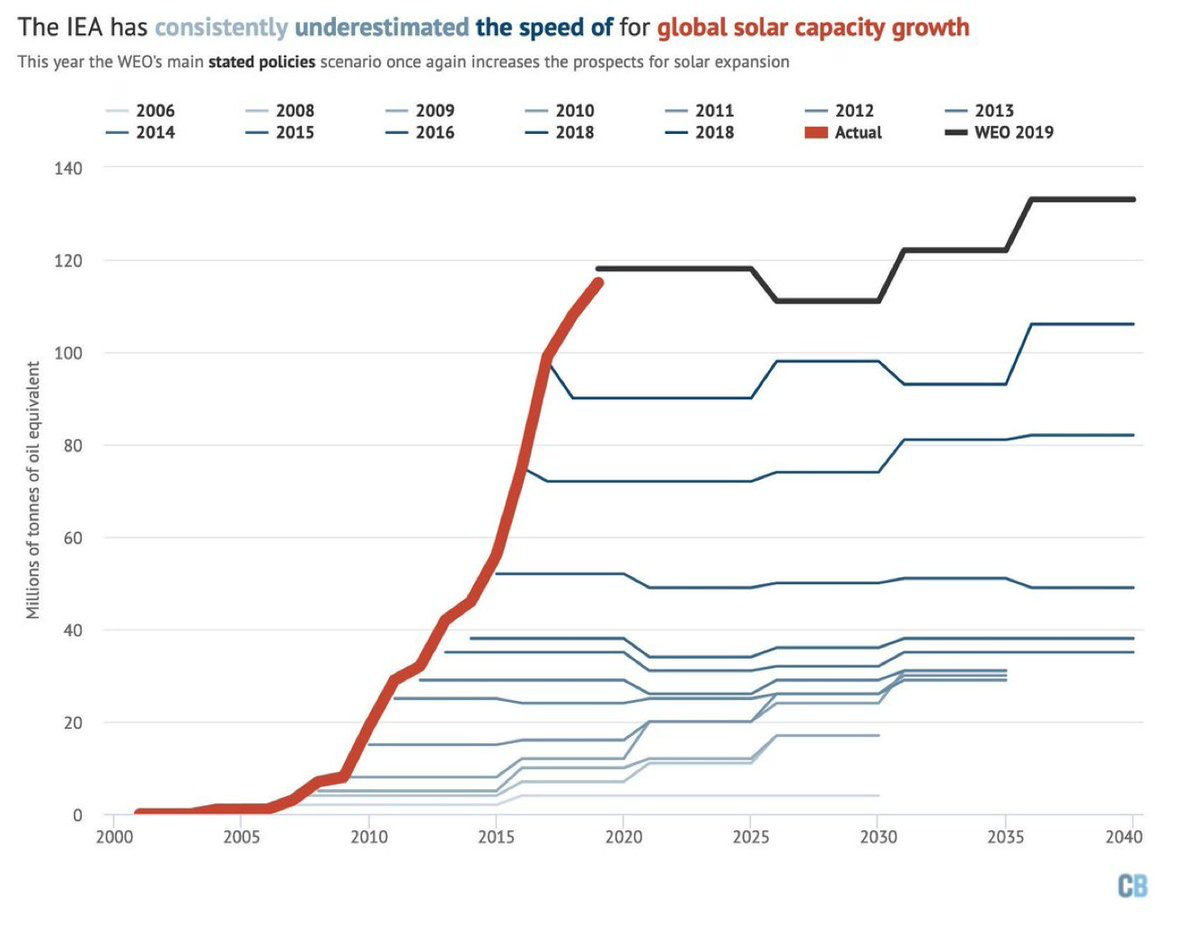 As I've written previously, the IEA has consistently underestimated the speed of global solar capacity. I genuinely wondered where the blind spot in their forecasting is. They have been consistently wrong for a dozen years. The trouble with these bearish estimates is that it will depress investment levels in solar, while making fossil fuels relatively more attractive than they otherwise would have been. It's very bad form. 

🇸🇪👏 Sweden's central bank has sold off some Australian and Canadian bonds in compliance with a new policy of not investing in assets from issuers with large carbon footprints. Bonds from the coal and oil mining states of Western Australia, Queensland and Alberta were dumped under the new policy.

Dept of huge tech firms
Tech firms continue to leverage their huge audiences to enter new markets. The economic rationale is clear. Huge distribution makes customer acquisition more straightforward. Healthcare and financial services are particularly attractive. They are large parts of our economies, fundamentally driven by data, and dominated by clunky old-economy dinosaurs. 

The Wall Street Journal exposed how Google's secret Project Nightingale has been collecting and analysing the health data of millions of people. Google signed an agreement with a healthcare chain to use their patient data to train machine learning models for individualised healthcare. Neither patients nor doctors were aware their data was being used by Google.

Google is also looking to hoover up financial data. Project Cache will offer checking accounts to customers in partnership with CitiGroup and a Stanford University credit union. Google says it hasn't decided whether to charge fees on the accounts, a comment which suggests the value of this product lies in data collection, not the product itself. 

Elsewhere:
Google isn't just collecting data from healthcare providers, it and other advertisers are also gathering data directly from users themselves. An FT investigation found that 79 percent of health websites were collecting data on users, of which 78 percent were sending data to Google's advertising subsidiary DoubleClick. Amazon, Facebook and Microsoft were also among the companies collecting user data on health websites.

⛔ Facebook has shut down 5.4 billion fake accounts so far this year, an increase of 64 percent in 2018. Suggests the account creation process might be broken.

OECD economists point out 'superstar firms are running away with the global economy'. These firms are more 'innovative, productive and profitable than everyone else' with serious consequences for the economy and long-term competition. (As an example, Apple's iPad alone has higher sales than two-thirds of the Fortune 500.)

Apple is banking on a 2022 release for its AR headset, with a more chic pair of AR glasses to follow by 2023.

Alibaba's Singles Day sales racked up more than $38.3 billion in purchases from over half a billion shoppers around the world. Alibaba brought in starpower from celebrities like Taylor Swift and Kim Kardashian to help flog 26 percent more purchases than in 2018. Livestreaming played a key role in the success of Singles Day, turning the online buying spree into an interactive event. More than a million people shopped using smart speakers. 

Dept of AI
The environmental costs of AI are growing at a phenomenal rate. Even though deep learning is inspired by efficient 20W human brains, it is thousands of times more demanding of energy. Researchers are arguing that energy efficiency should be an evaluation criterion for research. Very accessible paper with some eye-opening data points on the growth in complexity of modern deep learning models.

🤔 There are practical steps which can be taken to reduce the wastefulness of deep learning. Co-founder and CTO of Fritz Labs Jameson Toole lays out a few ideas including using native formats and frameworks, leveraging available accelerators like GPUs or DSPs by using supported operations only, monitoring performance across devices, identifying model bottlenecks, and iterating architectures for specific hardware. 

Microsoft is making a bet on UK company Graphcore, which claims that its new chips can dramatically speed up processing times, while being more energy efficient. Meanwhile, Facebook and Baidu are putting their money on Intel, which has just unveiled its first-generation Neural Network Processors. The devices are Intel's challenge to AI hardware market leader Nvidia.

Chip start-up, Groq, announced its new AI chip which is the first chip to achieve one quadrillion operations per second, and up to 250 trillion FLOPS. 

AI trained on historical data soaks up historical biases. The latest example to make headlines is BERT, Google's natural language prediction algorithm which is now being rolled out across some Google services including search. Although algorithmic bias is obviously concerning, in some respects the conversation around it is a very positive step—AI is forcing us to finally pay attention to biases which have been entrenched for decades.


Chart of the week (
beta
)
It is incredible to see the continued decline in the price of lithium-ion batteries. This is a key driver behind the growth of electric vehicles.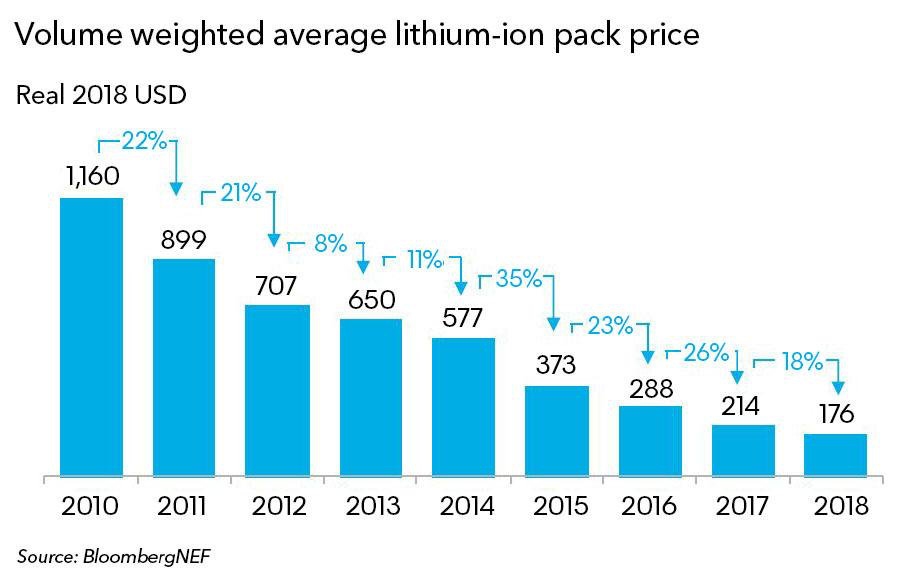 Based on the falling battery prices, Bloomberg is predicting price parity between EVs and internal combustion vehicles by mid-2020s in most segments.

Do you like the chart of the week? Please hit the heart on top of the email or share this post.
Short morsels to appear smart at dinner parties
🗡️ Jonathan Schulz of George Mason University and his colleagues think that medieval church policies towards marriage and kinship help to explain psychology in Western, Educated, Industrialized, Rich, and Democratic (WEIRD) societies in modern times. In particular, they suggest it may account for psychological differences such as individuality, non-conformity and pro-social behaviours. (Full paper here.)

All of Magic Leap's patents appear to have been quietly assigned to JP Morgan months ago. This may suggest that Magic Leap have had to put their intellectual property up as collateral for a loan.

💡 Failing 15 percent of the time is the 'Goldilocks zone' for learning.

🐝 Bees are capable of social learning, but the most exciting revelation of this research is fact that they can play football!

Mathematician Dan Rockmore thinks the best ideas happen when we're not paying attention. The eureka moments are the ones which we tend to focus on, but behind that moment is usually hours and weeks and months of percolation somewhere in the deep recesses of our brain. Great ideas need time and space to grow.  

Despite the spiralling US-China trade war, the US remains China's top international academic research partner according to the Nature Index. 

🛑 AI that can learn to evade and circumvent the censorship in India, China and Kazakhstan is being tested right now.

🚗 Most car buyers are over 55, compared to a decade ago when a majority were aged 34-55. Meanwhile, global light vehicle sales have fallen 3.8 percent year on year as of October. 

End note
This issue of technological sovereignty is sufficiently fascinating that I've set-up a Google Alert for it!

The end of the Washington consensus is not just about technology. But the nature of current technologies and international competition over them deepens the process of decoupling. 

Technological interdependence is a challenging idea in these times. It is one thing to import a commodity for military use. (During the height of the Reagan-Brezhnev Cold War the US imported meaningful quantities of titanium and platinum from the Soviet Union.) It is another to expose your infrastructure to the kind of backdoor vulnerabilities that we know exist in all complex technologies.

But it is more than that. It will also extend to fundamental rights and values which will be instantiated within the tech infrastructure; just look at the differences between American, Chinese and European approaches to privacy and data. 

One positive signal is that the scientists are still collaborating! 

Have a great week!
Azeem
---
What you're up to—notes from EV readers
EV's Marija Gavrilov is in Lisbon for the next few months. If you're there, or know someone interesting she should meet, let her know marija@exponentialview.co
Kevin Werbach: China is Pushing Toward Global Blockchain Dominance. Read here the reflections Kevin shared with EV following his recent trip to China.
Damian Vukotic has put together the 'Lovely Progressives' playlist which I've enjoyed as background music for pulling together the past few issues of this wondermissive. 
Congrats to several readers recognized among the Top 100 BAME leaders.
Eliot Peper: Government Is a Technology, So Fix It Like One.
Irene Omaswa invites UK's purpose-driven tech entrepreneurs who want to build their AI capacity to join Social Tech Trust & Microsoft's AI for Good programme by 22nd November.
Richard Nortons' team releases the first gin created by AI.
Chris Michaels invites you to visit two fascinating exhibits at the National Gallery in London: first, Leonardo: Experience a Masterpiece, the first digital immersive exhibition from a major UK museum; second, National Gallery X: a studio for creative R+D rethinking how the exponential technologies will reshape the art, artists and musuems of tomorrow. 
Lejjy Gafour's company Future Fields recently jointly created Cellular Agriculture Canada with other cellular agriculture/alternative protein companies and are looking for collaboration opportunities world wide. 
Emmanuel Omoruyi shares his blog about his latest reads.
A couple of EV readers have their books out: Michael S. Falk published Get to Work… On Our Future; Nick Ducoff published Better Off After College, to help families make all the right money moves so that college pays off.
Benjamin Lampe published an op-ed on diversity in Financial Times.
To share your news or projects with the EV community, email marija@exponentialview.co. Please no PR.