🔮 Big tech; synbio; algorithms; fakes abound; sneaky execs, sick games++ #294
Hi, I'm Azeem Azhar. I convene Exponential View to help us understand how our societies and political economy will change under the force of rapidly accelerating technologies. If you appreciate this weekly roundup of insights, tweet it out 🐦.
I'm hosting a live online discussion with a dear friend, Tabitha Goldstaub, next week. Tabitha is a serial founder, and the chair of the UK government's AI Council. Her latest book How to Talk to Robots aims to bring AI closer to non-technologists in order to bring the technology revolution to marginalized groups. Join us for a discussion on Friday, Nov 6, 12pm UK time.
Members can now read the transcript of my conversation with Taiwan's Digital Minister Audrey Tang. Full podcast is available to all to listen here.
The near future
🎧 👉 Facebook is counting on virtual reality as the next computing platform. I hosted the company's CTO, Mike Schroepfer, on the podcast this week. We go into Facebook's beginnings, its approach to content moderation, its role within the society, and significant investments into the future technology stack. Listen wherever you get your podcasts.

🇨🇳 Kai-Fu Lee, a friend of EV, says that the pandemic may have given China the lead in artificial intelligence. In other news from China, Xiaomi Corporation has announced plans to build a next-generation, completely unmanned factory which can make over 10 million smartphones every year. Its CEO hopes to "reduce manufacturing costs to one-tenth of the present level." (Members will receive my current assessment of the China/US tech imbroglio by Tuesday.)
🦑 I've not done justice to the remarkable changes occurring in the financial services industry. And it isn't just about blockchain. Embedded finance, the proliferation of APIs to key banking services, is going to reshape that industry. Goldman, for one, is getting into the game. (I found this overview of how the capital markets might evolve, written by EV reader Pascal Bouvier, quite helpful.)
🤔 A deal between Google and Apple, which featured Google's search engine as the preselected choice on Apple devices, was created fifteen years ago to the tune of $12 billion a year. But a landmark lawsuit against Google by the US Justice Department cites this deal as an example of Google's monopoly – half of all of Google's searches come from Apple devices. If the agreement is forcibly nullified, where does that leave both companies?

🚣 A close look at hiring patterns in product management and what we can do to alter them: Why has the gender balance among product management roles in the last twenty years gone out of equilibrium? I love Deborah Liu's analysis here. If you are interested in the trajectory of this vitally important role over the past 20 years, I recommend it.
Sundar Pichai, Jack Dorsey and Mark Zuckerberg will testify against rolling back Section 230 before a Senate committee next week but their approaches could vary wildly, leaving all of them vulnerable to attack. Zuckerbeg has proposed more regulation for clear content moderation standards, while Pichai and Dorsey haven't made concrete recommendations. See also an article in The Economist on how the consequences of Facebook's lack of content moderation have led to sectarian violence in Myanmar (and elsewhere).
🧀 A fake intelligence firm, fronted by a deep fake person, laid the groundwork for the Hunter Biden conspiracy. (Further on deep fakes, Vasili Shynkarenka used GPT-3 to hit the front page of Hacker News, a developer forum, fives times in three weeks. Hacker News is one of the more influential fora in Silicon Valley. This is the geek's Sokal Hoax.)
🧬 Superb survey reviewing the second decade of synthetic biology. (I've done a bunch of podcasts on synbio in the past couple of years, check them out here.)
💨
Dept of decarbonisation: 411.69ppm | 3,498 days
Each week, I'm going to remind you of the CO2 levels in the atmosphere and the number of days until we reach the 450ppm threshold.

The latest measurement (as of October 29): 411.69 ppm; October 2019: 408.85 ppm; 25 years ago: 360 ppm; 250 years ago, est: 250 ppm. Share this reminder with your community by forwarding this email or tweeting this.

South Korea has just pledged that it will be carbon neutral by 2050, and will be spending $7 billion in order to get there. 95% of South Korea's electricity comes from fossil fuels; part of the pledge includes phasing out nuclear power by 2060 too. Japan and China have made similar promises towards carbon neutrality.
Dept of algorithmic oversight
Algorithms have increasingly become a crucial governing force within modern society.
Facebook is an echo chamber for conservatives and contributes to further radicalisation - because of its algorithm.
US Customs and Border Protection have apparently accepted a proposal to create a "virtual border wall" by Anduril Industries and Google Cloud. Documents seen by The Intercept and Jack Poulson's Tech Inquiry indicate that this will be done through a third-party federal contracting firm called Thundercat Technology. Anduril Industries is founded by Palmer Luckey, the founder of Oculus VR, and already operates towers along the US Mexico border.
The UK famously has a shortage of housing – can an algorithm really solve the problem? An algorithm created by the Ministry of Housing apparently tried to do so, with limited success.
Role of the w̶e̶e̶k̶ year
Marija and I are looking for a part-time senior editor to join the EV team. You'll understand the mission and be willing to roll your sleeves up and get things done.
There is a job description here.
Short morsels to appear smart at virtual dinner party
Tech workers are never going back to the office, argues Nick Bilton. (See the performance or REITs below.)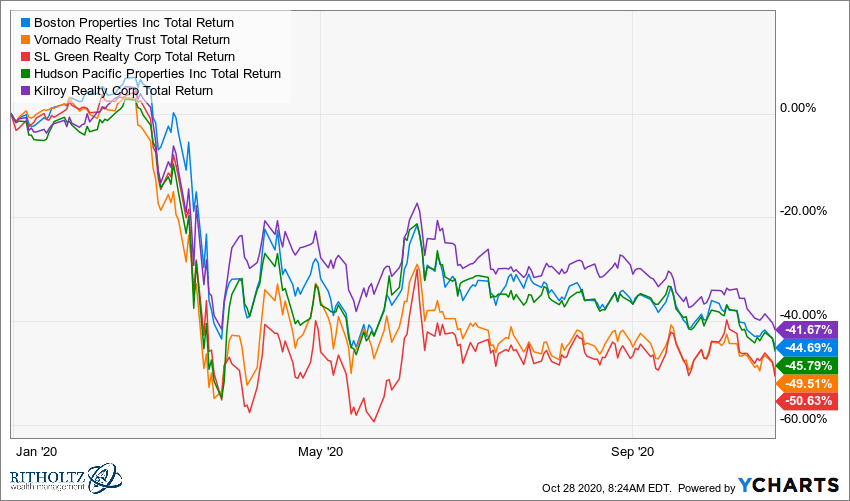 💱 China's digital yuan is supposed to prevent the dominance of the US dollar - it's not a threat to cryptocurrencies, according to a former central bank governor.

😬 Wyoming tried to live without income taxes. Harsh reality beckons.

📉 Lidar sensors, now in the iPhone, used to cost tens of thousands of dollars. You can use it to measure other people's heights.

Executives are adapting their language to fit the parameters of text parsing algorithms.

There seem to be two primary drivers of resilience: one, a reactive state of mind created in response to suffering, and two, the threat we're facing.

💊 Professional gamers feel that their health is deteriorating. A fascinating long read on an often derided industry.

😄 After nearly ten months of working from home, this may be relatable.
End note
I'm hosting two discussions at this year's World Economic Forum's Pioneers of Change Summit. EV members get a free pass for the whole event and two months of complimentary Digital Membership on the Forum's platform. Members can access this unique offering here.
It is an exciting week this week. In the UK we have Guy Fawkes' Night on Thursday where we, in somewhat macabre fashion, mark the death of a man who tried to blow up King James I and his Parliament.
Americans have a more dignified method of expressing their political preferences on Tuesday. I wish you well!
Cheers,
Azeem
What you're up to—notes from EV readers
Felix Rundel and Matyas Kovacs invite you to Falling Walls' 10-day World Science Summit, which launches today, live-streaming breakthroughs in science and society from all over the world. (I love Falling Walls, Attend if you can.)
Stephanie Hare interviewed Airbnb's Chief Ethics Officer.
Abhishek Gupta's team at the Montreal Ethics Institute has published the State of AI Ethics October 2020 Report to capture the most relevant developments in Q3 2020 in the domain of AI ethics across academia, civil society, government, and industry.
Chirag Jain's Ashika Group is among the founders of a new alternative protein fund and accelerator in India.
Mike Walsh on how algorithms are worsening economic inequality.
Tom Greenwood explores how work represents an opportunity for all of us to make a positive impact on carbon footprint.
Email marija@exponentialview.co to let us know what you're up to.