🔮 The Internet's dark forest; robots & work; the tech cold war; Amazon & Germany; plutonium & Game of Thrones++ #219
I need your help :)
Exponential View
Azeem Azhar
's Weekly Wondermissive: Future, Tech & Society 
This issue has been supported by our partner: 

Ocean Protocol

.

'Human attention and time allocation are limited.
Only the networks with the best incentives will survive.'
Here's
Part 2 of Ocean's Guide to Data Curation
. If you missed Part 1,
find it here
.

The huge, horrible, auto-spamification problem. 🌪️

Every few months, the automated spam filters that are present in the Internet's mail infrastructure decide the EV is spam. It really is a case of 'computer says no'.
I've spent time talking to senior execs at various mail services. They can see the issue but can't do anything about the decision made by those spam-scoring systems.

As humans, we need to teach those systems a thing or two.

But seriously, as a matter of priority, I really need your help in ensuring this wondermissive makes it into your inboxes.
👀 You need to do three things:
Drag this from promotions or updates into your inbox,

Reply to this email—just with a nice hello. Do this even if your email is arriving in your inbox,

Add me to your contacts list.
If you do that, we'll send positive signals to the machines to trust me like you do.

Thank you!
Azeem

Dept of the near future
🙊 Kickstarter co-founder Yancey Strickler thinks the internet is becoming a space of dark forests. As the internet becomes an ever more hostile space, real conversation is retreating into the perceived safety of private Slack channels, invite-only message boards, text groups, Snapchat, WeChat, even newsletters and podcasts. 'The dark forests grow because they provide psychological and reputational cover. They allow us to be ourselves because we know who else is there,' Strickler says.

🌊 He spent 23 years of his life arguing against climate change. Jerry Taylor, formerly of the libertarian think tank, the Cato Institute, and now founder of the Niskanen Center, shares what changed his mind. GOOD read.

🍔 Twenty years ago, the idea of a burger company as a platform would have been laughable, but Impossible Foods is making a habit of defying expectations. The question is, will it work? 'The Impossible strategy is not unlike the Tesla strategy. The basic playbook is to sell your untried goods as a lux, positional product first. If the elite vouch for it, then you just need to wait for the culture to carry it downstream to the masses.'

🤖 Economic historian Brad DeLong argues that the difference between information and tacit knowledge will prevent robots from taking (at least some of) our jobs. Robots may make our jobs more boring, however. Amazon employees who used to walk to shelves are now required to just stand there waiting for robots to bring things to them. Amazon's attempts to gamify tedious tasks have been met with mixed reactions. (See also, Uber and Lyft drivers act collectively to spark 'surge pricing'. Is this the platform-equivalent of the trade union?)

🇫🇮👏 Finland is giving classes on fighting fake news. The nation ranked first out of 35 countries in a study of resilience to the 'post-truth phenomenon.' This population-wide education campaign chimes with Finland's total defence doctrine, in which every part of society is responsible for helping to defend the nation: 'It's not just a government problem, the whole society has been targeted. We are doing our part, but it's everyone's task to protect the Finnish democracy […] The first line of defense is the kindergarten teacher.' (Also, Facebook is knowingly propagating a doctored clip of US politician, Nancy Pelosi. YouTube is working to delete it. Dave Lee has some good early analysis.)

💣 Jean-Louis Gassée ponders Elon Musk's 'different' mind, and whether Tesla's strategy is crazy or crazy like a fox. Gassée does not mince words about Musk's recent behaviour ('One view is that Musk is deranged. Seriously.') but argues that Tesla's love of software gives it a genuine edge over legacy car manufacturers.


🌏💨 Climate catastrophe
Each week, we're going to remind you of the CO2 levels in the atmosphere. 
The latest measurement (as of May 23): 414.94 ppm; 12 months ago: 409ppm; 50 years ago: 326.66ppm; 250 years ago, est: 250ppm. Share this reminder with your community by forwarding this email or tweeting this.
As I wrote last week, mid-May is the seasonal high for the CO2 levels at Mauna Loa, so for the next few months the absolute reported numbers will decline. Look at the year-on-year changes. The approximate 3ppm increase over the past 12 months represents about a twelfth of our budget before we hit 450ppm.

As many know, the rate of increase of CO2 in the atmosphere is itself increasing. I put together the graph below to show this. The blue line shows the YoY change in CO2 as measured at Mauna Loa, from Month 1, April 1959, through to Month 720, April 2019. Because of the volatility I also drew the red dashed line which shows the decadal volatility. It doesn't look good. Remember, the total increase over the last six decades is the sum of each of these annual changes.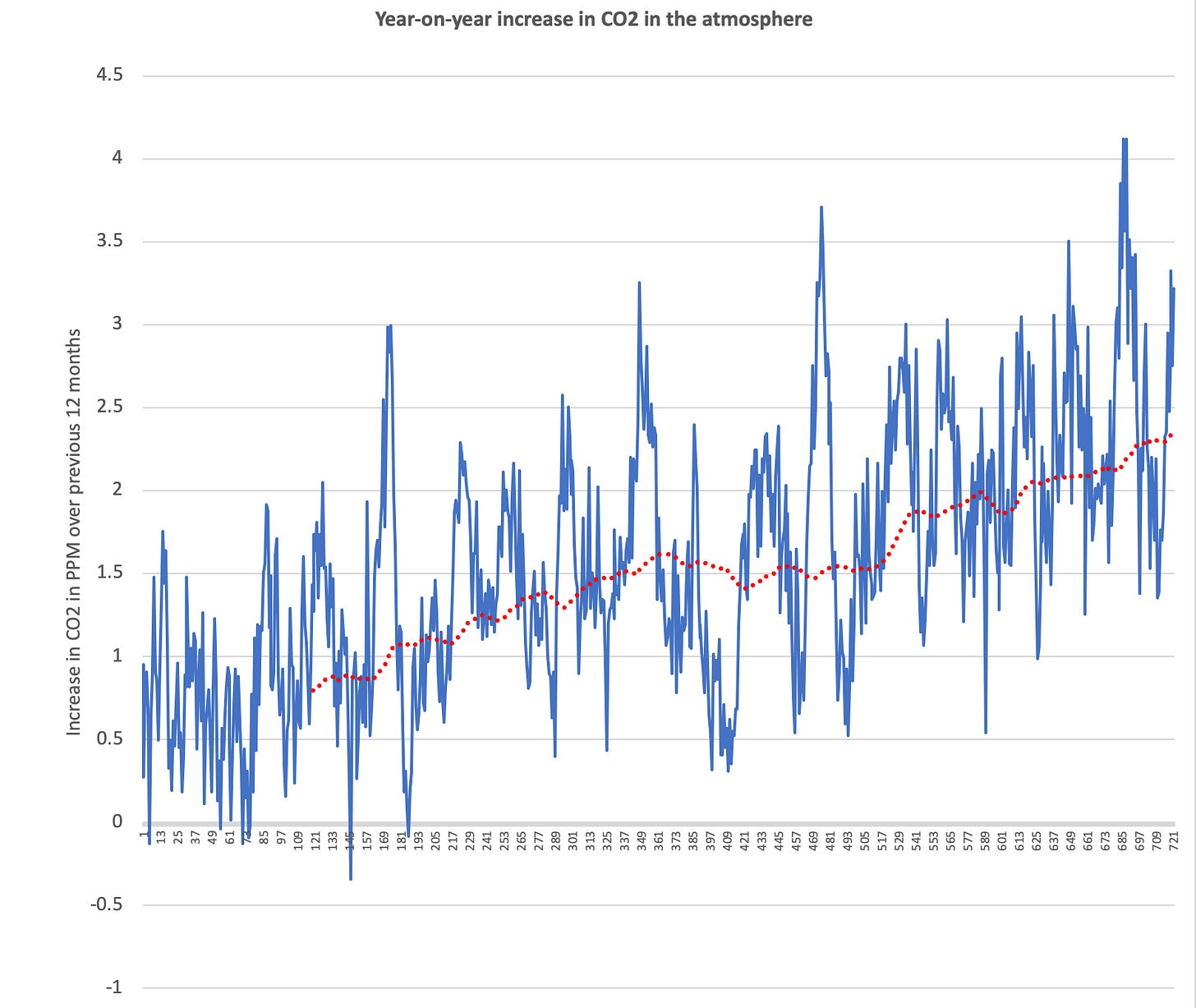 ---
 🚀 This issue has also been supported by Wired
'Cybersecurity is very fast becoming an all-out arms race. It is a battle of mathematical algorithms against mathematical algorithms,' said Nicole Eagan, the CEO of Darktrace, a global AI cybersecurity company.
Nicole is one of the speakers at Wired's Pulse:AI event on June 15. The event is family-friendly and ticket holders also get access to Barbican's AI: More Than Human exhibition. 
🎯 Last chance to get tickets with special 10% discount.
---
Dept of techno-politics
The technological cold war gets colder still. The US raised the stakes by imposing a denial order against Huawei, which restricts the ability of American firms to use Huawei's products, and Huawei's ability to use American components. Huawei is a huge firm, with revenues in excess of $105bn annually. It spends a lot on components (about $80bn last year) and is a market leader in network infrastructure and has an increasing presence in Android-based smartphones.

This is clearly a sign that this technological cold war is intensifying. Tim Culpan provides a good overview of this coming war of attrition.  

Huawei was also getting into the chip business, through its Kirin processors. As new generation processor these were optimised for AI-based applications on mobile phones and were based on (licensed) intellectual property from ARM, the Softbank-owned British firm. ARM has suspended work with Huawei earlier this week.

With production ecosystems being what they are, this also impacts Taiwan's TSMC, which is the world's largest semiconductor manufacturer. TSMC builds the expensive 'fabs' which make the chips designed by HiSilicon, Huawei's chip subsidiary, as well as the likes of Nvidia and Qualcomm. TSMC claims not to be affected, but we'll see what happens as this intensifies.

🤩 Note: I've made the rest of this section, usually only for premium members, open for all this week. It is a way of saying thank you for helping with the spam issue I identified above.

This represents a hardening of the trade war from 'a negotiating point' to a 'cudgel' has also poured cold water on Silicon Valley, according to Dan Primack. Chinese investment in US firms has dried up, and startups can no longer count large Chinese firms as potential acquirers. Also, read this good discussion on how Kai-Fu Lee's Sinovation Ventures has pulled back from Silicon Valley.

What we'd like to see is proportionate responses and a move to some semblance of trust-worthy and resilient product ecosystems. It muddles the Trumpian trade war and the new grey space of unregulated cyber conflict amongst states via their non-state affiliates and clandestine services. Spies are gonna spy. And we know how much America's NSA wanted to tap into infrastructure by meddling with vendors. (🎧 For an introduction to the challenges of the unregulated space of cyber conflict, listen to my conversation with Dr Mariarosaria Taddeo.)

The challenge is, Trump's trade war notwithstanding, China's desire and ability to align public and private organisations in service of the state gives it significant strategic advantages over the more ground-up US. This is especially true with lumpy investments such as infrastructure. That alignment also creates opportunities for national security or military entities to sneak vulnerabilities into critical infrastructure. (And which spy agency wouldn't want to do that?)

This is messy. One reason we have been able to grow our economies and innovate so many amazing things is because trade and exchange allow us to specialise. And that specialisation means that even making a single toaster is beyond the wit of any human. Instead, we turn to collaboration, across borders, to achieve these goals. We don't yet have answers for organising our affairs to make complex products, the knowledge of which is highly specialised and distributed. Those things, especially things more complex than toasters, depend on those networks of capability and expertise. A typical chip factory or fab at TSMC will cost more than $10bn to build, and the skills required are rare. Replacing ARM's intellectual property is not a stroll in the park.

These interconnections are precisely the reason why the system might be resilient to this type of sabre-rattling. During the Cold War with the USSR, US-Soviet trade was only 1% of each nation's trade. During this Tech Cold War, China's trade with the US, represents about a sixth of all US trade. And crucially, China is critical to some of America's most successful firms.

Unpicking the bombast from the clearer concerns around intellectual property, cross-subsidisation and, potentially, national security, seem to be most important. We wouldn't want these complex supply-webs to become sclerotic for too long.
Also:


Dept of AI
EV reader, Janosch Delcker, goes into Amazon's German AI research group. One area of focus of this group is causal methods: machine learning approaches which infer causal models from data. It is one of the next frontiers in ML research. The tension around the corporatisation of core research is also clear:
Amazon's ability to pay top euro ensures it can attract the best talent in the bloc. But it's also stirring concerns about an "internal brain drain" — where local talent stays at home but works for foreign companies — as well as an erosion of research capital in Germany.

😲 Chinese company YITU says that it can identify a person from a database of 'at least two billion people' in seconds using its Dragonfly Eye facial recognition system. Facial recognition technology is ubiquitous in China, which has at least 200 million surveillance cameras and a $120 billion surveillance industry. YITU's technology is used by police in over 300 Chinese cities, as well as being used by authorities for city management and data collection. (Azeem's note: an investor recently demoed a face recognition app at a dinner. It identified with 100% accuracy the handful of guests, and then pulled up dozens of pictures of us from the web, in some cases going back at least a decade. Eye-opening stuff, and not necessarily in a good way.)
Elsewhere:
Short morsels to appear smart at dinner parties
🥡 The UK's casual dining market is over-saturated, and home delivery services like Deliveroo and Uber Eats are (metaphorically) eating chain restaurants' lunch. (A rather good read on underlying changes in eating habits.)

🔬 There may be a genetic component to antisocial personality disorder. (🎧My conversation with Steve Hsu goes into this. As a caveat, recent research on genome-wide association studies for complex traits has identified significant statistical problems, where 'scientists had been mistaking biases in the polygenic score calculations for something biologically interesting.')

US investors now have as much money in passive strategies as they do in active management.

🗯️ Male characters speak three times more than female ones in Game of Thrones. See also: Voice assistants like Siri and Alexa are fueling damaging gender stereotypes, according to a UN study.

🧠 DARPA is looking for a breakthrough in nonsurgical brain-machine interfaces.

🌌 Previous estimates of the age of the universe may have been off by a billion years. Also, half of our plutonium on Earth may have come from a single neutron star merger.

We could be just a little bit closer to having flying taxis after the maiden flight of the Lilium Jet, which seats five and is just as efficient as an electric car over long distances.


End note
This week I am in Singapore speaking at an investment conference . My current theme is 'what we mean when we say AI changes everything'. I'm curious to take in some macro-perspectives from the other attendees, especially with an Apac perspective. Ping me if you are in town. Schedule tight but slots might be available.

The highlight of my June diary is the AI festival, CogX, happening between 10th and 12th in London. Like last year, I'm running the 'Cutting Edge' stage and Libby Kinsey is my co-host. She and I have put together a whirlwind three days through the future of AI and its impact. We've been lucky to persuade a fair number of brilliant names to fly over from the US, China and Europe for us.

If you do attend, and I hope you do, you'll get a chance to learn about brain-machine interfaces, complexity theory, creativity in AI, where natural interfaces are heading, synthetic biology and the future of the human, and, and, and, and… the list goes on.

To be fair that is also only the EV Cutting Edge track. There are eleven other tracks, so there is no chance you'll fit it all in. I would be super happy to see you there.

🌟 We have a special discount code for all EV members, which you can access here. If you are an annual Premium member, please email Marija (marija@exponentialview.co) directly. 🌟

I look forward to seeing you then!
Azeem
P.S. Check out what readers have been doing below. And please make sure you (not your PR firms!) let us know what you are up to.

This issue has been supported by our partner: 

Ocean Protocol

.

---
What you are up to—Notes from EV readers
Congrats to Taavet Hinrikus of Transferwise for creating Europe's highest valued fintech. And to Reshma and Carlos for backing him.
Shehnaz Suterwalla & her co-writer on the meaning and importance of protesting in our digitally-abundant yet fragile times.
Benjamin Welby at OECD published a report analysing the impact of digital government on citizens well-being.
Congratulations to Beth Krasna for being appointed the President of the Board of Directors at CEPF, am umbrella organisation wich represents 60% of the forest area in Europe.
James Ransom explores how universities are shaping a new wave of smart cities.
Alyssa Kuhnert shares the work of her team at Dessa, who've created one of the most life-like AI voices to date.
New sci-fi books by our readers: Eliot Peper just published the third book in his Analog series, Breach; Anne Currie's Utopia Five is out now, too. Geoffrey Carr published his techno-thriller debut novel Genesis.
Congrats to Marc Heynen, co-founder of PayJoy for raising $20 million from Greylock Partners.  
Nice profile of Johann Richard's Swiss space programme.
Phillipp Gerbert on learning to love the AI bubble.