🔮 The future of media; autonomous weapons; China & Taiwan; haptics, Filecoin, proteins++ #292
Hi, I'm Azeem Azhar. I convene Exponential View to help us understand how our societies and political economy will change under the force of rapidly accelerating technologies. 
☎️ Earlier this week, I called one of the most informed observers of large companies, EV reader Matt Stoller, to discuss the implications of the recent Cicilline report, in which US lawmakers try to make sense of, and tackle, Big Tech. Here's our conversation, open for members.
If you do get into the Big Tech rabbit hole this weekend, read also this FT piece on how the EU is targeting large tech companies.
📈 Is endless economic growth possible? This is what I asked members in the Friday discussion this week. Join the conversation
🎧 📖 We published the transcript of my conversation with Sam Altman, OpenAI's CEO. Members can read it here. Listen to the podcast here.
The near future
Future of media (1): Matthew Ball writes a stunning essay on the opportunity for audio media.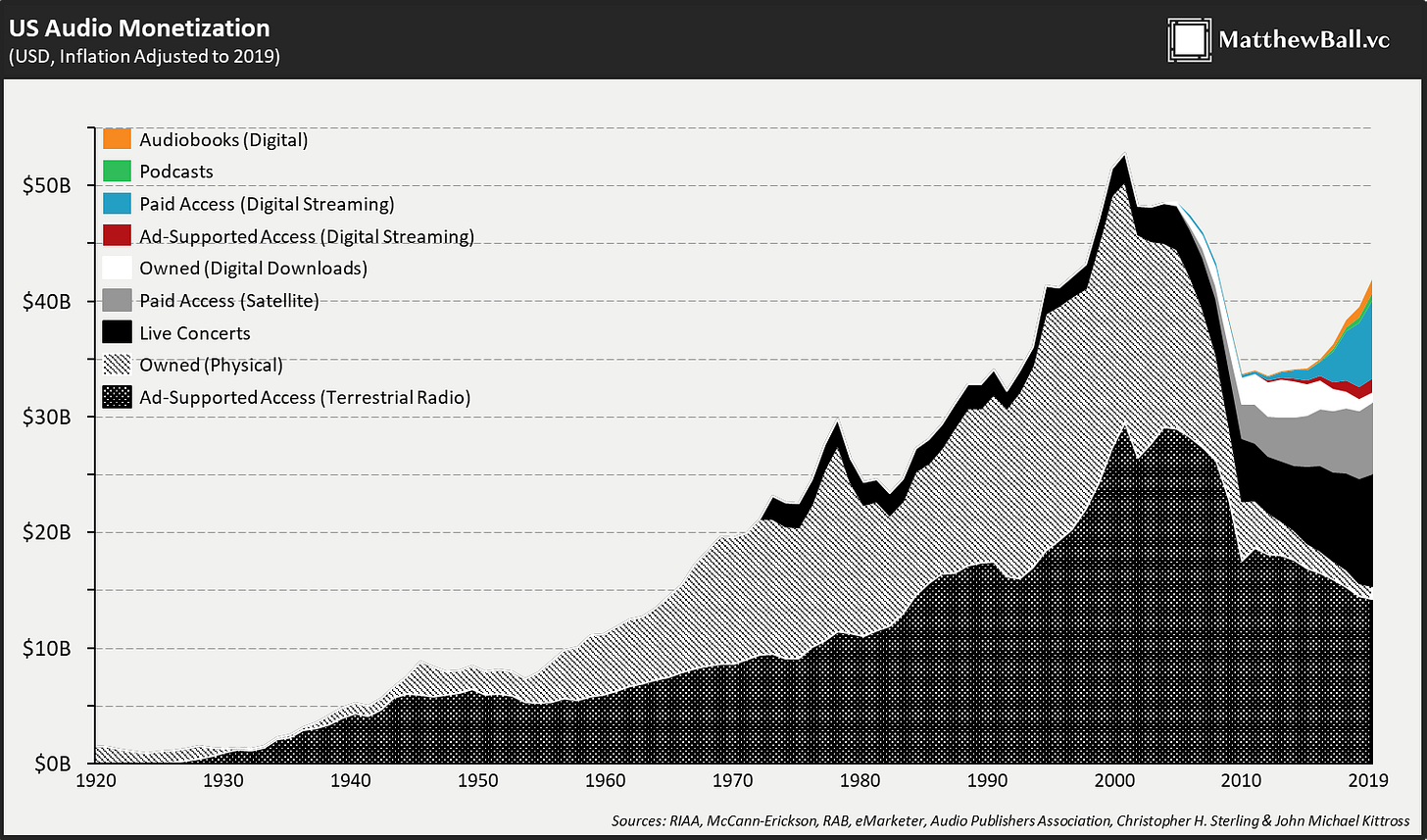 (2) Antonio García Martínez on the "twilight of the media elites". Rather US-focused, but some nice challenges:
The customer always gets what they want: In the case of an ads-driven business model where the advertiser is the true customer, that's balanced political news alongside frivolous lifestyle stories as a canvas for ads. In the case of subscribers, it's being flattered by having their own worldviews echoed back at themselves in more articulate form.
💌 "Information looking for people": a stunning drill down into TikTok, "China's attention factory".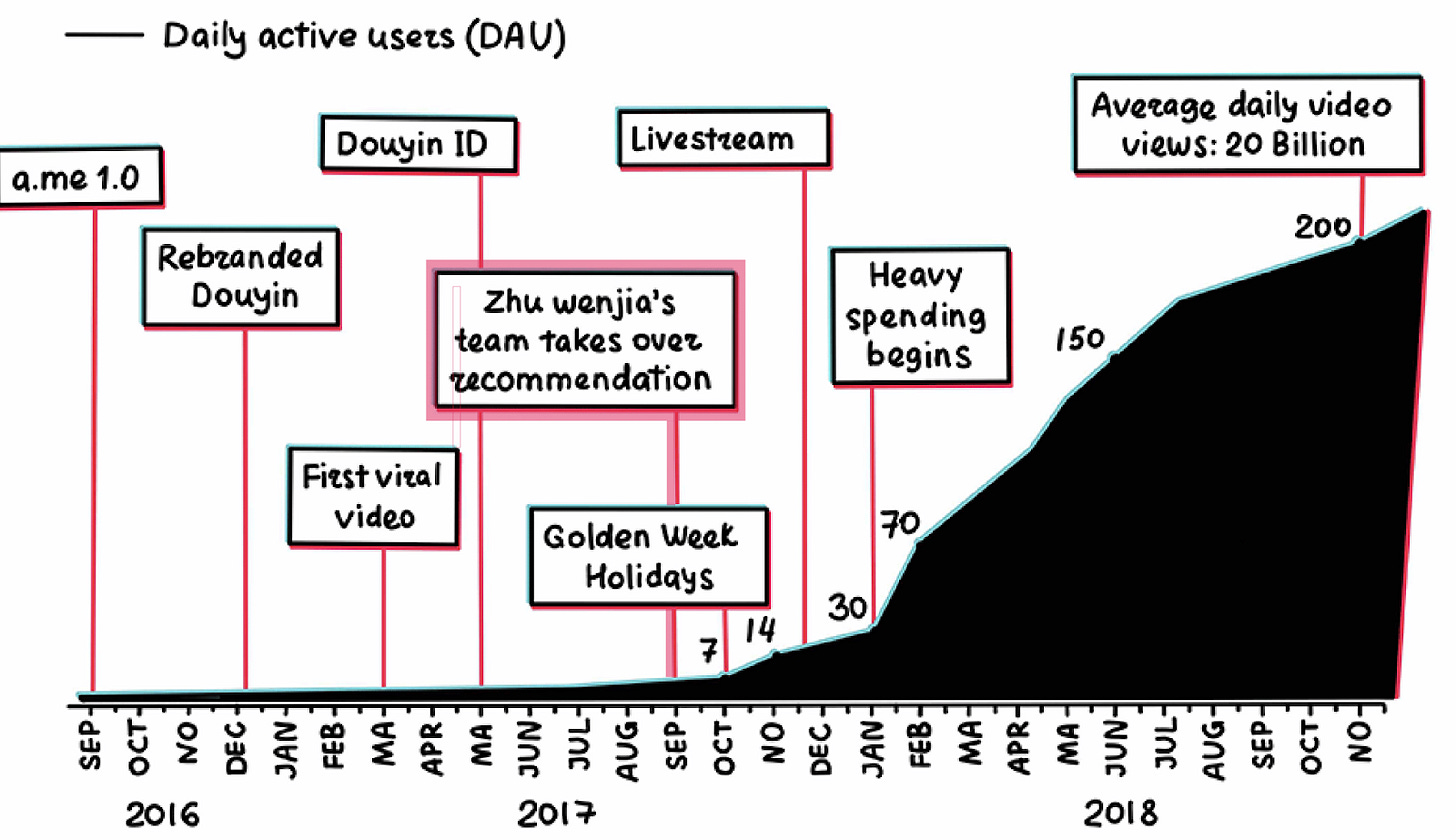 💯 Two things we need to teach to combat disinformation: critical thinking and community values. In a recent conversation with me, Audrey Tang, Taiwan's first Digital Minister and tech iconoclast, explained how Taiwan educates its population in online participation: "[I]n our K-12 curriculum we don't teach media literacy anymore. We teach media competence, meaning that instead of being just readers and viewers of data and journalism, everybody is essentially a producer of data and narratives."
👀 The prospect of China invading Taiwan may feel far off, but it's one that experts are increasingly worried about. China could even involve electronic warfare units that would target Taiwan's financial system.
Frank Pasquale is in The Guardian with a fascinating long read on the danger of autonomous weapons. (Connecting back to China, the PRC Army recently demonstrated a swarm of 'suicide' drones launching from the back of a truck.)
💸 US VC funds raised $56.6 billion this year, and most of the fundraising has been driven by large funds. This despite Covid.
🍃 Dept of decarbonisation: 411.26ppm | 3,511 days
Each week, I'm going to remind you of the CO2 levels in the atmosphere and the number of days until we reach the 450ppm threshold.
The latest measurement (as of October 13): 411.26ppm; October 2019: 408 ppm; 25 years ago: 360 ppm; 250 years ago, est: 250 ppm. Share this reminder with your community by forwarding this email or tweeting this.
The world's best solar power schemes now offer the cheapest electricity around the world. The IEA predicts 43% more solar output by 2040 than it initially expected (solar power is 20-50% cheaper than thought). See also, could solar panels floating on dams be the next big *wave*?
Charts of the week
EV reader, Louis Rosenberg, has put his Swarm AI technology to work on the upcoming American election. (As previously covered, Louis' technology has been better than most at predicting Oscar winners and horse races.)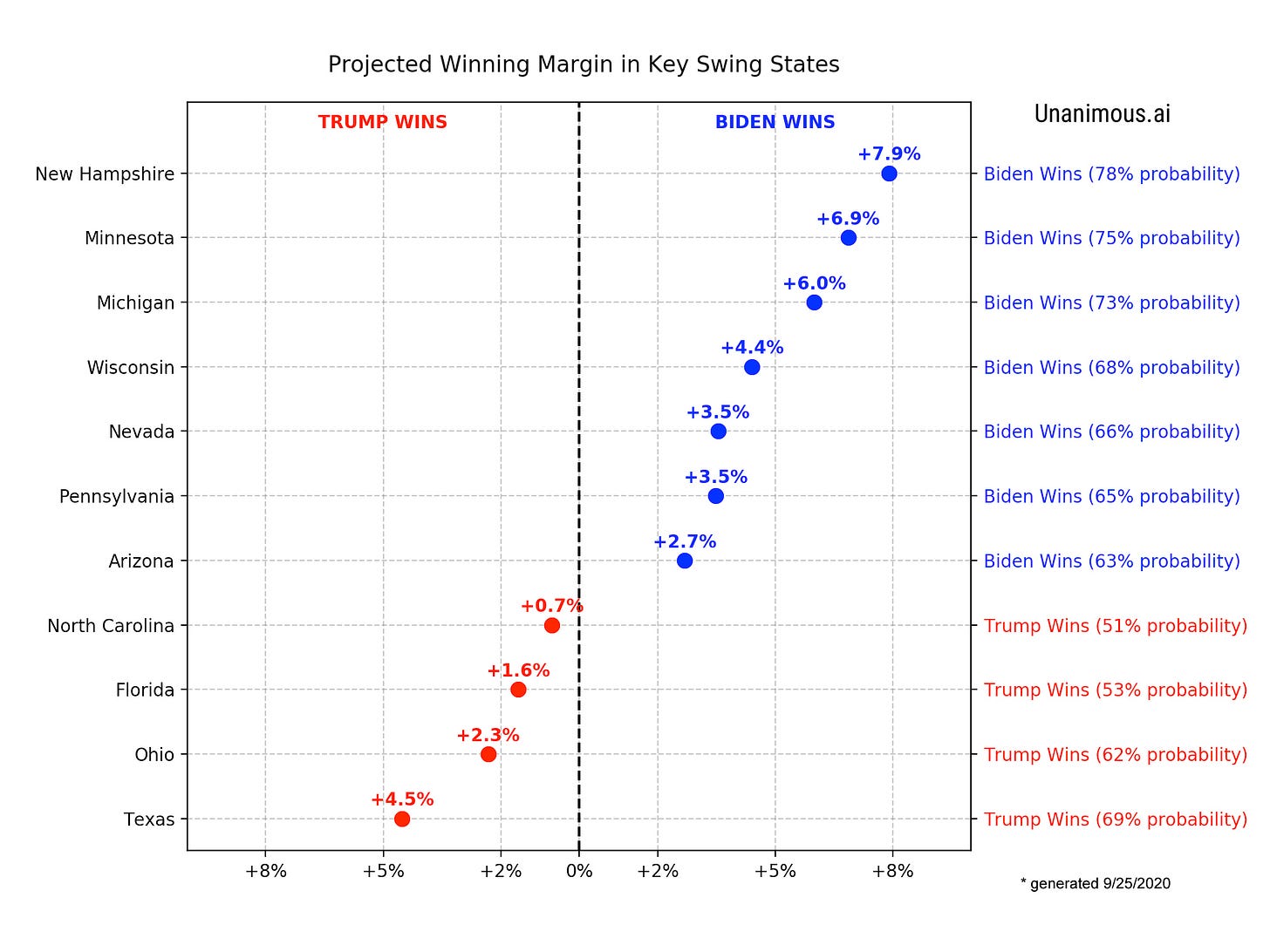 These predictions were generated using swarm technology, which captures input from groups of human forecasters in real-time and enables them to converge upon optimized solutions as a unified system moderated by AI algorithms.
The algorithms are modelled on the biological principle of swarm intelligence. (Louis briefed members on what Swarm AI does.)
German mobility patterns
Germany has handled the pandemic better the most. Even so, mobility patterns have changed. Long-distance journeys by car are 20% above pre-pandemic levels. Train journeys down by a similar proportion. Air hammered. I guess the rise in car travel is to do with infection control.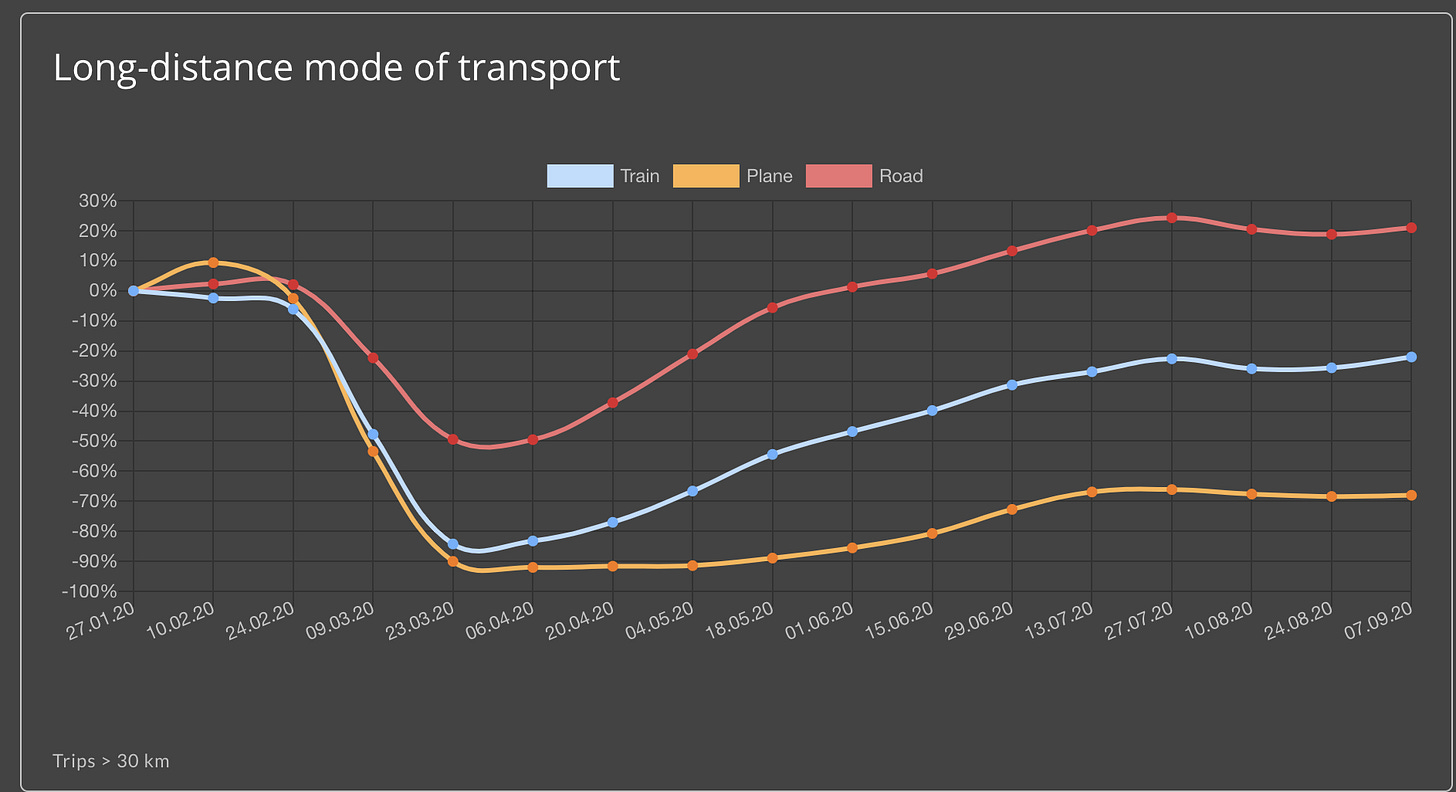 Short morsels to appear smart while wearing the mask
Akita, a convolutional neural network, can predict genome folding from DNA sequence alone.
Capitalism as the biggest barrier to humane, ethical AI. 
💨 🚓 Earlier this month, Waymo opened up its "fully driverless offering" to Waymo One riders, and will open up the service to more people directly through an app in the next couple of months. They've been working on this since 2017.
Another milestone: Filecoin, a blockchain-based, internet file system launches after several years of work.
🙃 Pandemics have caused the end of an empire previously - the Roman empire. 
🚴 A study found that Rotterdam's bikers go through lights faster when it rains.
I have been enjoying Isabel Wilkerson's Caste. Read an illuminating review here. 
🚧 A good look into how the second wave of Covid-19 is a unique challenge for Boris Johnson and his style of leadership. 
👌 The haptics industry's quest to create surrogate touch has a few fascinating twists and turns. 
End note
Finally, I'm hosting a discussion with Blair Sheppard on 22nd October at 2pm UK time. Blair is the Vice Chairman at PwC, where he leads their strategy, and formerly was the boss of the Fuqua School of Business. We'll be discussing solutions the global crises in prosperity, technology, legitimacy and leadership.
You can sign-up here.
A
What you're up to—notes from EV readers
Congrats to Oliver Morton of The Economist for receiving the ABSW's British Science Journalist of the Year Award!
I will be the keynote speaker at EV member Riam Kanso's ConceptionX 2020 Demo Day.
Marc Vetter has developed a recyclable running shoe made of beans.
Massimo Portincaso looks at why CEOs need to read poetry to lead in the post-Covid world.
Sean West examines how to properly approach political intelligence these days.
Robert Hacker has written about the future of education.
Dan Murray-Serter has a new podcast covering mental health.
Sergio Caredda has written a series of essays about the meaning of work.
Ben Welby shares that his team at OECD is launching the pilot version of the Digital Government and Data Unit's Digital Government Index.
Neeraj Kamder writes a weekly newsletter on the relationship between humanity and technology, which you can find here. 
Katie Lips's team at Which? just published some fascinating information about scamming and Facebook. 
Email marija@exponentialview.co to share your news and updates with other readers.