🔮 Hardware and research; generative AI; Tiktok and the Internet; ecstasy & sunken servers++
I'm Azeem Azhar. I convene Exponential View to help us understand how our societies and political economy will change under the force of rapidly accelerating technologies. If you're not a member, consider joining.
This week, EV members and I discussed whether the TikTok-Oracle deal heralds the new Internet. Most are cautious. Here are some takeaways: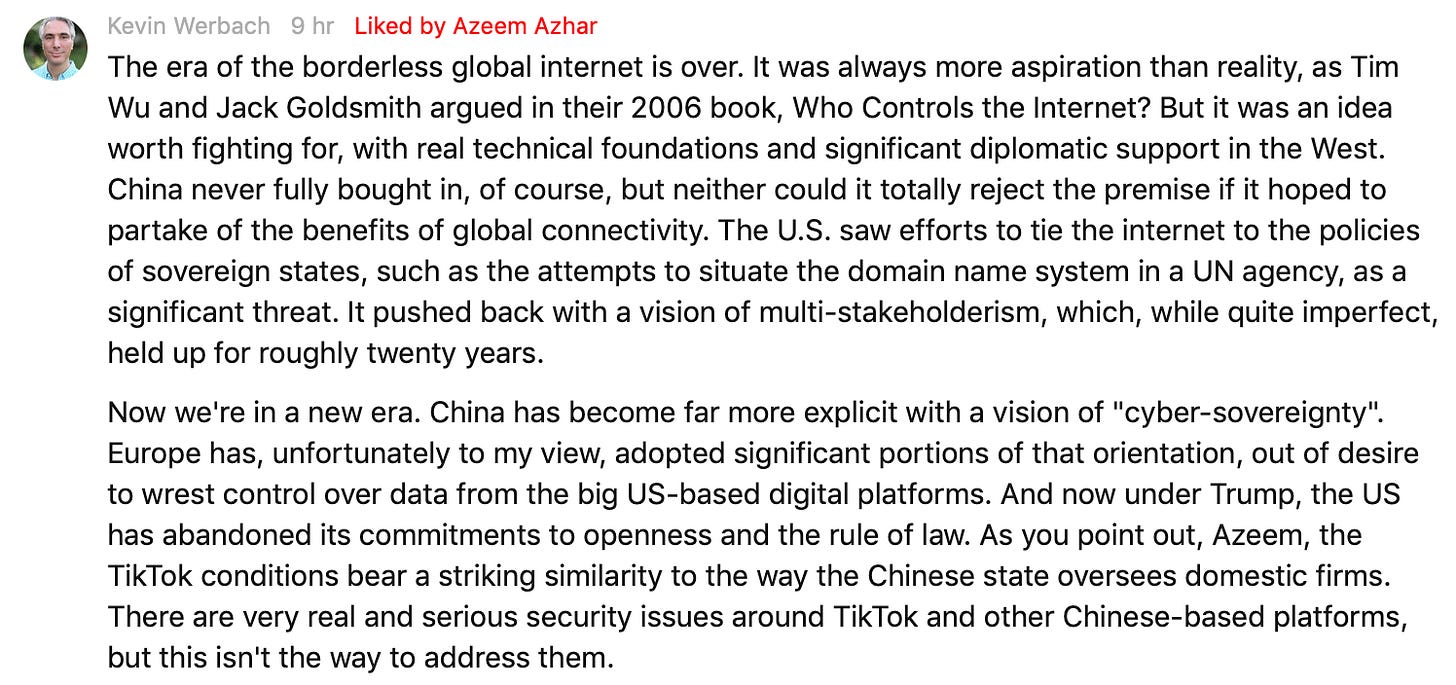 Just as I went to bed, the news that Trump had agreed to the Oracle deal broke. Jane Li points out that the structure mirrors the deals Apple & Microsoft have in China. Strangely, Oracle's Larry Ellison thinks he won the deal because his firm has the best cloud platform. (For history nerds, Oracle's last consumer product was the PowerBrowser from 1996. It was a desktop web browser. I found it particularly intriguing because it embedded a local web server so you could dish out web pages from your client device. You can see a video walkthrough of it here. Commentary in Japanese. Sorry!)
The near future
💯 A brilliant essay on the "hardware lottery", the ergodicity of software and how tools make or break research. Super relevant for the future of AI. If you are going to read one piece this weekend, make it this one. Brief commentary and summaries here and here.

📦 AI is ushering us into the Generative Age.
What we'll probably see first are virtual people that are indistinguishable from real people – at least for short conversations. The technology is almost there, and for some people, it is there. People are getting real emotional support from chatbots, and they'll be a lot more appealing when talking to them is indistinguishable from doing a video call with a friend (or with Abraham Lincoln or Professor Dumbledore).
Follow up with this essay looking into the implications of the shift to digital therapy in China. Once overwhelmingly taboo, mental health services are now booming.

🧟 The growth of 'Zoom towns'. In normal times, these places would be vacation destinations, but as remote work takes off they're now flourishing off-season too. At the same time cities are starting to come to terms with the 'lasting exodus' from offices. See also, my conversation with World Bank's Sameh Wahba about rebuilding cities post-Covid.

➡️ "The real computer revolution hasn't happened yet," bets Airtable's boss Howie Liu. Howie and I spoke earlier this year about his mission to democratize the software industry.
Dept of decarbonisation: 411.28ppm
| 3,539 days
Each week, I'm going to remind you of the CO2 levels in the atmosphere and the number of days until we reach the 450ppm threshold.
The latest measurement (as of September 17): 411.28 ppm; September 2019: 408.5 ppm; 25 years ago: 360 ppm; 250 years ago, est: 250 ppm. Share this reminder with your community by forwarding this email or tweeting this.
👍 Peak oil: demand could fall by at least 10% this decade, and by as much as 50% over the next two decades.
The Business Roundtable, one of the US' most prominent business groups, "supports a goal of reducing net US GHG emissions by at least 80% from 2005 levels by 2050". (This is the same group which made a limp-wristed claim about the purpose of the corporation last year. You should listen to my discussion with Rebecca Henderson where we touch on these issues.)
Chart of the week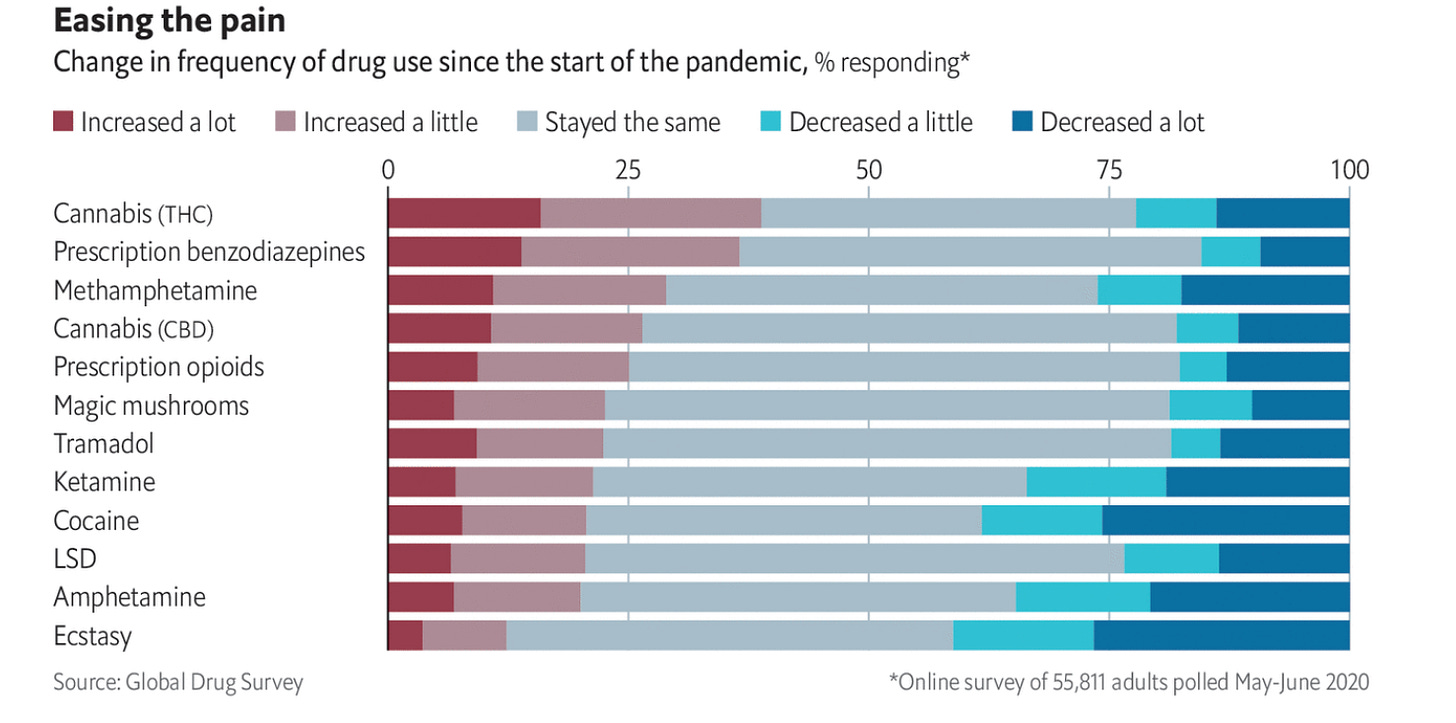 Downers are up. Uppers are down. Meth remains resilient.
Short morsels to make you smart
despite all
👽 Is there life on Venus? Here is the fab (scientific paper) detailing the findings this week. 
Two companies to keep an eye on (for different reasons!): The first is Ping An, China's second-largest insurer, which is about to spin off and float four unicorns with a combined value of just under $82 billion; the second is Sandvine Inc., the American tech firm that helped the Belarusian government shut down the internet during the disputed presidential election.
🌊 In 2018 Microsoft's Project Natick sunk 864 servers and 27.6 petabytes of storage to the floor of the Scottish Sea. The project team claim that the underwater data centre had just 1/8 of the failure rate of a land-based data centre.
😬 Gen Z vs. Silicon Valley. Can a group of young tech enthusiasts build a new system?
Portland has passed a groundbreaking ban on facial recognition in private and public spaces. 
😆 Do not post your boarding pass on Instagram. The former Australian PM had to learn this lesson the hard way. Hilarious.
💸 Had income distribution remained constant since 1975, the median full-time worker in the US would be making $92,000 a year in annual earnings, versus $50,000 as is. IMPORTANT TAKE
The ISS is open for business. First up: beauty product marketing.
End note
No chipmunks were saved this week. Our humblest apologies!
But we did our best. Have a wonderful few days—have something special for you towards the end of the week.
A
—
What you're up to—notes from EV readers
Rodolfo Rosini wants to know about your facemask habits. Participate and share!
Andrea Coravos is releasing a landmark, open-access project that will serve as an industry guide for successfully developing and deploying digital clinical measures across clinical research, clinical care, and population health surveillance.
Michael Sulmeyer, an adviser to US Cyber Command, on how to compete in cyberspace.
Ted Lechterman joins Oxford University's Institute for Ethics in AI. Congrats!
Ryan Rodenbaugh breaks down the defining characteristics of Super Apps.
Share your news and projects with other readers. E-mail marija@exponentialview.co with details.