🔮 Facial recognition; outskilling; reversing Eroom's law; network effects, miserable middle-agers, neurons++ #253
ML, better data, and computation is propelling pharma R&D
Hi, I'm Azeem Azhar. I am exploring how our societies and political economy will change under the force of rapidly accelerating technologies and other trends. I convene Exponential View to help us explore these topics. In my twenty-five years in the tech industry, I've founded several companies and invested in more than two dozen. I've worked as a product manager, territory head, board member, journalist, and run corporate innovation groups. I hope this broad experience helps surface some interesting questions.
A few special notes for this week:
---
This week's edition is supported by our partner, Masterworks
$200M for Picasso? $300M for de Kooning? $450M for a Da Vinci!?! Adding art to your portfolio isn't just for billionaires anymore. With Masterworks, you can invest in this ultra-exclusive asset class, which has outperformed the S&P. There's 25,000 members waiting to get in, but EV readers get priority. Skip the line >>
---
Dept of the near future
🧨 Ark Invest releases their excellent annual disruptive trends report. (Highlights here. See also Chart of the Week, below; and listen to my conversation with Cathie Wood, Ark's CEO.)

🐱 Profile of Clearview AI, a startup which The New York Times calls 'the secretive company that may end privacy as we know it.' The EU is the latest, and arguably most significant jurisdiction to float the possibility of a ban on the use of facial recognition. The proposed ban would be limited to public spaces, with a five-year sunset. The temporary ban is intended to buy time for the EU to develop ways to counteract the risks and negative impacts of facial recognition systems.  If the experience of the City of San Diego is any guide, it also might take at least that long to make facial recognition truly useful. San Diego police's seven-year experiment with facial recognition did not go well. Another facial recognition program in Florida is also attracting controversy for lack of either due process or accuracy.

🙈 In a brilliant and evocative long-read, Chris Gilliard digs into how Amazon's Ring militarizes our public spaces. See also, Amazon is at the top of Slate's list of 30 tech companies doing bad things across the globe. (Amazon is also a surly recidivist on carbon goals, lagging the other big five. Microsoft has leapt into the lead with a promise to eliminate the firm's entire historical carbon footprint by 2050.) 

⚙️ A recent report from the Chinese government denies that there will be 'significant' loss of jobs due to artificial intelligence under China's 14th Five Year Plan, which starts in 2021. A PWC report found that 26 per cent of jobs in China were likely to be disrupted by AI, but that this would be balanced out by an estimated 38 per cent growth in jobs in other sectors. Related, outskilling is increasingly seen as a way to help employees stay employable despite automation risks. Outskilling involves training workers for roles they might get once they lose their job at their current employer. Understanding those transition paths, the jobs workers could move to, becomes critical. 

💭 Dept of psychology
We have a special essay from Katy Cook on the psychology of Silicon Valley. It'll hit your inbox just after this mail. Take a moment to read it and strike a conversation with Katy in comments.

🔥 Climate crisis: 413.20ppm
| 3,786 days
Each week, we're going to remind you of the CO2 levels in the atmosphere and the number of days until reaching the 450ppm threshold. 

The latest measurement (as of January 11): 413.20ppm; January, 2017: 406.13ppm; 25 years ago: 360ppm; 250 years ago, est: 250ppm. Share this reminder with your community by forwarding this email or tweeting this.

NASA data shows CO2 concentration and the global temperature anomaly is highly correlated.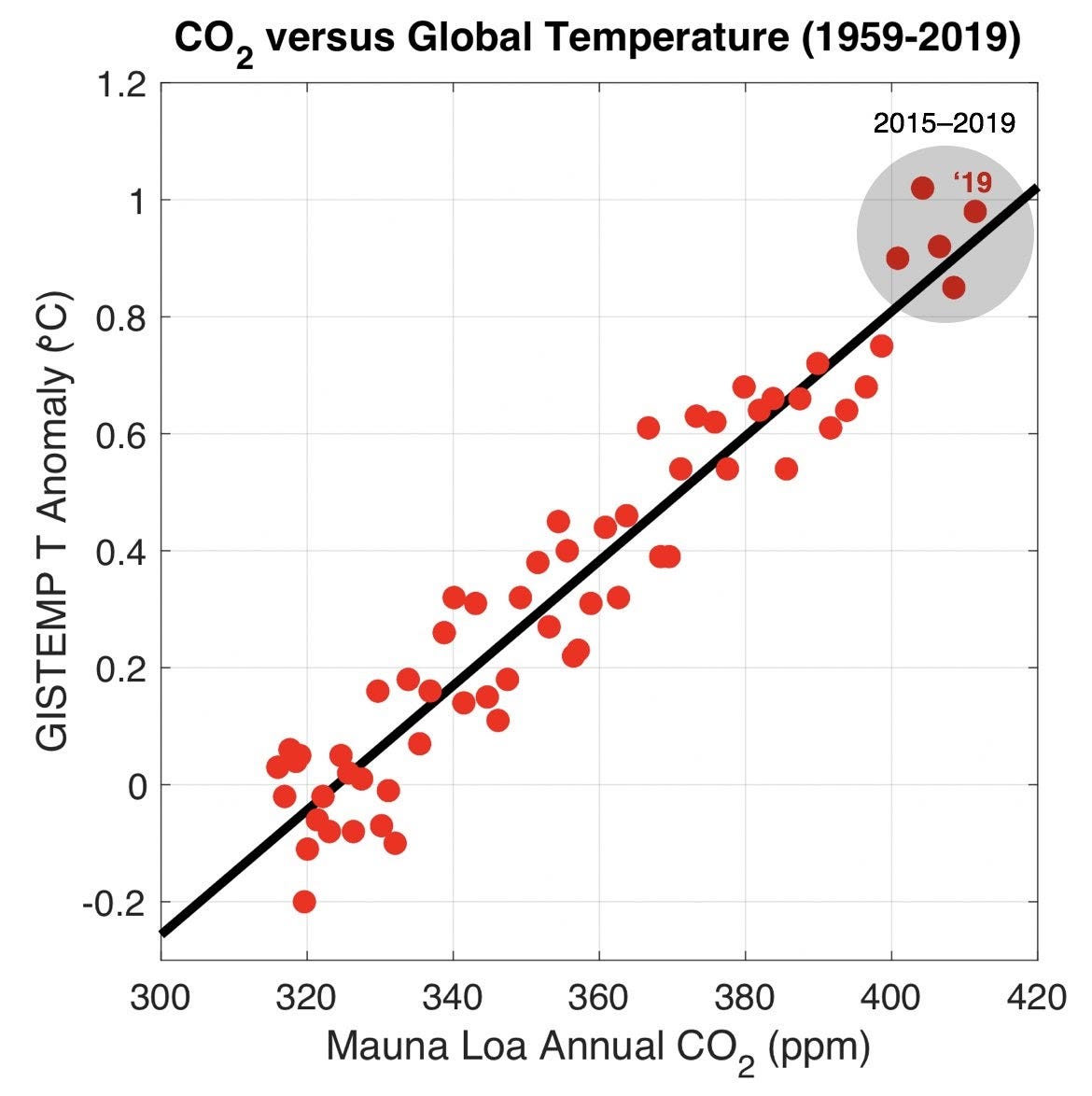 The UK's National Grid, which runs the electrical supply network, put out an interesting video on how electric vehicles could be used as decentralised energy storage for a renewable grid. (When the sun isn't shining, your Kia can be powering your and your neighbours home). Quick back of the envelope maths: about 350,000 EVs in the UK with, say, 50kWh of battery capacity. If each yielded half of that to the grid overnight, when the sun doesn't shine on solar panels, nearly 9GWh would be available, enough to power 1-3 million homes overnight and still be well-charged for a 7:45am departure. 
Chart of the week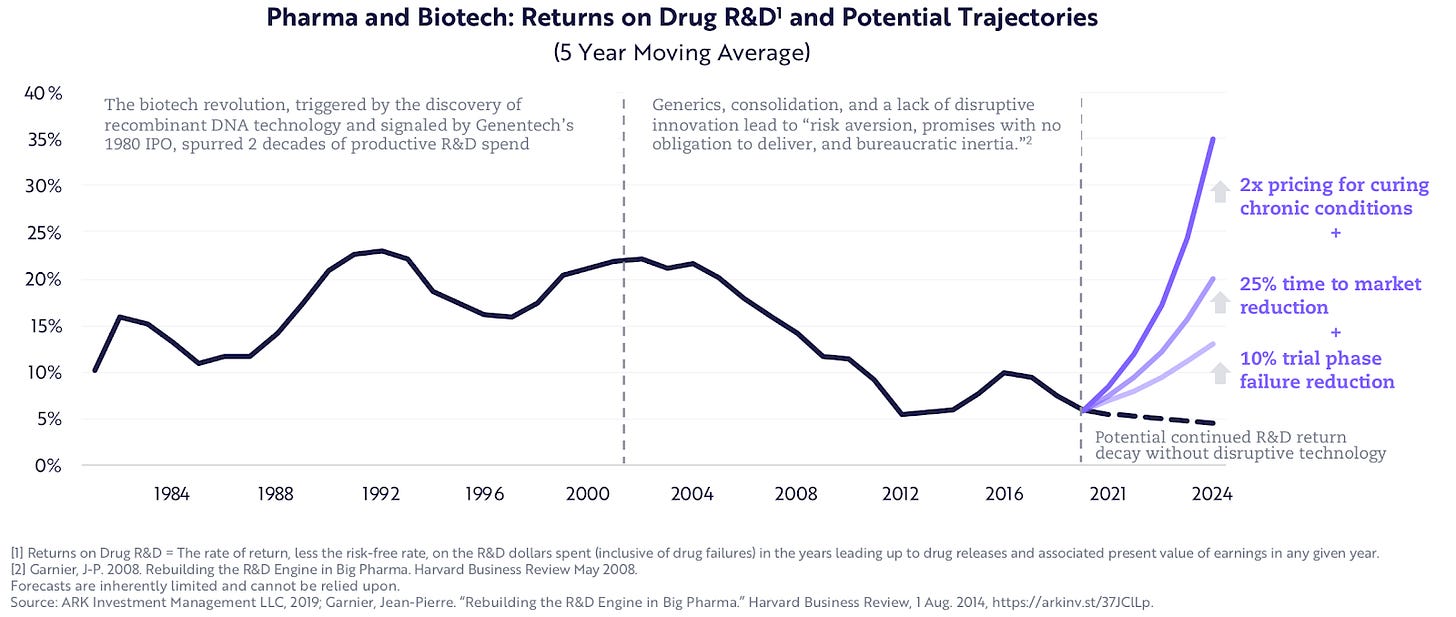 Ark Invest reckons that the new techniques combining machine learning, computational biology and better data could reverse Jack Scannell's Eroom's Law. The law (Moore's backwards) has described the trend of the increasing cost and difficulty in developing successful therapies since the 1950s. (See more in Dept of Near Future.)
Short morsels to appear smart at dinner parties
🧶 James Currier: Our lives are driven by network effects. A long-read on the importance of network effects over the span of our lives. 

😬 Homeownership: the West's biggest economic-policy mistake.

Hydrogen energy might make a comeback. (It could well become an important storage medium.)

How much do venture capitalists really earn? 

😅 Are you 47.2 years old? Don't worry, it's all looking up from here. If you're 47.1, I've got some bad news for you. 

💥 Scientists find parts of cortical neurons can complete computations that mathematical theorists had previously categorized as unsolvable by single-neuron systems.

Dating apps are selling data to advertisers, and the government might step in. 

Alphabet became the fourth trillion-dollar company.

📼 Netflix may have moved as much as $430 million in non-US profits to low-tax jurisdictions in 2018.

A quarter of new foods launched in the UK last year were labelled as vegan. 🥬

🕳️ Shovels, dirt, physics, optical illusions, this video has it all.


End note
Last week, I ran a piece about the scale of the AirPod business. Excellent Apple analyst, Neil Cybart, has weighed in with an important fact-check: AirPods are definitely not making more money than Twitter, Spotify, SnapChat and Shopify combined. Sorry for the error last week.
Have a great day,
Azeem
---
This week's edition has been supported by Masterworks
Invest in Basquiat, the AMZN of the art world. With 17% annual returns since 2000, there's no one more obsession-worthy than Jean-Michel Basquiat. Now you can turn your portfolio into a work of art by buying shares on the Masterworks stock market. Skip the 25,000+ waitlist with this special referral link.
---
What you are up to — notes from EV readers
Congrats to Casper Klynge on his new role as Microsoft's new Vice President of European Government Affairs!.
Congrats to Geoff Mulgan on his new role at UCL.
Jeni Tennison writes about community consent and privacy.
Celine Herweijer and collaborators released a report on Technology and Global Goals. (I contributed to this report.)
Jessica Fjeld's report mapping consensus in ethical and rights-based approaches to principles for AI is out.
Eliot Peper's interview with Nick Harkaway was longlisted for the BSFA award.
Lydia Kostopoulos makes the case for businesses that don't scale.