🔮 Big tech; quantum internet; China as a superpower; exoplanets, cars seats as contraception, Onlyfans++ #291
Hi, I'm Azeem Azhar. I convene Exponential View to help us understand how our societies and political economy will change under the force of rapidly accelerating technologies. 
This week, I asked members how we should think and act amidst the K-shaped economic recovery we're seeing in the US, UK and even China. Join the discussion
The near future
🎡 The US House presented a report on the antitrust practices of Big Tech, calling for the most sweeping changes to antitrust laws in decades. Lawmakers say that the GAFA have turned from start-ups into monopolies à la oil tycoons whose "pattern of behaviour raises questions about whether these firms view themselves as above the law." Matt Stoller points out that the subcommittee went through nearly 1.3 million documents and did hundreds of hours of interviews.
[T]he Cicilline Report is just a document with no intrinsic legal force on its own. It will require follow-on enforcement action at the agencies, or Congress to pass new laws. And cynics would argue, with what seems like a mountain of evidence, that the U.S. government is unable to do anything to constrain the powerful. In particular, Congress itself is nothing but a dysfunctional and corrupt mess.
I haven't had a chance to digest the report, so I would recommend The Economist's analysis of why it matters. EV reader, Christopher Mims, has a good round-up of the various views on the findings. To help clarify things for members, I'll be speaking with Matt Stoller next week.
Facebook has banned QAnon associated accounts from its Groups, Pages and Instagram. QAnon followers believe that a cabal of satanic elites rule the world, and that President Donald Trump is fighting against the 'so-called deep state'. (For months, Facebook has been promoting QAnon groups to its userbase.)
Facebook will also stop running political advertising after the 3 November - the date of the US election – and hasn't announced a date for when it will resume running ads. Twitter has launched an enhanced civic integrity policy to protect the US elections.
For young people, TikTok has only become more popular - 34 % of teenagers pick Snapchat as their favourite app, while 29 % select TikTok. Instagram is close behind. 
⏩ What will a quantum Internet look like?
What kind of superpower will China be? Michael Schuman looks at previous iterations of Chinese foreign relations, and suggests that China won't be pacifist and will push 'its values'.  See also – America wants to cut China out of the global tech supply chain, and is starting to ramp up its efforts to maintain dominance over growth markets (semiconductor chips, for example).

🎧💯 I spoke to Sam Altman, CEO of OpenAI, for the inaugural episode of the new season of the Exponential View podcast. We go under the hood of GPT-3, take a look at the future of artificial general intelligence, and discuss how Sam's experience leading Y Combinator translates at OpenAI. I enjoyed this discussion—I wish I had had two more hours for it. Exponential View members will receive a transcript of our conversation next week.
🍃 Dept of decarbonisation: 411.23ppm | 3,518 days
Each week, I'm going to remind you of the CO2 levels in the atmosphere and the number of days until we reach the 450ppm threshold.
The latest measurement (as of October 6): 411.23ppm; October 2019: 408 ppm; 25 years ago: 360 ppm; 250 years ago, est: 250 ppm. Share this reminder with your community by forwarding this email or tweeting this.
I'm pretty excited by the possibilities of virtual grid-scale storage using networks of batteries in parked electric vehicles. It's known as vehicle-to-grid, v2g or bidirectional charging. I've spoken with one US utility that is already making changes to its management and billing systems to accommodate v2g. (Grid-scale v2g batteries are growing in Japan, see Moixa's virtual battery in EV#280.)
VW is also getting excited, according to their head of charging. The average car drives 40km (25 miles) per day and uses 7-8kWh of electricity, but packs a 50-90kWh battery. That delta (40-80kWh) can be used for grid-scale storage. VW hopes that half the cars sold in 2030 will support bidirectional charging. (Link, in German, here.)
Chart(s) of the week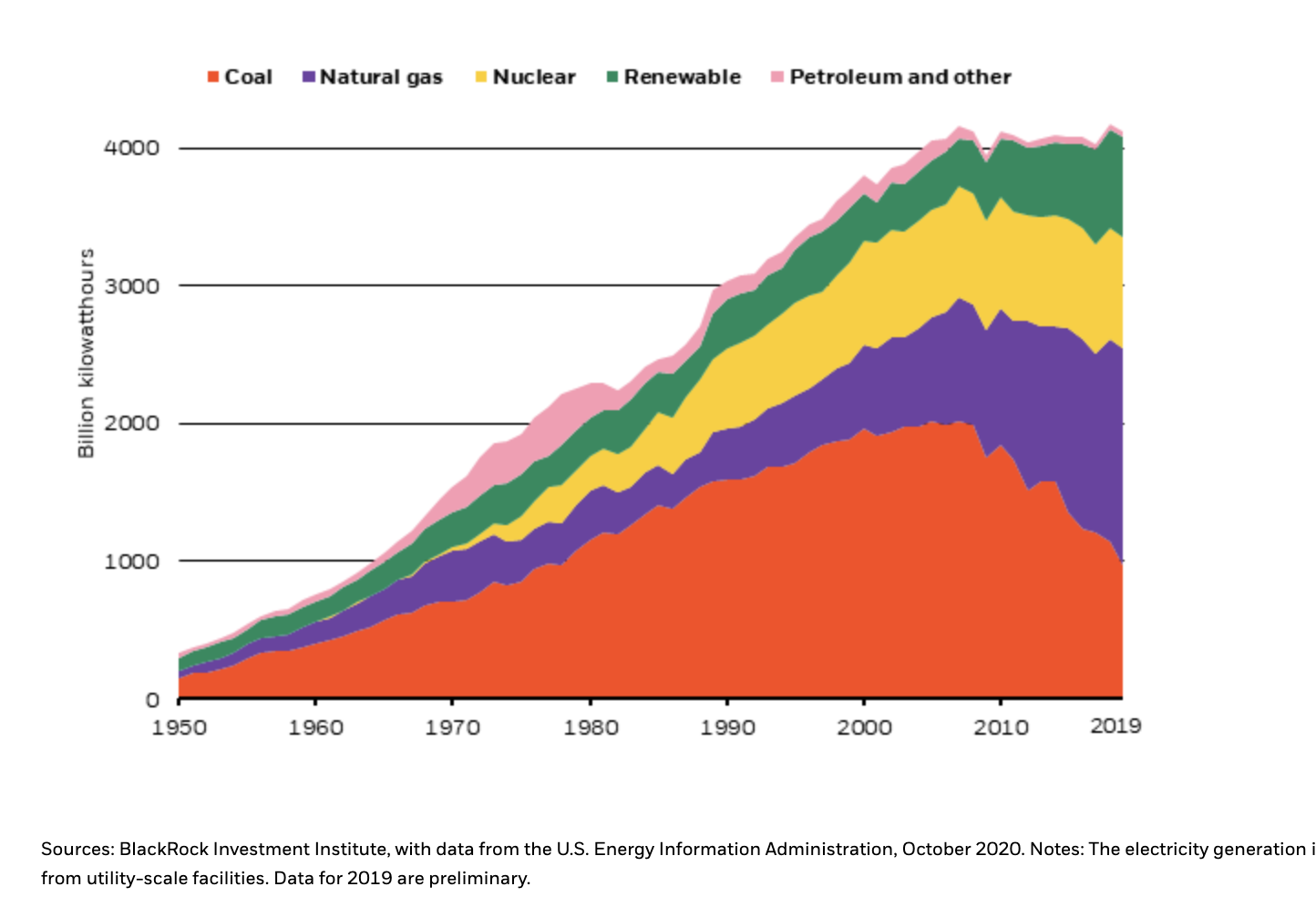 Total US electricity generation has stabilised over the past twenty years. Coal is dying. Renewables' share is rising significantly. GDP has doubled while electricity use has stayed flat, despite all those new data centres.
It's a log-scale! The numbers in black show how many times more fatal Covid-19 is than flu for the relevant age group. In my case, a smidgen less than 8.6x more dangerous. Mask up.
Short morsels to appear smart
🔩 The unseen workforce behind Disney and Airbnb customer service. A revealing essay.
Women with darker skin are twice as likely to be told that their photos fail passport rules, according to a BBC investigation.
🤔 Peak car culture: car seats as contraception.
Does passive contact tracing with apps even work? A research paper. See also, people keep discussing a scientific divide over "herd immunity" that doesn't really exist.
📺 Using generative adversarial networks (GANs) for higher fidelity, lower data weight virtual meetings. Smart.
💯 "Mark Zuckerberg is not pointing a gun at anyone's head, ordering them to use Instagram—and yet we post as though he is." A brilliant essay shining a bright light on our posting habits.
Could monetisation platforms such as Patreon and Substack, which we use, learn from the adult-entertainment subscription service OnlyFans?
🌎 Twenty-four super habitable planets. The favourite contender is only 3,000 light-years away.
End note
We're in the spam blackhole of hell! It happens every 6-8 months. And it means, sadly, that many readers don't get their wondermissive dose.
So we (and they) need your help:
Please drag this out of your promotions tab and into your inbox

Add this email address to your contact list

An optional, but very helpful step, would be to forward this to a friend with a recommendation they sign up. (Full disclosure on this step: the act of forwarding the email should send a positive anti-spam signal to your mail platform, which will help readers who are being spamholed. It will also help us because your recommendations will mean something to your buddies.)
Be good!
Azeem
What you're up to—notes from EV readers
I spoke about solutions for "Big Bad Tech" with David Sanger of the New York Times for the Athens Democracy Forum. 
Chris Merritt, President at Cloudflare, and I talked about internet architectures, past, present and future.
Mike Walsh on reimagining what you do, not just how you do it in the age of AI.
Simone Vannuccini and Ekaterina Pryktova have published a paper addressing a common outlook on AI as a general-purpose technology.
Marko Ahtisaari in conversation on art and solitude.
Erich Joachimsthaler's new book, "The Interaction Field: The Revolutionary New Way to Create Shared Value for Businesses, Customers, and Society" is out.
Ben Robinson evaluates strategy in the post-fixed costs economy.
Samanth Subramanian published a book about scientist J.B.S Haldane. I heard Samanth talk about his book recently and the story is pretty fantastic.
Chris Yiu at the Tony Blair Institute is hiring for a senior tech policy role.
Rachel Coldicutt writes about the repair politics of digital public infrastructure.
Congrats to our readers who participated in awards this week, be it the Nobel Prize or Queen's Birthday Honours.
Email marija@exponentialview.co to share your news, updates and projects with other readers.