🔮 Apple Watch; self-driving doldrums; long-term interest; treating nCov; Softbank vs Elliott++ #256
The self-driving race is all about deep pockets and patience
Hi, I'm Azeem Azhar. I explore how our societies and political economy will change under the force of rapidly accelerating technologies and other trends.
---
This week's edition is supported by our partner, Masterworks
Invest in paintings by Basquiat, Picasso, Warhol. We're talking about the all-time greats that hang in museums with annual returns of 8–30%. For the first time ever you can trade shares of blue-chip paintings that regularly sell for tens of millions on the Masterworks art trading platform. Skip the 25,000+ waitlist with this special Exponential View link →
---
Writing and conversations
🎧 My discussion with Brad Smith, President of Microsoft, explores the regulation that the tech industry needs. We cover some controversial topics, such as facial recognition and employee activism.

🦠 My essay on the six ways coronavirus could change the world. Other writing which plays to the themes I identify include this fascinating report on how BlueDot, a Canadian company, used advanced pattern detection to spot the Coronavirus outbreak a week before major reports surfaced. I am hearing from a number of EV readers that their supply chains are breaking down as China goes into lockdown. Here is a good report on how and why those supply chains might seize up. Close to 150 million people (or 2 per cent of humans) may be in quarantined provinces in China.

🇨🇳What does the implementation and impact of China's social credit system look like in reality? Notes from our discussion with Dev Lewis, who researched the system, are available here.

The near future
⌚ Neil Cybart: The Apple Watch represents a paradigm shift in computing and does so 'without having technology take over people's lives,' from tracking and monitoring and contextual assistance. While I own an Apple Watch Series 4, I've been sceptical about how useful it is beyond fitness tracking. Recently, I've found myself increasingly using Shazam, Siri, Apple Pay and the timer. Apple sold almost 10 million more watches than Switzerland's entire watch industry in 2019.  

🚘 The race to self-driving cars is likely to, ultimately, come down to who has the deepest pockets. At least $16 billion has been spent on developing self-driving cars in recent years, half of which has come from Alphabet, GM's Cruise and Uber. Despite the rivers of gold pouring into the effort, however, full autonomy is likely to be some time coming. See Dig Deeper below. 

🤷‍♂️ The US attorney general Bill Barr has floated the idea of 'American ownership of a controlling stake, either directly or through a consortium of private American and allied companies' in Nokia or Ericsson. Ironically, this would arguably turn the companies into exactly the kind of government-controlled actor which the US has accused Huawei (which has repeatedly insisted that it is a privately-owned company, despite its opaque ownership structure) of being.

📰💰 The New York Times has more than 5 million paying subscribers. The Economist, has ratcheted its subscription prices up. The NYT looks like it might also transition away from an ad-funded model.

🚦 In a glorious example of what happens when top-down technologies meet creative, resistant human beings, artist Simon Weckert was able to convince Google Maps that there was a traffic jam on an empty road, simply by wheeling a cart full of cheap smartphones along the road. This is also an expression of what happens when technology is imposed upon communities rather than created with or by them. We have the same issue on our road, frequently used as a cut-through to avoid traffic on a major arterial. I may yet camp out with a bunch of cheap Android phones to befuddle Waze. 

💭 Daniel Markovits outlines McKinsey's role in hollowing out the American middle class. 'Technocratic management, no matter how brilliant, cannot unwind the structural inequalities that are dismantling the American middle class.' See also, The Economist on what it takes to be a CEO.


🌡️Climate catastrophe: 414.07ppm
| 3,763 days
Each week, we're going to remind you of the CO2 levels in the atmosphere and the number of days until reaching the 450ppm threshold. 

The latest measurement (as of February 6): 414.07ppm; February, 2018: 411.37ppm; 25 years ago: 360ppm; 250 years ago, est: 250ppm. Share this reminder with your community by forwarding this email or tweeting this.

🌬️ Wind and solar provided 18 per cent of the EU's electricity in 2019. In comparison, electricity generation from coal collapsed by 24 per cent in a single year, creating a 12 per cent fall in European power sector CO2 emissions, the biggest fall since at least 1990.

Data from France shows a huge jump in registrations for battery electric vehicles in January 2020, the first time that over 10,000 BEV cars were registered in a single month. This is a sign of things to come.

In the UK too, overall car sales were down 7.3 per cent but EVs were up by 149 per cent towards 6 per cent market share. The British government will outlaw the sales of ICE vehicles from 2035. Nice but pointless. By 2023/4, in all sectors, I reckon EVs will be cheaper to buy and run than ICE vehicles. Manufacturers will have stopped investing in ICE powertrains (and all the accoutrements on cars based on those platforms). Anyone buying a petrol or diesel in the UK from 2025 will be buying a more expensive, worse car than the EV equivalent. The market will speak more unambiguously than the regulation. 


Chart of the week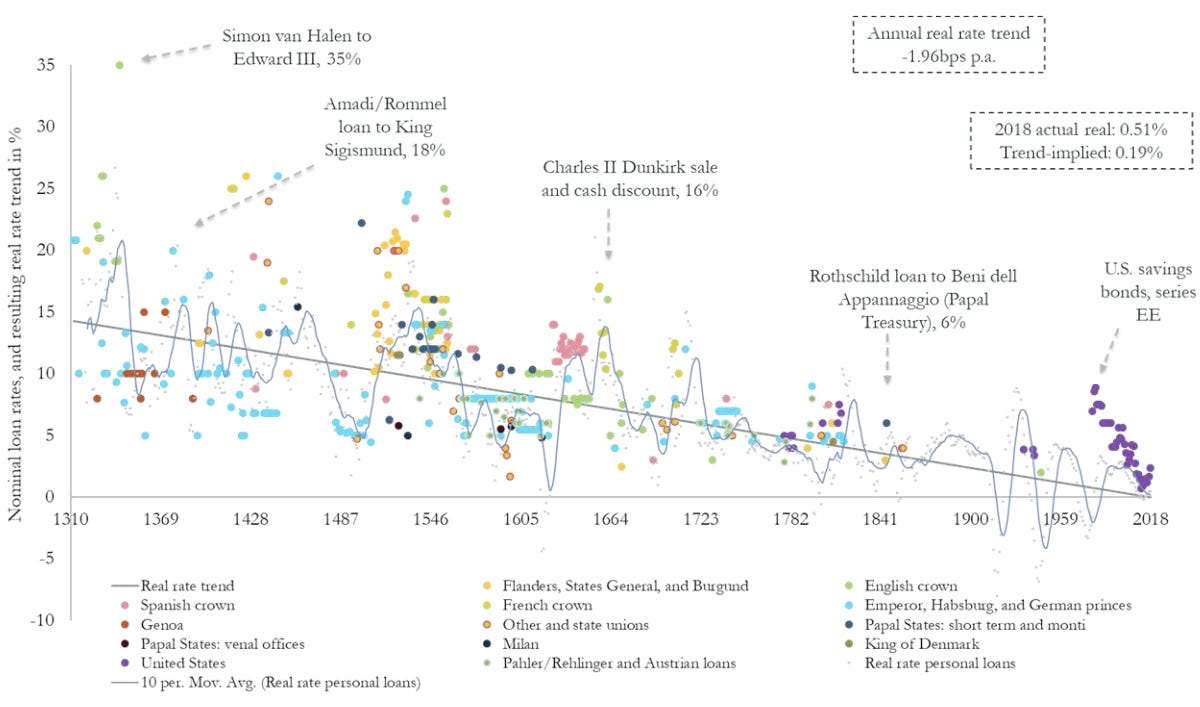 Seven centuries of declining interest rates. (Original paper, which I've not read fully is here, which suggests 'very low real rates can be expected to become a permanent and protracted monetary policy problem.') 


Short morsels to appear smart at dinner parties
😷 Must read: Life and death in a Wuhan coronavirus ICU.

Clash of the titans: Activist investor, Elliott Management, has built a close to 3 per cent stake in Softbank. The rationale: Softbank is trading at about a quarter of the value of its underlying holdings in the likes of Sprint and Alibaba.

💯 Basecamp received over 1200 applications for their programmer role. If you're having trouble hiring tech talent, read this and see how your job descriptions (and benefits) compare.

Web trackers from firms like Google and Liveramp, who may sell this data onwards, are prevalent on British local government websites. It is curious considering the sensitive nature of many of our interactions with governments. And doubly so since we already fund these local governments through a range of taxes. As this report from Brave points out, one council alone shares who is looking at 'drug and alcohol' support with twenty data peddlers. 

Nice works? Lyft is on pace to surpass Uber in the U.S.

Tesla disables the Autopilot feature on a Model S after it was sold.

🎞️ A film from 1896 has been remastered with neural networks. It's not perfect, but for being 124 years old, it's looking pretty good!

Not being on WeChat means not being able to participate in many aspects of modern life in China, but because of the concerns over privacy, surveillance and censorship, some people are still willing to make the personal and professional sacrifices to stay off the app.

🐢 Confessions of a turtle voyeur.
End note
I'm excited to get the podcast series up and running again. We're lucky to have some surprising guests lined up. Please do tune in.
And if you keep hearing people comparing 2019-nCoV to bog-standard flu, point them to this essay.
Cheers,
Azeem

P.S. If you enjoyed this update, please do share it with some friends or hit the heart above. 
---
This week's edition is supported by our partner, Masterworks
Invest in paintings by Basquiat, Picasso, Warhol. We're talking about the all-time greats that hang in museums with annual returns of 8–30%. For the first time ever you can trade shares of blue-chip paintings that regularly sell for tens of millions on the Masterworks art trading platform. Skip the 25,000+ waitlist with this special ExponentialView link →
---
What you are up to—notes from EV readers
Carly Kind is looking for a new chair at the Ada Lovelace Institute. Apply!
Obi Felten looks back at the past six years at X, Alphabet's moonshot factory.
Iason Gabriel's paper looks into the philosophical questions arising from AI value alignment.
EV's Marija Gavrilov co-wrote an essay on contemporary Serbia amidst the power shift from the West to the East.
Joerg Rheinboldt writes about the power of networks.
Jan-Philipp Martini co-published research on collective intelligence in teams.
Justin Briggs discusses how drug discovery is changing in his podcast TomorrowScale.
Gil Kazimirov on how caring is going mainstream among businesses this year.

Dig deeper
Our discussion with investor Reilly Brennan when he briefed EV members about the state of autonomy: he said that it was likely to take tens of billions of dollars and many more years than expected.