🔮 Apple search; post-office; tech splits; vaccines, brain implants & anime++ #285
I'm Azeem Azhar. I convene Exponential View to help us understand how our societies and political economy will change under the force of rapidly accelerating technologies. 
This week, I asked members: are we in a new bubble? The thread is worth a read.
The near future
🍎 Is Apple close to launching its own search engine? Honestly a bit speculative. Google pays Apple north of $7bn per annum to be the default search engine on iOS, which in turn makes the search firm $25bn in revenues.
💯 How close are we to automating mathematical reasoning? Lovely essay.

🛎️ The one essay you should read about TikTok; the company's impact is closely wedded to its successful breakthrough of previously impenetrable cultural walls. Also interesting: TikTok could turn Walmart into an advertising powerhouse.

🏢 The office as we know it is dead. According to a survey by KPMG, more than two-thirds of large company CEOs plan to downsize their office space. Pinterest paid an $89m cancellation fee to get out of a new office lease, citing increased remote working. Or is it dead: Amazon keeps expanding their physical footprint, believing it crucial to maintaining talent and growth. Even Amazon's strategy has shifted, its new offices are "where the talent pools are".
✂️ The open, "Californian" model of the Internet is looking increasingly fragile, according to a top UK spy. One outcome will be an increased need for technological independence. (See also, the US Army is counting on esports to attract the next generation of "cyber warriors". Also, a good summary of the status of technological decoupling by Digichina, a collaboration between Stanford & the New America Foundation.)
🔥 Climate breakdown: 412.59ppm | 3,560 days
Each week, we're going to remind you of the CO2 levels in the atmosphere and the number of days until we reach the 450ppm threshold. 
The latest measurement (as of August 25): 412.35 ppm; August 2019: 411 ppm; 25 years ago: 360 ppm; 250 years ago, est: 250 ppm. Share this reminder with your community by forwarding this email or tweeting this.
2020 will be the year of no return for the global oil industry.
Charts of the week
The average price of 1GB of mobile data. (Only 9 cents per gig in India.)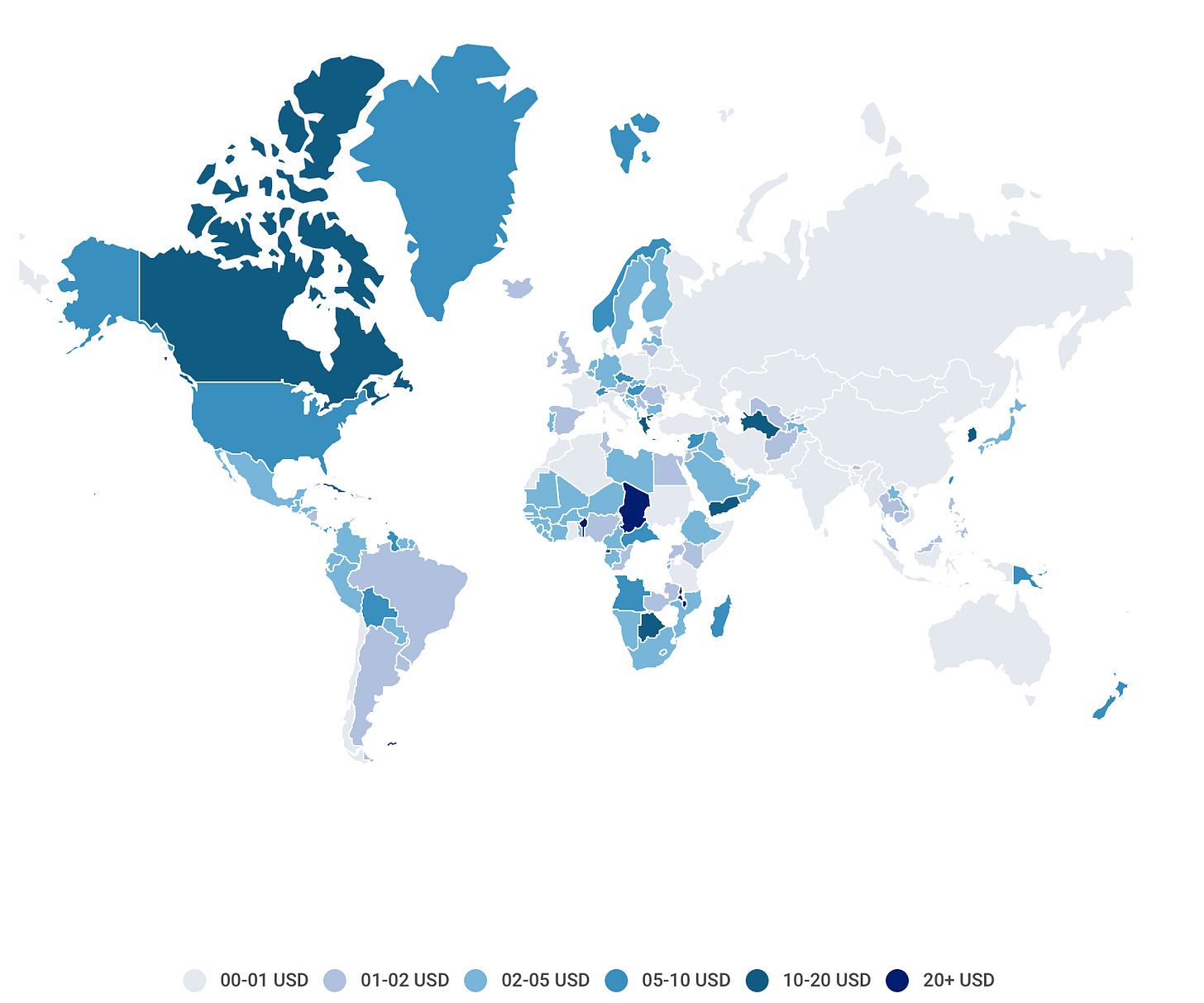 Superforecasters are optimistic about the timing of an FDA-approved Covid vaccine.

Short morsels to appear smart while chatting with your cat
🤨 Every single page on the Scots language Wikipedia page, is written by an American teenager who can't speak Scots.
💉 Wealthy countries have already pre-ordered more than two billion doses of the Covid-19 vaccine. 
This Tesla competitor is counting on batteries more powerful than those in Tesla's best, the Model S.
💥 Boom Supersonic is planning for the next generation of supersonic flight.
Satellite mega-constellations are damaging the data which astronomers are collecting. See also, there are fifty new potential planets in our galaxy. 
😛 Cells adopt Pac-Man-like strategies.
Neural net converts images and videos to Anime art. Cool.
Elon Musk's Neuralink has implanted its brain-computer interface into chips. (Researchers are impressed with the claims of fidelity and tracking.)
🎓 With campuses closed, American students are gathering in other cities to share their online learning experience.
Video footage of the world's largest explosion, the Tsar Bomba.
What you are up to—Notes from EV readers
Ralph Haupter and Casper Klynge: "For a sustainable recovery, Europe's focus must be digital."
Carly Kind provides a potted timeline of how concerns around artificial intelligence have been brushed aside, and how technical interventions have been framed as the way to "solve" issues around bias and fairness. 
Javier Elkin and colleagues at WHO have developed an AI-based conversational chatbot to fight Covid-19 disinformation on Messenger from Facebook, in partnership with Sprinklr.
David Klenert and colleagues from Oxford University published an article in Environmental and Resource Economics on what can be learned for climate policy from the current Covid-19 pandemic. 
Felix Holmgren's podcast The Search Space is focusing on logic programming and symbolic AI.
Niccolo Sanarico's newsletter The Week in Italian Startups is a weekly summary of news about startups & VC from Italy.
To share your updates and news with the EV community, email marija@exponentialview.co