🔮 AI's Covid rating; social commerce; electrification; robots, maps & Chinese names++ #278
I'm Azeem Azhar. I convene Exponential View to help us understand how our societies and political economy will change under the force of rapidly accelerating technologies.
🇪🇺 On Friday, I asked members what they thought about European tech finally breaking through after we saw two milestones reached this month: both Spotify and Adyen passed the $50bn market cap barrier. Thanks to all members who joined the discussion: in no particular order, Christina Nesheva, Beth Krasna, Tristan Fletcher, Oytun Tez, Jen Van Der Meer, Aaref Hilaly, Will Craven, Jose Paris, Hugh Reid, Dan Smith, Ross Duncan. The discussion is still open, jump in.
The near future
🛒 Since I last wrote about Pinduoduo two years ago in EV#175, its market cap has quintupled to over $100bn. Pinduoduo is described as a cross between "Costco & Disneyland" in this detailed FT overview of the business. (See also Anu Hariharan's product tear-down of Pinduoduo.) Pinduoduo is interesting because it shows that many categories, even commerce, are 'not over yet'. It's remarkable how quickly the firm secured 10% of the Chinese e-commerce market with its entry-point into tier 3 and 4 cities.

🌆 Another take on how the pandemic might reshape cities. Some groups, particularly families, might move out. Others, especially young people willing to brave the risks for the opportunities, might move in. (You can read my view on the city after the pandemic here.)

🔌 The electrification of the transport sector has been one of the most exciting areas of investment in the past few years. Even excluding Tesla, we have seen huge commitments from traditional automotive manufactures (think of the $66bn committed by VW, or the massive sums deployed by Chinese VC into local EV startups.) Rivian, an American EV startup, raised $2.5bn to help bring its (ugly) electric pickup truck to market next year. Elsewhere, a British utility made the largest order for commercial electric vehicles in the country. And the market for battery-powered trains is hotting up as well. At the other end of the vehicular scale, China has nearly 200,000 e-bike related companies.  
🛑 Flailing states. Pankaj Mishra on Anglo-America. Worth reading.

🤳 TikTok is becoming the Alsace-Lorraine of the digital front. Amazon banned its employees from using TikTok for security reasons. On the same day, they unbanned it. Presumably, commerce trumped security on this occasion. Mike Pompeo's threat to ban the app from the US was met with TikToktivism against the official Trump 2020 app. Germany's BfV (the domestic security agency) warned that personal data provided to Chinese firms could end up in the hands of China's government. (Not necessarily through a nefarious route, but rather because Chinese law allows the government to request such data.)
🥵 Climate breakdown: 415.39ppm | 3,609 days
Each week, we're going to remind you of the CO2 levels in the atmosphere and the number of days until we reach the 450ppm threshold. 
The latest measurement (as of July 2): 415.39 ppm; July 2, 2019: 413.40 ppm; 25 years ago: 360ppm; 250 years ago, est: 250ppm. Share this reminder with your community by forwarding this email or tweeting this.

🇩🇪 Germany's coal power could shut down a decade early.

I was slow to learn about Lanzatech, which converts waste streams into biofuels. Interesting deck reviews their technology.

Dept of Artificial Intelligence
Kai-Fu Lee gives AI a B- in helping handling Covid. The plus side: robots delivering food and medication, and contact tracing. The minus side: AI works by accumulating a lot of data, but a pandemic is a once-in-a-century activity, and there isn't a lot of experience building models to deal with this situation. 

Jack Ma was a little more bullish on how well AI tools helped during the pandemic.

Elon Musk claims Tesla is very close to level five autonomy, which is the level at which cars behave like KITT in Knight Rider. It's a grandiose claim that doesn't stack up, even in his own statement where he says, "I remain confident that we will have basic functionality for level 5 autonomy this year." The thing about level 5 autonomy is that it is binary. You either have it or you don't. There is no such thing as basic level 5 autonomy. Anything less than full level 5 autonomy, that is an autonomous mode that only works in certain conditions, is level 4 autonomy or lower. The question really hovers around what level of risk are we willing to accept to classify something as level 5. In some sense, achieving level 5 autonomy via regulatory capture is probably easier than getting in through technical advancement. (My podcast with Missy Cummings touches on many of the vexing issues around autonomous vehicles.)

The global market for artificial intelligence software will expand to $98.8 billion by 2025, as it has experienced tremendous growth over the past several years.

Good op-ed: "Don't ask if artificial intelligence is good or fair, ask how it shifts power." Key argument: we need to do more work to understand how AI systems affect the communities impacted by it.
Video of the week
In five short years, the Boston Dynamics robot has moved from clunkily opening doors to impressive gymnastics routines.
Short morsels to appear smart while wearing a facemask
💨 Facebook's dialogue of nothingness.

The tricky maths of herd immunity.

43% of white Harvard students are recruited athletes or legacy students, two-thirds of whom wouldn't otherwise be accepted. (See also the question of what affirmative action gets wrong.)

📼 90% of early users to the morsel-size content streaming service Quibi reportedly quit after their free trial, blaming Covid-19. By contrast, Disney+'s bet on Hamilton worked out rather well.

🏳️‍🌈 A rare insight into early 19th century gay marriages. Fascinating

Roman road maps redrawn in the London Underground style. 

Downloads of secure chat app Signal surge in Hong Kong.

Surnames in China are highly concentrated. One consequence: much more variety in given names.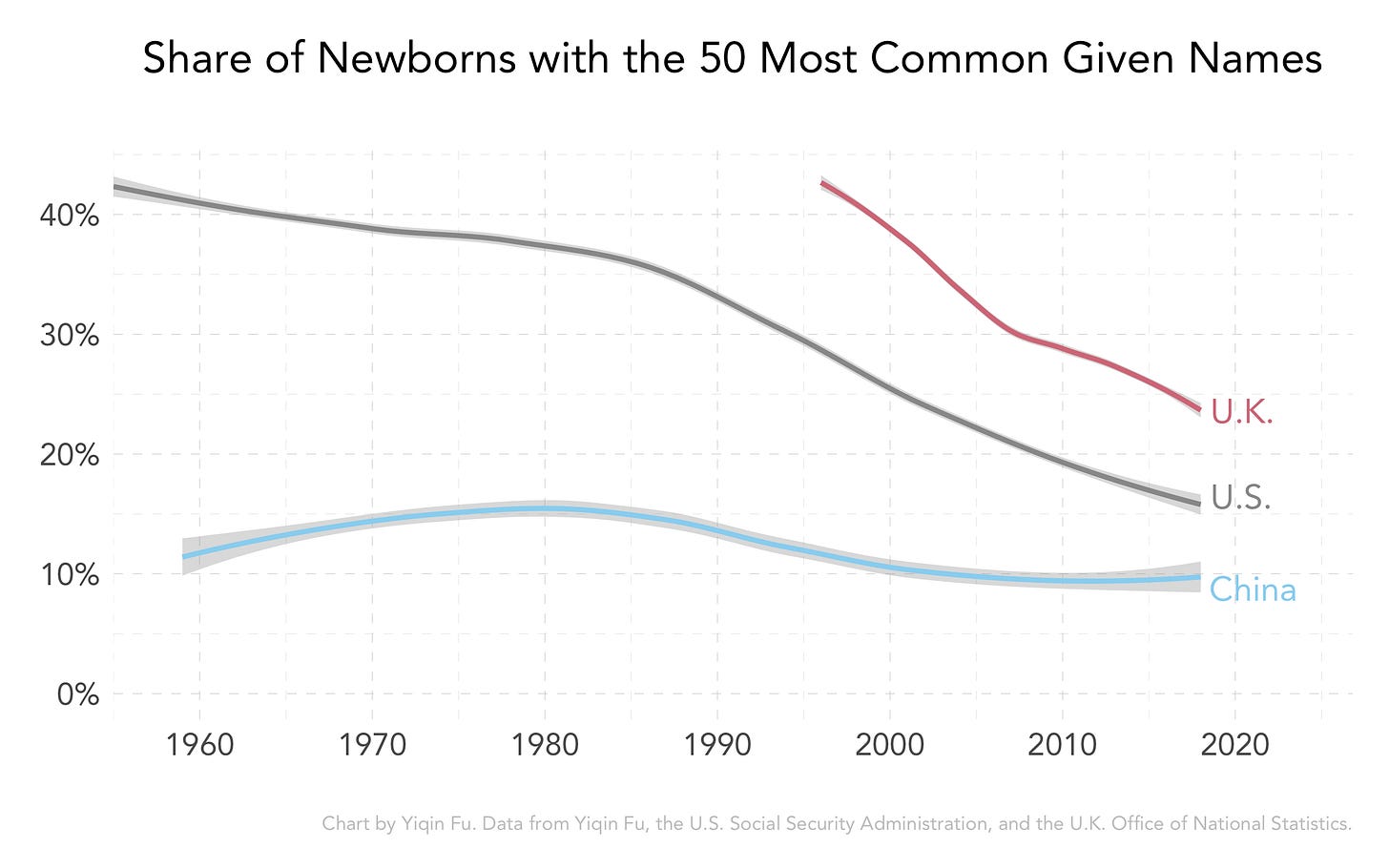 💎 A lovely essay about the true colours of the Renaissance and why Covid might not usher us into golden ages.
End note
Slightly shorter EV this week. I managed to scratch my eye on Thursday (don't ask) so had to take a couple of days off. All healed. Well now. Thanks to Kiran @ Insight Opticians for looking after me!
Cheers,
Azeem
---
What you're up to—notes from EV readers
EV's Marija Gavrilov reflects on Srebrenica, twenty-five years after the genocide.
Christina Colclough was involved in the formation of an app called WeClockIt, helping workers take greater control of their data.
EV's Sanjana Varghese wrote a piece about Bob Dylan's radio show for the Economist.
Ken Pucker on the real impact of private equity & ESG.
Arif Khan's company Alethea AI is one of the companies pushing for deepfakes as the means of protecting our online identities.
Share what you've been up to with our community, email marija@exponentialview.co.